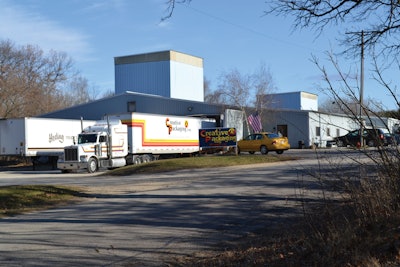 A-1 Creative Packaging, Palmyra, WI, broke ground in December on a new building expansion that's newsworthy for what's driving it: a new packaging contract that brings packaging operations from China to U.S. shores.

When complete in spring, the new 12,000 sq.ft. expansion to the company's Plant 4 location (pictured) will accommodate equipment and merchandise formerly operated in a Chinese plant.

"What's driving this expansion is that we're moving some of the customers' operations back from overseas," says Scott Omdoll, vice president. One of the company's U.S. customers had been outsourcing work to China that involved contract packaging of "a consumer goods product for the retail market," he explains, but "after costing-out the overall break down of the piece prices in China vs. domestic manufacturing and packaging, it turned out that we could deliver the highest quality at a competitive price."

Despite the lower wages of emerging economies, Omdoll says several factors made it feasible for A-1 to "bring the work back home." Those factors included a dedicated employee team, the availability of price-competitive materials and a "significant reduction" in the costs of getting finished product to the customer's distribution center. Omdoll expects "greatly improved" lead time from order to shipment.

A-1 operates six facilities with more than 150,000 sq. ft. under roof in the Palmyra Industrial Park, packaging and shipping products for customers including Rayovac, 3M Corporation, Harley Davidson, Random House Publishing and the Newell Rubbermaid Company.
Companies in this article