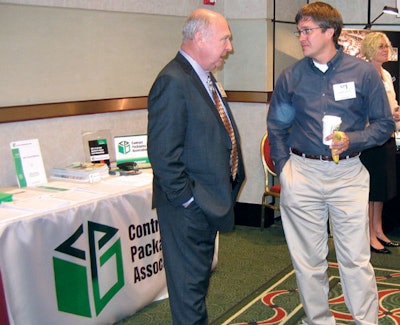 Officers are: John Mazelin, president; Jim Ellis, immediate past president; John Riley, vice president; Sean McKeon, treasurer; and Stan Zelesnik, secretary.
Directors are: Eric Wilhelm, Chris Nutley, Joe Jaruszewski, and Vic Stalam.
CPA welcomes new members
The association's membership continues to grow steadily. Total corporate membership is now at 150. This is the association's high-water mark, with no end in sight.
New members include: Advanced Food
Services, Bonded Pac, Central Graphics &
Container Group, Concept Packaging Group, DePaul Packaging, Nor-Cal Beverages Co.,
Opportunity Partners, Rizzo Packaging, S.P.A. Inc., Tulkoff Food Products, Boston's Best
Coffee Roasters, Flexpack USA, Hormel
Contract Packaging, Marketing Alternatives, and Outlook Group.
New Associate Members include: Aerotek Performance Resources, Lonza Inc., and
Tegrant Corp. Alloyd Brands.
To all, welcome to the "club."
2008 annual meeting dates, venue selected
Save the dates! The 2008 Contract Packaging Annual Meeting will be held April 25 - 28, 2008 at the Marriott Biscayne Hotel & Marina in Miami, FL. Watch for details on the program, and on networking, social, and recreational events at www.contractpackaging.org.
The event will have a nautical theme. Both the program and the recreation elements will carry the theme.
Ahoy, mates!
Building a program for you
• Listen to what big fish want
A super store exec addresses the group on emerging trends and the impact on packaging companies
• Make sure your nets don't come up empty!
Focus on attracting and retaining blue-chip customers
• Keep the oceans clean!
Industry expert to address sustainability—who is driving the effort and what does it mean to contract packagers
• Making sure you don't let them off the hook
Focus on superior customer service and reporting
• Keep your facility ship-shape
cGmp overview of the packaging industry
• Is your crew ready for the deep sea?
Focus on hiring and motivating the right crew members—team building, mentoring, and coaching skills for success
The theme carries through with networking, social and recreational activities. Deep-sea fishing and a dinner/sunset cruise are being studied and planned.
Associate members discuss future CPA involvement
A strong contingent of Contract Packaging Association Associate (Supplier) Members gathered on a recent conference call to discuss how to better interface with and benefit from their membership, and how to accelerate the processes. Most are coming into the CPA convinced that there is significant need among contract packagers for their products and services.
There were a number of unique thoughts and suggestions that will be developed in the months ahead. The group will schedule a conference call once a quarter, with action points to research and follow between calls.
New Contract Packaging Association survey available for purchase
A new survey from the Contract Packaging Association, "An Analysis of Member Activity in Contract Packaging," is available to non-members.
This Phase I survey is 80 pages and includes information not available anywhere else. Strategic Analysis Inc. presented the survey results in condensed form at the CP 07: Succeeding With Contract Packaging conference in September in Chicago. Information in the survey includes:
• Respondent analysis by region and revenue
• Key customer analysis
• Customer and retailer influence
• Member company characteristics
• Operational dynamics
• Sales scope by annual revenue category
• Financial analysis by location and company size
• Customer satisfaction tracking
• Asset overview, growth, and competition
• Customer account analysis
• Level of repeat business
• Key markets served
• Ease of finding contract packagers
• Customer assistance with compliance
• Key market driver overview
• Acquisition environment
• Conclusions, analysis, and assessment
The cost to purchase the survey is $500 for Contract Packaging Association members that did not participate and $1,000 for nonmembers. To order the survey, visit www.contractpackagig.org and follow the prompts.
Companies in this article
Videos from Universal Labeling Systems, Inc.