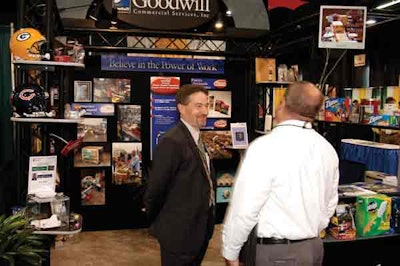 The Packaging Summit will have a new look as it enters its third year in 2007. The multifaceted event now goes by the name of Packaging Summit Expo and Conference. The event will be May 15-17 at the Donald E. Stephens Convention Center in Rosemont, IL.
Show organizer Tarsus Group plc has dropped the individual show names Packaging Services Expo and Packaging Containers & Materials Expo in order to more effectively integrate the various components of the conference. But Packaging Summit will still bring together buyers and sellers of both contract packaging services and materials and containers. At the 2006 show, contract packagers and materials and containers exhibitors were located in separate halls. This year, they will be integrated under one roof in order to make the show easier to navigate.
The Institute of Packaging Professionals (IoPP) will sponsor the Packaging Summit Expo and Conference. According to Howard Leary, CCP, IoPP president, the Packaging Summit Expo and Conference is the ideal venue where packaging professionals can learn about the central issues influencing packaging today. Attendees will be able to partner with contract packagers and manufacturers, packaging consultants, research firms, package designers and marketing agencies, packaging-testing labs, logistics companies, warehouse and distribution companies, package prototype developers, and quality assurance and compliance specialists.
A 'must-attend' event
Jane Chase, CPP, IoPP executive vice president-education, adds that the educational and networking components of the show make it a "must-attend" packaging event. "It's the perfect setting for keeping up with leading-edge packaging innovation and making valuable, productive connections," she says.
Many contract packagers will showcase their capabilities to consumer packaged goods companies interested in qualifying and purchasing co-packing services, or to product manufacturers who are unfamiliar with contract packaging and want to become grounded in the industry.
As in past years, the show will exclude machinery, machinery components, and systems.
Besides contract packaging services, the Packaging Summit will feature exhibitors in the materials and containers arena. Companies will discuss packaging containers and materials, as well as packaging components. This segment of the show should interest professionals who manage and influence how products are packaged.
The Packaging Summit has also modified its highly successful conference. Last year, the conference ran throughout the show,
but in 2007, the conference will be held for only part of each day in order to give attendees ample time to take what they have learned in the "classroom" onto the show floor. This year's conference will focus on four broad areas: contract packaging, sustainability, innovation, and global perspectives. Following are a few
of the speakers that will appear:
• Matt Kistler, vice president of packaging and product development at Wal-Mart, will walk attendees through the retailer's new sustainability scorecard and demonstrate how it works.
• Donald Tham, president of Nulogy Corp., will talk about software solutions that can cut lead-time and cost while
improving quality.
Two other new developments highlight the Packaging Summit Expo and Conference. The show is the new home for IoPP's AmeriStar Packaging Awards reception, scheduled for May 15 in Rosemont. The 2006 AmeriStar award-winning packages will be displayed at the show's Hall of Packaging Excellence inside the convention center.
In addition, the World Packaging Organization (WPO) will hold its World Packaging Conference and WorldStar package awards ceremony in conjunction with the Packaging Summit Expo and Conference. This will mark the first time in more than 10 years that the WPO has held its World Packaging Conference in the United States.
Expo exhibit hours are 10 a.m. to 5 p.m. Tuesday and Wednesday and 10 a.m. to 3 p.m. Thursday. Conference hours are 8 a.m. to 1 p.m. Tuesday and 8 a.m. to noon Wednesday and Thursday.
For information on the Packaging Summit Expo and Conference, contact Don Browne, marketing director, at 262/782-1900, don@pkgsummit.com. Or visit www.pkgsummit.com.
Exhibitor Listing*
*As of March 2nd, 2007
Exhibitor Booth #
Algus Packaging 1540
Allen Field Company Inc. 1217
Anchor Packaging 1424
Apex 360 1345
Arjobex 1629
Assemblies Unlimited Inc. 1417
Blackbourn 1609
Bottlemate Inc. 1626
Camco Chemicals Co., Inc. 1335
CCW Products, Inc. 1639
Consumer Packaging Group 1505
Corrugated Pallets Inc. 1430
Creative Rock 1634
Creative Werks 1705
Custom Products
Corporation 1318
Distant Village Packaging 1722
DIY Group 1426
Eagle Flexible Packaging 1505
Edwards Label 1340
Elegant Packaging 1422
Elite Staffing 1241
Eltrex Industries 1533
Eola Specialty Foods 1327
Erie Plastics Corporation 1646
Excalibur Unlimited 1442
Fabri-Kal 1534
Gilbreth 1525
Global Cosmetic Industry—
Allured Publishing 1701
Goodwill Industries of
Southeastern Wisconsin, Inc. 1433
Great Northern Corporation 1635
H.D. Hudson
Manufacturing Co. 1625
HLP Clear Packaging 1535
Hope Network Industries 1622
HTI Plastics 1334
Institute of Packaging
Professionals (IoPP) 1503
ITW Holographics 1604
J&J Packaging 1316
Jerrell Packaging 1439
The Label Printers 1621
M&E Components, Inc. 1416
Mid-Continent
Packaging Inc. 1414
Misco Products Corporation 1326
Mold-Rite Plastics 1716
MSW Packaging 1517
MVP 1233
New Century Packaging,
Incorporated 1446
Nulogy Corporation 1421
OptiLedge, Incorporated 1628
Outlook Group 1330
Packaging World 1720
Packaging* Science Center 1418
Pactiv Corporation 1624
Paket Corporation 1615
Phoenix Material
Management 1529
Pilz Automation Safety 1441
Planet CanIt, LLC 1617
Premier Packaging,
Incorporated 1309
Proofing Technologies, Ltd. 1522

Quality Packaging,
Incorporated 1322
Rackow Polymers
Corporation 1434
Reliable Caps, LLC 1225
Rexam Closures &
Containers 1412
Rohrer 1321
RS Industrial 1627
Sancap Liner Technology 1709
SGS U.S. Testing Company 1211
Sugar Foods Corporation 1518
Summit International
Logistics 1611
Team Packaging, Incorporated 1718
Tecnocap (formerly
Penn-Wheeling Closure) 1336
Teknor Color Company 1333
Tetra Pak USA 1546
TGW International
Incorporated 1536
Tinscape 1315
TMT Warehousing 1339
TPH Global Solutions 1527
Transparent Container 1440
TricorBraun 1605
Triumph Packaging Group 1325
Verst Pack 1507
Visual Packaging 1341
Watson Label Products 1633
Webb Scarlett DeVlam 1317
Xela Pack Incorporated 1521
Zumbiel Packaging 1618
Zunda Group 1632
Conference Agenda At-A-Glance
Tuesday, May 15
Innovate
8:00am Keynote: Innovation...
the answer to sustainable
packaging
John Delfausse, Vice President Packaging Development, Aveda
9:00am Restaging P&G's
Herbal Essences brand
Krista Schwartz, Global
Upstream Design Manager,
P&G; Nathan Hendricks,
Creative Director,
LPK Beauty Group
10:00am Track moderator:
Jim Peters
10:00am Four essentials...to managing packaging innovation
Jane Chase, Vice President Packaging R&D, US Foodservice
10:00am Informed creativity
Craig Sawicki, Executive Vice President, TricorBraun
11:00am Driving innovation in a corporate environment
Speaker to be determined
11:00am 7 Days in the aisle...shows how retail impacts
packaging tactics
D'Juana Ballard, Packaging
Science Center
Be Sustainable
12:00pm (Lunch presentation)
Sustainability keynote: Wal-mart's sustainability scorecard
Matt Kistler, Vice President
Product and Packages
Innovation, Sam's Club
2:00pm Demo Area A
Real-time demonstation
Wal-Mart scorecard
2:40pm Demo Area A
Real-time demonstation
Wal-Mart scorecard
3:20pm Demo Area A
Real-time demonstation
Wal-Mart scorecard
Wednesday, May 16
Thursday, May 17
Think Globally
8:00am Impact of EU
packaging regulations...
a precursor of global changes?
Pierre Picot, International
Trade Organization
9:00am Roundtable: taming the octopus of global packaging
Moderator: Tom Schneider,
Industrial & Shippers Supply, Inc.
Panelists: Kofi Essuman,
Unilever, Ghana; Arno Melchior, ReckittBenckiser, England; Dogan Eberk, Packaging
Manufacturers Association
of Turkey
10:00am Track moderator:
Jim Peters
10:00am Packaging in India...South Asia's giant emerges
Rajiv Dhar, Director Indian
Packaging Institute
10:00am Strategies for
increased global sustainability
Tom Blanck, Adalis Corp.
11:00am Shaping your global brand...with shape
Roger De Vlam, Partner, Webb Scarlett deVlam­—Chicago
11:00am The electronic
workflow...the tie that binds global packaging together
Mark Vanover, Esko Graphics
Outsource
8:00am Contract packaging: gaining the innovation and
operational edge
Surfil, LLC
8:45am Roundtable: driving
innovation....with contract
packaging resources
Moderator: Terry Bedell,
TAB Associates
Panelists: Todd Jones,
Miller Brewing; John Mazelin, Packaging Unlimited
10:00am Track moderator:
Jim Peters
10:00am Growing partnerships...innovative technologies reduce lead time, cost, improve quality
K. Donald Tham, President, Nulogy Corp.
10:00am Meet sustainability with global outsourcing
Distant Village Packaging
11:00am Sourcing in
the Far East
David Deans, CEO, Roberts Container
11:00am Avoiding the
pitfalls in outsourcing the
packaging function
Rihaz Z. Chughatta,
VP Operations, Equity
Packaging, Inc.
Wednesday, May 16
Companies in this article