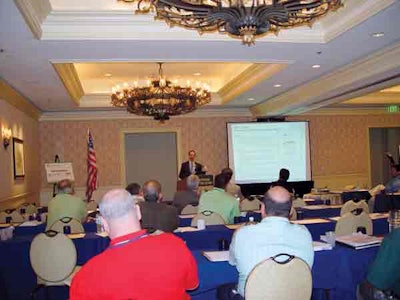 This year's meeting included keynote speaker Mike Clemens, former Canadian Football League player and current coach of the Toronto Argonauts. On Friday, March 30, Clemens attended the President's Welcome Reception, where guests had the opportunity to meet and chat with him.
Clemens opened the business meeting on Saturday, March 31 with an inspiring "What it Takes to Win" presentation. Associate member representatives from Alcoa and R.A. Jones, along with several other presenters, kept attendees updated on current topics relative to the contract packaging business. Other annual meeting highlights included a barbeque buffet, honky tonk, and western games of chance at "Miss Kitty's Saloon" at the Loews Ventana on Saturday night.
You can get further details and gain access to the meeting presentations by visiting
www.contractpackaging.org/annualmeeting.
'State of the Industry' report
Statistical Analysis Inc. (SAI) is well into phase-one research for the CPA in preparation for an annual "State of the Industry" report. Member companies recently received a survey, and the CPA asks for your cooperation in completing it.
The phase-one effort is directed to the association's current member companies. Phase two will survey all known contract packagers that are not yet CPA members.
SAI is bound to keep individual company data confidential. All information will be reported back to the CPA in a synthesized format to protect individual company data. SAI presented the results to date at the CPA annual meeting April 2.
So far, more than half of our contract-packaging members have reviewed the questionnaire and more than half of these firms have completed the survey. There have been zero "dropouts," meaning everyone who started the survey finished it before signing out of the system. Most of the questions are being answered. This is significant since most member companies are privately held, and the information that's being requested is not typically shared with anyone outside the company. It is expected, however, that this information will come easier once member and non-member contract packagers develop confidence in how carefully and confidentially their information is handled.
Contact Kevin Armour, vice president, at Strategic Analysis Inc. with any thoughts or questions. He can be reached at 610/320-6100 or e-mail karmour@strategicanalysis.com.
Strong traffic on CPA Web site
Information available in August 2006 indicated an activity level of 650 unique visitors to www.contractpackaging.org per week during the month of July. Further tracking, however, showed July to be unusually low compared with virtually any other month.
At this point, the association's board of directors can only attribute the low number to July being frequently reserved for vacation time. Here is the entire calendar year 2006 as a more accurate indicator of visits to www.contractpackaging.org.
For the year, the site received a monthly average of 4,250 unique visitors. This works out to just more than 1,062 per week, with July's downswing averaged into the mix. For 2007, the CPA is confident the Web site will continue to be a valuable networking and informational resource.
Stable finances
For October 2006, CPA revenues exceeded expenses by $2,008 and were higher than budget by $4,930. The difference between budget and actual total is due largely to a hotel commission of $4,015. For the four months ended Oct. 31, 2006, revenues exceeded expenses by $17,761 and were higher than budget by $10,708 but lower than last year by $957.
Kitting and assembly—the hidden market
CPA members (contract packagers) associate members (suppliers to contract packagers), and those companies that buy co-packing services should be aware of a significant contract packaging
category seldom discussed because it does not typically involve primary or even secondary packaging, nor is it by definition market specific.
The category is called kitting and assembly. This service is a capability of a number of CPA members. It may well be the single most required service offered. This is because it is difficult to pull together the proper mix of temporary labor required to get a job done on time. Here are typical capabilities of co-packers involved in kitting and assembly:
• Large, flexible workforce
• Value-added services including packaging, warehousing, and shipping
• Modern and well-equipped facilities
• Quality- and cost-competitive services
• Typical services offered: product/kit assembly, point-of-purchase displays, shrink wrapping, poly bagging, skin carding, re-work, and inspection and sorting.
Packaging Summit 2007
An aggressive marketing plan is being implemented to deliver many new faces to the event as well as develop stronger relationships with existing attendee customers. Specific activity includes:
• Display advertising in the packaging business press. Information has been appearing in publications since October 2006.
• Print direct-mail program. Multiple mailings have been made to more than 30,000 packaging professionals since November 2006.
• E-mail program. Regular e-mails have been sent using the Packaging Summit database.
• Institute of Packaging Professionals (IoPP) cooperation. The Packaging Summit Conference will continue. The Packaging Summit will also facilitate the World Packaging Organisation's annual meeting and IoPP's AmeriStar awards reception.
• Attendee development. This effort includes personal meetings, phone calls, e-mail, print mailings, and follow-up on responses from display advertising in the packaging business press.
• Ongoing public and media relations. News releases have been written and released to all the appropriate media. In most cases, the releases focus on meaningful differences between this expo and alternatives.
• Greater support for exhibitor marketing efforts. Initiatives include unlimited free passes, basically for customers and prospects of exhibitors.
• New media considerations. Options include search engine optimization and an interactive www.pkgsummit.com that will include a request-for-quote (RFQ) section.
Companies in this article
Videos from Universal Labeling Systems, Inc.