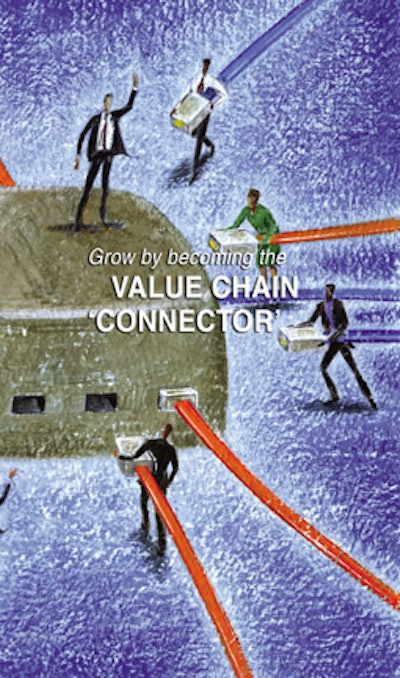 The Integrated Value Chain (IVC) model is a new way of thinking about the packaging supply chain to increase speed-to-market in today's fast-paced, fragmented consumer goods environment. It presents an opportunity for contract packagers to play a much greater role in package development by redefining and leveraging their role in the supply chain.
Contract packagers who want to incorporate this model successfully into their business plan will have to think differently than they do now. They will need to form a strategy to develop their role as the "connector" in package development, and to make the pursuit of such as strategy an internal priority.
By mastering the model's nuances, contact packagers can establish closer consumer and retailer relationships. They can also develop the ability to access industry trends and then leverage that knowledge in creating more productive relationships with consumer packaged goods companies. The first contract packagers to adopt the model will separate themselves as leaders in the industry.
Packaging & Technology Integrated Solutions, a Kalamazoo, MI, packaging consulting and management firm, developed the IVC model (see Figure 1). It identifies the key players in the value chain and creates an integrated network. This approach contrasts the traditional linear supply chain, where the workflow progresses sequentially from one constituent to the next (see Figure 2). In the IVC approach, everyone is involved early in the process and works on the same team to deliver a new product and package to the consumer.
Early entry
PTIS believes this approach brings more effective results because all key constituents enter at the beginning of a packaging project. They can play a broader role to deliver better packaging more quickly. The key constituents include:
• Contract packagers
• Raw material suppliers
• Converters
• Consumer packaged goods companies
• Retailers across channels
• Service industries (especially food
service)
• Consumers
• Consultants
• Trade associations and universities
Each constituent has a specific role to play in delivering a new package to the market. Each one can also play a broader role in package development by communicating with the other constituents and learning how the entire supply chain works.
Inevitably, each constituent learns better ways to deliver value. By focusing on connections or "hand-offs" in the chain, they can identify opportunities to enhance the product.
Here are two simple examples. First, instead of a supplier merely delivering cartons to a contract packager, a supplier can lend expertise in developing a managed-inventory program. Second, a consumer packaged goods company can share consumer insights that lead to a new package, rather than simply requesting a new package.
The IVC model focuses on benefits to consumers rather than on a defined execution. It requires a team concept to thoughtfully and intentionally deliver those benefits to consumers—but in a way that also works for each player in the value chain.
Challenges to success
Although this concept seems simple in theory, it can be challenging to execute. Clear and open communication is vital. Each constituent must understand the others' vantage points and be willing to look at the "big picture."
Contract packagers can redefine their role in this new value chain and develop a strategy that drives profitable growth. Applying this thinking to Malcolm Gladwell's discussion of team-building in "The Tipping Point", provides a useful parallel. Contract packagers should think of themselves as the "connector," able to span across functions.
"The point about connectors is that by having a foot in so many different worlds, they have the effect of bringing them all together," Gladwell writes. Contract packagers can create a network that provides them with direct access to each key constituent. This is illustrated in Figure 3.
This approach offers four benefits to contract packagers:
1. They get closer to the consumer.
2. They get closer to the retailer.
3. They can access industry trends and
knowledge.
4. As a result, consumer packaged goods companies perceive them as proactive.
Let's examine each benefit more closely.
Closer to the consumer
The consumer is both the first and final customer in the process. By understanding what the consumer wants or by identifying unarticulated consumer needs, a contract packager operates from a position of strength with both retailers and consumer packaged goods companies.
Both of these constituents follow consumer-driven decision processes in managing their businesses. The retailer wants to stock its shelves with products that bring customers into the store. The consumer package goods company wants to create and provide those products to the retailer.
Contract packagers who operate in a specific business segment build broad and specific knowledge of consumer trends, usage behaviors, and needs for products in that segment. For example, a contract packager in beverages can create a strategy to become one of the best sources of consumer information in the world of beverages. The type of information this contract packager can share with consumer packaged goods companies and retailers could includes current trends in:
• Product offerings
• Package size
• Package preference by product type
• Percentage of beverages consumed
on-the-go
• Competitive activity
• Global activity
This information-sharing can be a positive two-way proposition. Key consumer insights can come from consumer packaged goods companies and retailers in a healthy and active IVC. Contract packagers can invest the time and money to build consumer knowledge where they identify gaps, and then provide this information to consumer packaged goods companies and retailers.
Getting closer to the retailer
Contract packagers can build a broad and deep relationship with retailers. It is essential that contract packagers develop and maintain close relationships with retailers. Think of retailers as potential partners. They are driving a significant amount of packaging innovation, and they are looking for the manufacturing capabilities to do so. They also need the project management skills to execute a new-product offering.
Retailing has evolved into multiple channels, each with its own packaging requirements. Contract packagers who work as partners across the spectrum of retail channels can expedite their education about current package needs for each channel. In the process, they become more valuable to each constituent in the IVC model.
With this knowledge, contract packagers can also define where they want to operate within the retail spectrum. One co-packer could become the leader in fast, flexible, innovative multipacks while another could focus on higher-value packages that consumers are willing to pay for if the packages simplify product use.
Contract packagers can develop either of two types of relationships with retailers; the producer of national brands or the provider of store brands and private-label brands. Contract packagers can provide insight to consumer packaged goods companies on optimal retail attributes of a package. They can also guide retailers in developing, producing, and delivering their own new products to the market. Contract packagers can conduct market research to ascertain where store brands are gaining ground. The findings can help them to optimize their services.
A contract packager's relationship with a retailer can go beyond the primary package. It can include the shipping container, pallet, and display units. The product-unit count inside the shipper impacts a retailer's ability to stock shelves. The pallet dimensions affect a retailer's effectiveness in distribution. Retailers value display units that have visual impact and are simple to erect. A retailer is likely to hire a contract packager that possesses and shares this knowledge.
Successful contract packagers understand the broad industry in which they operate. They can take this ability to the next level by tracking industry-wide trends and assessing their potential impact and value within their product segment.
As an active participant in the IVC model, contract packagers can apply this knowledge to their overall business plans.
Creating a positive posture
Contract packagers who act on these first three initiatives can enjoy a proactive relationship with consumer packaged goods companies.
However, several significant but manageable challenges are inherent in this approach. First, contract packagers have to find the time to pursue the role of connector. Second, once they build the time into their workflow, they have to protect it.
Instead of creating a detailed plan, consider developing a top-line, high-level strategy to carve out palatable portions of the strategy to develop and execute. This allows for the strategy to survive within the flurry of daily activity inherent in any contract-packaging operation.
The third challenge, managing confidentiality and intellectual property, is more complicated. It requires the use of legal documents, tracking these documents, and complying with them. One approach is to create a project manager for key clients or projects, and then to maintain a division of projects to provide the organizational framework. Or, consider using a term sheet to represent how a project will proceed legally.
For further information on the IVC model, contact PTIS founders Mike Richmond at ptismike@aol.com or Brian Wagner at ptisbrian@aol.com.
The author, Kimberly Lymn, is a packaging consultant in Minneapolis. She is affiliated with Packaging & Technology Integrated Solutions (PTIS). Kimberly develops consumer-driven, innovative packaging, with an emphasis on packaging's role in retail stores. Contact Kimberly at ptiskim@aol.com.
Click here to see the Improving speed-to-market sidebar to this story.
Click here to see the How CPGs can energize the IVG model sidebar to this story.
Companies in this article