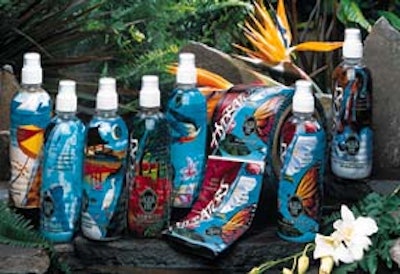 Clad in vibrant, full-body, shrink-sleeve labels—each depicting a scene from nature—the polyethylene terephthalate bottles should have no trouble catching the consumer's attention. Seal-It (Farmingdale, NY) gravure prints the PVC label in 10 colors. Label application occurs at Lyons Magnus (Fresno, CA), the contract packager responsible for filling.
According to Aqua Vie founder Tom Gillespie, two unique ingredients set Hydrators apart from all other beverages: crystalline fructose, an all-natural sugar that delivers more sweetness per calorie, and "chill," an all-natural ingredient that creates a sensory perception of icy freshness to spring water beverages.
"The product needed an up-to-date appearance that would make it look less like a bottled water and more like the sophisticated beverage it is," says Gillespie. The flavored water product, in seven flavors, will sell in supermarkets for 89¢ to $1.29.
In a hurry? Request more info via Web-based reader service by clicking on company name.
Or you can jump right to their Web site if it's listed.
Companies in this article