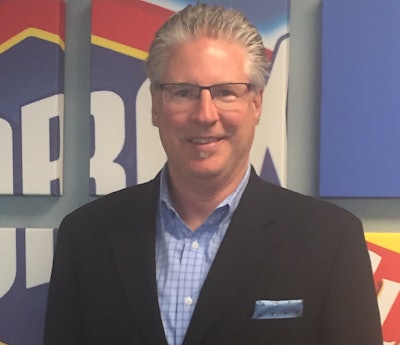 Rick McDonald, VP, International Supply Chain for The Clorox Company, shares how the consumer and professional products company leverages contract packaging services across its $5.8 billion global business, and advises co-packers on how they can help Clorox meet evolving consumer purchasing trends.
Contract Packaging:
How long have you held the position of VP, International Supply Chain for Clorox? What does your position entail?
Rick McDonald:
I have been with Clorox for 25 years, and I'm entering my fifth year as VP, International Supply Chain. My role is to ensure that the International Supply Chain—which we define as the end-to-end supply chain, including sourcing, planning, manufacturing, logistics, engineering, QA, etc.—delivers against the International Division's volume and profit objectives. We measure ourselves against what we call the ESPACE scorecard: People Engagement, Safety, Product Quality, Availability (Perfect Order), Cost, and Enabling Growth.
For what services does Clorox use contract packaging? Where are you looking to decrease costs and improve efficiencies through the use of CPs?
We use CPs primarily in two areas: primary packaging of finished goods, and secondary packaging for club channel and bundle-packed promotional items. We leverage CPs in areas where we don't have a technological capability or advantage or we need to get to market faster than if we had to stand up an operation on our own. We also leverage CPs to produce new products where there is always uncertainty about their success in the marketplace.
Can you provide an example of a time when you used a co-packer's services to ramp up a new product line?
A good example was when we launched Green Works, an all-natural cleaner. We leveraged the skills and capabilities of an experienced co-packer when we started up the brand. It allowed the co-packer to focus on Green Works production and all the challenges of starting something new, and this allowed us to keep our liquid-fill plants focused on everyday, high-efficiency production of core SKUs.
Do I understand that in some cases Clorox has third-party suppliers within its own facilities to perform some of the packaging operations? If so, what types of operations do they provide? What advantages does this model deliver to Clorox?
In some of our operations, we do have third parties under our roof. The advantage we see from this arrangement is that the CP typically invests their capital, manages their people and their operation, and allows Clorox to focus on other parts of the operation that generate higher value for our company.
Who takes on the risk of capital expenditures for new equipment—Clorox or the co-packer?
Regarding CAPEX (capital expenditure), we generally prefer to not invest our capital with contract manufacturers. We ask them to make the investments, which sometimes means they are adding a new capability, and the cost of the capital is amortized over the life of the agreement. We end up paying for the CAPEX in the price per unit we pay the co-packer.
Do you generally look to CPs to provide the packaging and components, as well as services?
It depends. Sometimes a bundled agreement is best for us, and sometimes unbundling the spend make the most sense.
What are the most important considerations in selecting a CP?
We like to work with CPs that are reliable, take their legal, environmental, and sustainability obligations seriously, have excellent cost structures, and deliver on the commitments they make to us. What we seek are CPs that can provide us with a turnkey, integrated supply chain solution.We value CPs that have knowledge and experience, use leading technologies, have design expertise, are transparent with their costs and margins, and want to collaborate with us to find creative ways to reduce our costs.
What are some of the greatest challenges Clorox is facing as consumer purchasing behaviors change (e-commerce, customization, etc.), and how can CPs help Clorox to address these challenges?
CPs can support Clorox in several ways: 1.) by providing us with turnkey solutions—that is to say, make it easy for us to bring new products to market through the CP; 2.) by bringing innovation to the discussion (formula, packaging, processes, etc.); and 3.) by providing access to supply chain capabilities, like dynamic sourcing, that will enable success in the rapidly developing e-commerce channel.
Companies in this article