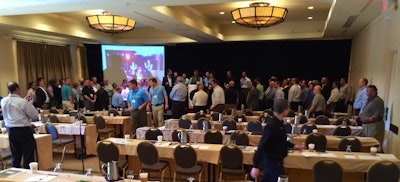 How social are you? If you're like the tens of thousands of industry pros who subscribe to Packaging World magazine's sibling, Contract Packaging, who outsource packaging of your food, CPG, pharma or other manufactured goods, you know we regularly flog the notion that contract packaging runs on relationships. You know; trust but verify, and then toast your partners for budgets, benchmarks and milestones well met.
So how important is it to be sociable? Measuring the extent to which this matters is kinda touchy-feely in relation to the hard-nosed engineering, R&D, production and supply chain data that rule your days. But there's something meaningful in all this talk of trust between the lines of your spreadsheets and contracts.
You probably think I'm going to flog the need to become more adroit in your social media outreach, but I'm not. Even if Neal Schaffer, author and president of Maximize Your Social blew minds with gobs of research at the recent 2014 Annual Meeting in Tucson. Even if 93% of U.S. companies use social media for marketing. Because you already know social media have long graduated from niche to mainstream marketing tools.
Although I gotta admit, I didn't know about a popular "friend your boss" mobile app in Japan that automatically "likes" every online post your boss makes. All I can find in the U.S. iOS App Store is a "Punch Your Boss" app. Talk about cultural differences.
Of course you need to boost your social media marketing IQ, for which any number of resources are available, not to mention Schaffer's book on it. While you need — NEED — to be social online, you also need to understand how to boost the effectiveness of your business relationships, which leads us back to Janusz, a trainer with Shepard Presentations, who noticed something different about this roomful of co-packers. (pictured.)
As part of his morning presentation, Janusz discussed how in the course of business we encounter different personality types, and even adapt our own to suit the circumstance. Then he asked the CPA members to think about their own personality and divvy themselves into groups based on four types: Thinkers, Relaters, Directors and Socializers. It's when half the room dubbed themselves Socializers that Ted — who has given more than 500 full-day presentations in 49 of 50 U.S. states and beyond — noted, parenthetically, "This has never
happened before."
Why? Was it the polar vortex? The small size CPA and tighter membership network relative to larger organizations? Nope, Ted said. About a week after Tucson he did the same exercise with another group of project managers and got primarily Thinkers and Relaters, a more quiet and analytical crowd.
Socializers are, overall, the most optimistic of the four groups, and that bodes well for the CPA crowd, because these "rainmakers" aren't like, say, the Thinkers who more often over-analyze their way out of business opportunities. So co-packers tend to be can-do people, which suits them well in their heavily service-oriented business.
"That's exactly what the brands need us for most: To make a decision fast, work through the details and move forward with production," says Chris Nutley, co-packer and CPA president.
For customers and suppliers in a co-pack partnership who want to know more about what makes each other tick, Janusz recommends Shepard Presentations' online assessment from Tony Alessandra that provides tips on "how to deal with people both like you and unlike you." He also recommends Alessandra's book, "The Platinum Rule: Discover the Four Basic Business Personalities and How They Can Lead You to Success," published in various editions.
Hope this helps you in your efforts to pick your jaw off the floor next time your supplier — or customer — asks: "Where's this relationship going?"