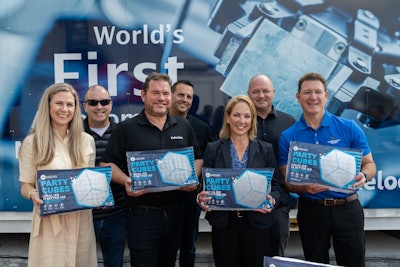 In March 2023, technology startup Relocalize joined Southeastern Grocers to cut the ribbon—or rather chainsaw through a 200-lb block of ice fashioned into a ribbon—in celebration of the opening of a pilot micro-factory for a new ice product at SEG's Jacksonville Distribution Center in Jacksonville, Fla. Relocalize is a technology startup from Montreal, Canada, that provides automated food production platforms as a service (PaaS) to grocery and convenience retailers in the form of shipping container-based micro-factories driven entirely by artificial intelligence (AI) and robotics.
Since it was founded in late 2020, Relocalize has been on a mission to disrupt the $1 trillion-plus CPG ice and beverage category by hyper-localizing the production of these water-based products to eliminate 100% of transportation CO2 and waste. Each of its micro-factories is engineered to handle all the processes of a traditional factory—i.e., production, processing, material handling, packaging, palletizing, inventory management, and food safety—at approximately one-twentieth the scale, by being located at the retailer's distribution or fulfillment centers.
As part of the SEG micro-factory pilot, Relocalize and SEG also collaborated to develop a new 6-lb ice product, marketed as SE Grocers Party Cubes, that is more compact and space efficient, offers better quality and food safety, reduces waste, and uses recyclable film packaging.
Sustainable product, affordable price
As Wayne McIntyre, co-founder and chief executive officer of Relocalize shares, the inspiration for the micro-factory strategy was born from both a personal passion for sustainability as well as a way to address the challenge of providing sustainable, high-quality food at an affordable price.
"The genesis of this project was thinking about where we could actually calibrate sustainability and value at the same time for retailers, packaged food companies and, of course, consumers," says McIntyre. "What we stumbled upon was that there's one area where these things come together, and that is when you have products that are very heavy and very expensive to transport on trucks, especially with all the inflation during COVID and the increased cost of logistics. It then became clear to us that products made primarily of water are really the best place to get started, where you get both great economics and good value, as well as actually make a huge sustainability impact."
According to McIntyre, through its analysis, Relocalize determined that even for reasonably local products, transportation between the point of production and the distribution center results in a large amount of carbon. "In fact, our analysis indicates that even when your production facility is within, say, 20 miles of a distribution center, the carbon footprint from transportation is still more than 50% higher than producing it right at the distribution center," he says. "And when you have a product that's produced far away, you're talking about a 90% CO2 reduction just by producing the product at the point of distribution instead and eliminating the entire middle-mile portion of the logistics journey."
---
---
Among the benefits cited by Relocalize of producing the product at the retailer's distribution or fulfillment center are that it breaks long supply chains and increases resilience, makes food more affordable by cutting fuel and logistics costs, and cuts tailpipe and greenhouse gas emissions.
Given Relocalize's focus on products that are primarily water, ice was top of mind when it came to deciding which product to pursue first. "We started with ice because the standard practice of trucking frozen water long distances just doesn't make ecological or economic sense," says McIntyre. "Twenty-four billion pounds of packaged ice travel across the United States and Canada from centralized production plants to retailers." According to the company, by re-localizing packaged ice alone, CO2 emissions in North America could be reduced by more than 1.3 metric tons per year.
McIntyre adds that ice had a certain allure as well because packaged ice as an industry hasn't changed in decades. "We had an opportunity to not just reinvent where the product was being made, and what kind of factory it was being made in, but also to reinvent the product itself," he says. "The Relocalize ice product and the SEG packed ice product is truly a unique, different product—different in shape, different in its packaging, different in so many ways."
Micro-factory is full of proprietary technology
A complete Relocalize manufacturing and packaging micro-factory, or RELO, for ice comprises two standard, 40-ft shipping containers equipped with the company's proprietary ice-making technology, vacuum thermoforming equipment, and robotics, integrated with custom technology from Relocalize, that operate nearly autonomously and are monitored remotely by the company.
McIntyre shares that Relocalize chose shipping containers to house the micro-factories because it enables them to repurpose and recycle existing containers, which falls in line with their sustainability values. It also allows them to build the micro-factories quickly, by not having to begin from scratch. In addition, the containers are easy to transport and deploy at the retailer's distribution or fulfillment center.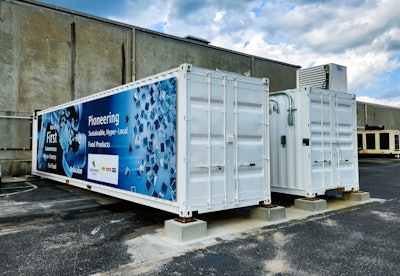 Inside the containers, the line begins with Relocalize's proprietary ice-making technology, which McIntyre says "is the first new process for industrial ice making in 100 years." The ice is made from water that has gone through a four-stage purification process and is formed in molds that produce consistently shaped cubes. McIntyre shares that the ice is not cooled by ambient air, but uses directional freezing, resulting in clear, clean ice that lasts longer and melts more slowly. Relocalize's technology also makes it possible to go from production to packaging very quickly.
According to McIntyre, the technology also eliminates the 30% to 50% water waste associated with traditional ice-making processes. "We use all of the water that goes into our production process," he says. "And that's how, coming back to our purpose, we're trying to make products that are better, cheaper, and more environmentally friendly. In order to do that, we have to think about every step in the process."
Once the ice is made in the mold, an articulated-arm robot from ABB uses end-of-arm tooling, described as "finger-like suction cups," from Relocalize to remove the cubes from the mold and transfer them to a Harpak Ulma vacuum thermoforming machine. The vacuum thermoformer packs the ice in a brick-style format that eliminates air from the package, resulting in a package that is 35% smaller than a traditionally packaged ice product. "By reducing the volume by 35%, that means 35% more product on the pallet, 35% more product on the truck, 35% more product at the retailer, and ultimately 35% more space in the consumer's freezer," says McIntyre.

This format not only provides a more compact package, but it also reduces shrink in the retail environment as well. According to McIntyre, shrink rates for packaged ice are in the neighborhood of 10% due to damaged bags. The vacuum-thermoformed bag is expected to reduce that rate to 1%. It is also expected to increase food safety for the product. "Traditionally, bags of ice are open to the air, and they can absorb odors. It's not a solid, airtight, sealed package like most other foods," says McIntyre. "This technology really allows us to vacuum out the air and deliver to our customers a watertight, non-leaking package, resulting in the safest-possible and highest-quality food product."
Following vacuum packaging, the bags are picked and placed by conventional ABB palletizing robots onto pallets and put on a rail system within the container. The micro-factory is designed to store up to a day's worth of production. When the customer needs product, the rail system carries a pallet to the door where it can be unloaded by the customer. As soon as a pallet is removed, the system produces another pallet load of product.
From its inception, key to the success of the RELO micro-factories has been to make the solution plug-and-play for the retailer. Thus, with the RELO, instead of unloading trucks of ice from their supplier at their distribution center, retailers just unload product from the micro-factory and inject it into their distribution channel. Each micro-factory is equipped to produce up to 1.6 million bags of ice per year, to supply 100 to 200 local retail stores.
AI offers promise of complete autonomy, optimization
Relocalize's ultimate vision is to have a network of thousands of RELOs across North America, monitored remotely and operating autonomously through AI. Currently, one operator is needed per six geographic RELOs to manage tasks such as reloading packaging rollstock on the thermoforming machines and conducting preventative and periodic maintenance. As it builds its in-house AI department, however, the company hopes to eliminate the need for human intervention.
"The first step for us is collecting the data and starting to analyze the data to predict faults," says McIntyre. "And that's what we're doing right now. But we'll have to build a team of in-house AI experts as we grow."
Initially Relocalize plans to use AI to predict machine failures or fault states, so that maintenance events can be dealt with before problems arise. It's also working on technologies that could load rollstock autonomously or reject batches of ice or finished bags that don't meet quality standards before they get on the pallet.
As Relocalize grows its network, McIntyre says it expects AI to play a critical role in forecasting demand for retailers and optimizing the network. "Ultimately, we see ourselves having hundreds and then thousands of these micro-factories in the field. AI will help us decide where the most optimal place is to produce product on a given day because of, for example, weather, carbon footprint, fuel prices, or traffic, and we can look to the power of AI to help us make optimal decisions—and to do so fully autonomously on both the supply side and the customer management side."
SEG finds success with new strategy
Relocalize's partnership with SEG dates back to April 2021, with the first autonomous ice-making micro-factory pilot launching two years later. SEG is the parent company of Fresco y Más, Harveys Supermarket, and Winn-Dixie grocery stores, with stores located throughout Alabama, Florida, Georgia, Louisiana, and Mississippi. The pilot is initially supplying the new ice product to two of SEG's Jacksonville locations.
Says Southeastern Grocers Chief Merchandising Officer Dewayne Rabon, "SEG's partnership with Relocalize bolsters our commitment to sustainability, product innovation, convenience, and value. This unique micro-factory allows us to eliminate middle-mile logistics to help reduce greenhouse gas emissions, water waste, and plastic pollution. It is truly a big win for our associates, customers, communities, and our planet."
SEG worked with Relocalize on the development of the vacuum thermoformed packaging, selecting a recyclable, mono-material film from Winpak called ReLam. ReLam is a co-extrusion of polyethylene and ethyl vinyl alcohol, with the EVOH comprising such a small percentage of the film construction that the packaging is able to be recycled through store drop-off systems. Packaging graphics for the product, called Party Cubes, are customized according to SEG's brand standards, but the packaging format can be used by other brands if they choose to adopt the product. In fact, McIntyre says Relocalize may introduce an ice product under its own name in the future.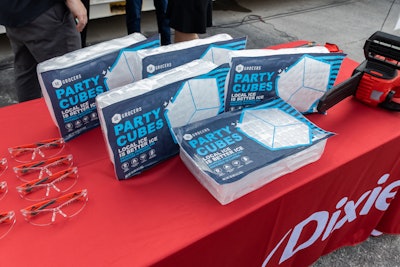 As of late June 2023, SEG had produced and distributed nearly 800 Party Cube Units to its stores. "We've had an incredibly positive response from our customers," says Rabon, "and we hope to expand Party Cubes to five additional stores in Jacksonville and one new store in Apopka, Florida.
"Our partnership with Relocalize meets at the intersection of sustainability and innovation. It provides a unique opportunity to offer our customers better ice, in a better package, at a better price—that's also better for the planet. We continue to utilize a 'test and learn' approach as we consider expanding to our broader Southeast footprint in the future. Additionally, we are planning some shopper intercepts to further understand customer ice-buying motivations and behaviors."
While both Relocalize and SEG decline to discuss costs, Rabon says that SEG has made a significant investment in the new micro-factory and will consider expanding installations in the future.
Shares McIntyre, "It will really be retailer dependent, but the overall objective of our commercial agreements will be to significantly reduce the cost for the retailer, to the tune of 30%, while at the same time producing a more sustainable product." PW

Companies in this article