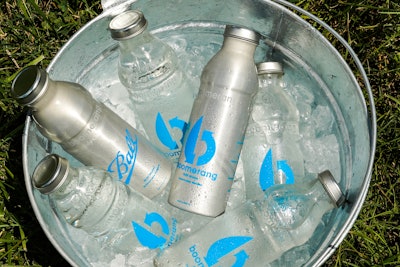 When single-serve water in plastic bottles hit the mainstream in the 1990s, no one could have imagined how pervasive it would become in consumers' daily lives. According to Statista, the U.S. bottled water market is currently valued at $94.07 billion, with a 6.34% annual CAGR through 2027. More Americans drink bottled water than any other packaged beverage, and for good reason: It offers a healthy, safe, and calorie-free alternative to sugary beverages and provides hydration on-the-go in a portable, unbreakable container.
What consumers could also not have predicted though was the impact these single-serve containers would have on the environment and natural resources in the decades to come. Single-serve plastic beverage bottles have become the poster child for packaging pollution. According to the Container Recycling Institute, 86% of disposable water bottles used in the U.S. become garbage or litter, which translates to 38 billion disposable water bottles going to landfill each year.
---
---
When former military airman Jason Dibble began the first of his four tours of duty in Afghanistan, he was confronted with the most extreme example of bottled water's negative environmental effects. "When I got in country, the first thing they handed me was a bottle of water. Now, the statement after that is the shocking one, which was, 'Make sure you drink from it, you brush your teeth with it, you cook with it, but shower with the water that's already here,'" Dibble shares. "And that stuck with me forever.
"Also while over there for those number of tours, what I started to see were lots and lots of supply planes coming in with boatloads of bottled water—I mean, exorbitant amounts of bottled water. And the crazy part is, when we were done with that bottled water, because obviously we don't have any real, true infrastructure to bury the packaging, we burned the bottles in burn pits." These burn pits are now the subject of major lawsuits, after military members exposed to the pits' toxins began suffering serious health conditions.
As Dibble later came to understand, the military's process of handling bottled water is not an anomaly. "I looked around at this bottled water industry, and as big as it is, it does the same thing we were doing in the military, which is taking it from one resource and then shipping it around the world. That's when I thought, 'There's got to be a better way.'"
After years of R&D, Dibble introduced to market what he believes is a better way: the Boomerang Bottling System.
Boomerang perseveres despite naysayers
Boomerang Water, LLC was co-founded in 2017 by Dibble and partner Jerrod Freund to provide a solution for bottled water without the waste. Using the BBS, closed-loop environments, such as hotels, campuses, stadiums, cruise ships, manufacturing facilities—the examples are nearly endless—can fill their own water on-site in reusable glass or aluminum bottles, which are then collected after use and refilled. The keystone of the system is the BBS machine, which rinses, filters (the water), fills, and caps Boomerang-supplied custom reusable bottles.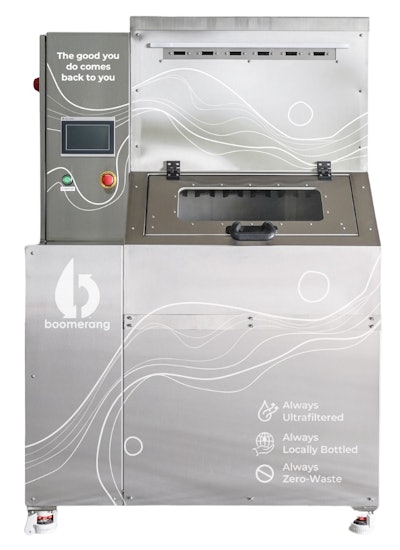 When compared with traditional bottled water manufacturing and distribution systems, the BBS eliminates the need to ship product long distances, it secures the supply chain, it provides the freshest water possible, and it replaces single-use plastic bottles with containers that can be used multiple times and then ultimately recycled. It also provides businesses, organizations, and institutions with on-pack branding opportunities, as well as a tangible way to demonstrate their commitment to sustainability.
The idea behind the BBS is so intuitive, it seems a wonder no one thought of it before. Yet, much to Dibble's surprise, when he approached several engineering firms early on to help him build the machine, he was laughed out of the rooms. "They said, 'This is the dumbest idea in the world because plastic is just cheap, it's easy to transport,'" he shares.
Undaunted, Dibble enlisted a number of engineering experts and OEMs and began designing the system in his garage—a process he says involved "thousands and thousands of hours of engineering and R&D." He adds, "This was a story of me talking to individuals passionately, telling them that we needed to do something radically different. But as everyone kept on working on the project and as we continued to build out the system, it was one of those things where everyone's like, 'This just makes sense. Why haven't we been doing this? We're not building a rocket ship.'"
While not a rocket ship, the BBS was still a challenging piece of equipment to design. As Dibble notes, you can engineer almost anything to be complex, but it's very difficult to engineer something with the least amount of moving parts. The latter was the goal of the Boomerang team in order to make the machine easy enough for anyone to run as well as to minimize maintenance issues.
Smart bottling system is designed for flexibility
The fruit of Boomerang's labor, the BBS machine, is compact; at 48 in. W x 35 in. D x 72 in. H, it's roughly the size of a commercial ice maker. Handling six bottles at a time, the BBS sanitizes glass or aluminum containers using high heat (in the future, Boomerang plans to use chemicals to sanitize the bottles), fills them with filtered water, and vacuum seals them with a single-use steel cap at a speed of 15 to 20 seconds per cycle. Boomerang also supplies a custom bottle washer that prewashes used containers, removing any grit, grime, wax, lipstick, etc.
The BBS comes standard with a UF (ultrafiltration) system, but is designed for compatibility with any type of filter to suit a variety of applications. For example, Dibble shares, when Boomerang presented the BBS to the military, they were interested in using an RO (reverse osmosis) filtration system. "Depending on the water source, we can tailor-make our filtration system specific to that water source," Dibble explains. "The beauty of the platform is that you can use spring water, mountain water, you can go on remote islands, cruise ships, navy vessels, submarines, it doesn't matter. We can complement our system with the right filtration system to always provide the customer with the highest-quality water."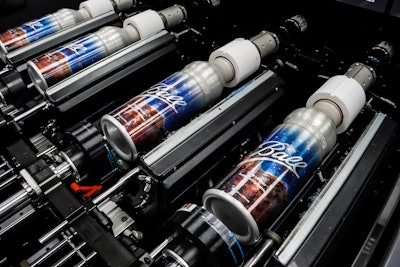 The high quality of the water is also the result of the immediacy between the time the bottle is filled and the time it reaches the customer, which is estimated to be from 72 to 96 hours on average. That's compared with traditionally manufactured bottled water, which must travel from the manufacturer to the distributor and then to the retailer, after which the bottle might sit on a shelf for a period of time. This entire process, Dibble says, means the water may not be consumed by the customer until three to six months after it's been bottled.
Built with ease of operation top of mind, the BBS runs at the "touch of a button," with a complex computer system guiding the machine's operations. If problems do arise, Boomerang can connect with the machine via Ethernet to operate the system remotely. Another feature of the machine is that it collects production data, including how many bottles are moving through the machine, energy usage, the amount of water used, etc. In the future, Boomerang will also be able to provide its customers with monthly ESG (Environmental, Social and Governance) reports that they can share with management and shareholders.
Sustainability and economics at the core of system
As Dibble shares, when developing the BBS solution, Boomerang considered both sustainability and economics. Given people generally associate products that offer greater sustainability with higher costs, the company wanted to take a different approach. With a reusable packaging system, many of those cost savings are baked in. Each time a bottle is used, it costs less.
"The more you use it, the cheaper it gets," says Dibble. "To me, it's like this, if you go to a restaurant, they're not going to give you a new fork, a new spoon, a new knife, a new plate every single time. What they do is they take it back, they wash it, they sanitize it, and they reuse it. We're doing exactly the same thing, except we're doing it with bottled water."
Using the example of 500 bottles a day produced on the BBS, Dibble calculates that the cost per bottle with labor is from 38 to 42 cents versus $1.10 to $1.85 per bottle for a single-use product. Meanwhile, the environmental cost per bottle is dramatically less for the reusable bottle. After one use, a Boomerang bottle results in 95% fewer CO2 emissions than a single-use plastic bottle, and 100% fewer after it goes around a second time.
---
---
Dibble also shares that in the use cases so far, there have been no increases in the cost of labor to operate the machine. The BBS can be managed by one person, typically someone already on staff, and a good operator can run anywhere between 350 to 500 bottles per hour. "Once we train the operator, whether it's for 500 or 1,000 bottles, it's between one to three hours of work."
The machines themselves, including the bottle washer, are leased by Boomerang to its customers, with the cost based on turns and cycles. The complete solution also includes the bottles and caps, a custom-branded collection system for empty bottles, and refill stations, if desired. Boomerang's strategy is to develop a partnership with its customers, enabling them to implement a complete closed-loop program. As Dibble says, the company is not interested in selling machines for the sake of producing single-use bottled water. "We turn down contracts all the time," he shares. "If there's not a buy-in from the organization, it doesn't make sense for us to utilize an asset in a location that's not really going to be a part of our program. We want to build the right program with our customers because it only works if you're getting the bottle back and it's constantly being reused."
Every (reusable) bottle has a story
Designed for maximum durability for multiple uses and for compatibility with the BBS machine, the glass and aluminum bottles used in the Boomerang system are supplied by O-I and Ball, respectively, with Ball being the most recent partner to come on board.
Says Jay Billings, president of Ball Aerosol Packaging, Ball Corporation, of working with Boomerang to create the custom bottles: "Ball aims for resource efficiency improvement, and our intent is to make the lightest metal containers possible, while meeting the performance requirements of our customers. Working with Boomerang was no different as we strove to deliver a reusable aluminum bottling solution that was as light as possible, while preserving its strength and integrity. Aluminum packaging has endless opportunities for innovation, and we were able to adapt our current product offerings to fit Boomerang's custom bottling system."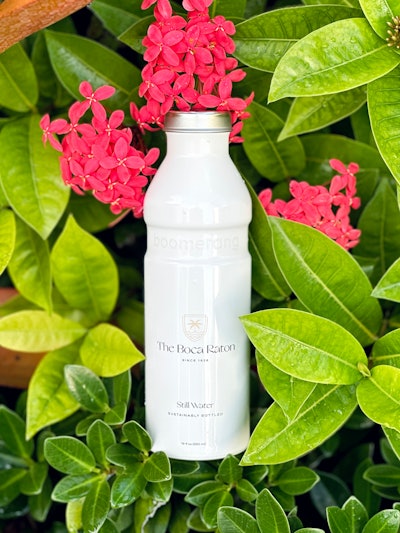 Both the aluminum and glass bottles use a custom design that includes a wide mouth and a specific shoulder complexity that ensure the inside of the bottle can be fully washed. Wanting to make the experience of handling the bottle as familiar as possible for the consumer, Boomerang also designed the bottle to feel good in the hand and fit in a cup holder.
As for turns, Dibble says the glass bottles can be used "infinitely." The aluminum bottles are designed for up to 150 turns, after which there may be dents or dings or the customer may want to switch out the bottle for a new design. Once the bottles can no longer be used, they can be recycled. "In fact," says Billings, "they [aluminum bottles] can be turned into new bottles and returned to the Boomerang Bottling System in about 60 days."
Bottles are digitally printed by Boomerang in-house using a photorealistic printer specifically designed for its use. Digital printing technology allows Boomerang to create personalized packaging and short runs cost-effectively. This means customers can have cans produced for special events, promotions, etc., in addition to their branding information. Boomerang also offers its customers the services of its in-house designers. "The sky is the limit from the creative side," Dibble says. "If we're partnering with a group, we want them to feel like they own and are part of that bottle, because every bottle has a story."
302,400 bottles collected and counting
Since the BBS launched in 2020, more than 302,400 bottles have been collected and reused at Boomerang customer sites, according to a tally on the company's website at press time. Among the company's current customers are a mining camp on the East Coast, the Four Seasons Resort Hualalai in Hawaii (see sidebar below), The Boca Raton luxury resort in Boca Raton, Fla., and the City of Davidson, N.C.—which is also where Boomerang is located.
But this is just the first step in Boomerang's long-term plan. "We started with water because it's the main ingredient in every beverage," Dibble says. "I knew once we got there, we could pivot over into other beverages, other flavors, and eventually other products," such as shampoos, cleaners, and conditioners, all of which fit within the company's patent scope. "Our goal is to proliferate this technology not only throughout the United States, but also throughout the world."
Hawaiian Resort Eliminates 0.5M Single-Use Plastic Bottles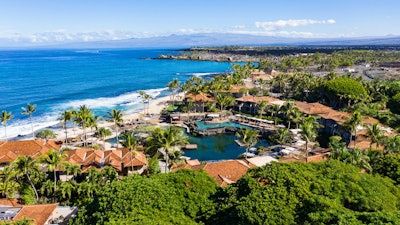 In March 2022, the Four Seasons Resort Hualalai, a luxury Hawaiian resort guided by the brand's Lead With Care program, adopted the Boomerang Bottling System, installing one BBS machine and 27 Boomerang-supplied refill stations throughout the resort for its guests. The Four Seasons Lead With Care program was developed in collaboration with Johns Hopkins Medicine and advances the hospitality company's commitment to protecting the health, safety, and security of its employees, guests, and residents worldwide.
For Four Seasons' Hualalai location, this commitment includes taking care of the resort's island home by reducing its impact on the local environment. "Sustainability is a new word for a centuries-old way of life in Hawaii: Mālama Ka Honua (care for the earth)," said Charlie Parker, regional vice president and general manager of the Four Seasons Resort Hualalai, upon the announcement of the resort's use of the BBS system. "We are proud to empower both our resort guests and employees to be more environmentally conscious in their everyday lives with this new offering."
Before launching the BBS program, the luxury resort was purchasing from 400,000 to 500,000 bottles of water annually in single-use plastic bottles from a vendor on the island. Even though the vendor was local, Angelica Chavez, assistant director of Housekeeping for the Four Seasons Resort Hualalai, shares that the resort still experienced supply chain issues from time to time. She adds that the resort had been looking for a way to transition from single-use plastic water bottles to a more sustainable, zero-waste alternative, and Boomerang provided the solution
"The co-founders of Boomerang visited Four Seasons Resort Hualalai and completed a review across the resort with various leaders," Chavez says. "Their team then identified the ideal location for installation of the system, reviewed potential recovery and distribution locations, and provided guidance on education and literature across the resort to encourage bottle recovery for reuse."
The resort employs one full-time operator to run the machine as well as to gather used bottles from collection points across the property. Recovery bins are located at every pool stand, outlet, spa, and fitness center on the property. During the operator's eight-hour shift, the machine runs for approximately six hours. While the BBS can produce 3,000 bottles/day, Chavez says the resort averages around 1,200/day, based on its usage. She adds that the machine is very easy to operate, and daily cleaning and maintenance take just 20 minutes to ensure the system is running properly.
During operation, the BBS machine fills the reusable bottles with water sourced from Hualalai's on-site water processing plant and then filters it through a six-stage, sub-micron UF (ultrafiltration) system, specifically designed for the resort. The bottled water is then distributed free-of-charge in guest rooms and in public spaces to visitors, who are encouraged to use the 27 refill stations across the property to keep the bottles in use. The resort selected Ball's aluminum bottle for its program to avoid any issues with broken glass along the resort pathways, which many of the guests walk barefoot on.
Thus far, the Four Seasons Resort Hualalai has seen a return rate for the bottles of 60%. "We are constantly looking to add collection stations and make it easier for our guests to return the bottles," says Chavez. "The main goal for us is to continue spreading the message about Boomerang water bottles so that all of our guests and visitors know where they can return and recycle the bottles, which will hopefully increase our return rate."

Companies in this article