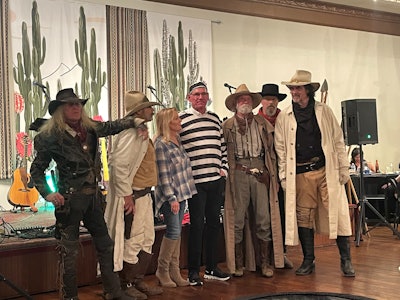 During the kickoff event at the Buckhorn Saloon, the Contract Packaging Association (CPA) celebrated thoughtful time and effort president Rob Reinders had put into leading the association and bade him a warm thank you with jail attire and shootouts. The CPA then welcomed Jerry Thompson, CEO of Combined Technologies Inc. (CTI) as its new president. Thompson intends to be highly involved in the organization with goals pertaining to sustainability and collaboration, as well as in this publication to bring the CPA members thought provoking insight on timely discussions.
During the event, Rebecca Marquez, director of custom research at PMMI, the Association for Packaging and Processing Technologies, presented preliminary findings on recyclability within the packaging and processing industry. Results show that plastics will continue to be used in a variety of formats with flexible plastics on the rise and PET bottles experiencing the largest compound annual growth rate. Though flexible packaging as a generally multi-layered material creates an obstacle to sustainable packaging practices.
"We don't have the infrastructure. It is vitally important that we get involved and work with organizations directing legislations to get this changed. We need to find a better method to manage these materials," says Marquez.
Consumer trends that are tending more towards sustainable and circular recycling as well as supply chain are strong decision-makers in what materials consumer packaged goods (CPG) companies and contract manufacturers and packagers (CM/CPs)use for packaging.
"I've run into CPGs who have to change materials because they can't get their hands on materials they were originally using," says Marquez. "Supply chain issues are going to remain at the center of attention for a while."
The 2023 State of the Industry report produced by the CPA will have further information on sustainable practices applicable to the contact manufacturing and packaging industry, according to Carl Melville, founder of the Melville Group, who provided a preview of the report.
Other topics that will be covered as industry drivers in the report include:
Inflation
Labor shortages and robotics
Private equity firms specializing in CM/CP
"We still go into CEO demographics as there's a great deal of interest in that. We're also going to be putting in more in depth interviews with CEOs or other luminary. There will be links in the report to videos of those CEOs explaining their points in more detail," says Melville.
Interviews and surveys are the main source of data collection for the report. Each member that participates will receive a "special" version of the executive summary with information otherwise not available to the public.
Companies in this article