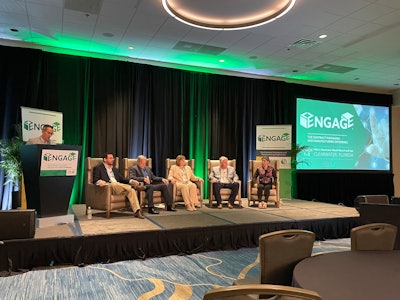 During the first week of March, the Contract Packaging Association hosted its annual ENGAGE meeting, which had a record number of more than 200 attendees.
During the meeting, there were several opportunities for contract manufacturers and packagers (CM&Ps) to learn how to engage the next level of growth and opportunities. From hearing about customer needs and pain points to learning about the latest in robotics and cybersecurity.
CPGs share their pain points
CM&Ps were given a unique perspective on partnerships and where the industry is headed as labor shortages and supply chain issues continue, with an informative panel hosted by Jason Tham, CEO of Nulogy.
Here are some notable quotes from the discussion:
Erika Nava, Director, Amplify Snacks, discusses labor: "One of the biggest challenges has been predictability. How do we get ahead in the price when we talk about labor and budget? What we need from our co-packers and manufacturers is the attitude of, let's partner and work together. We have partnered with staffing agencies with our co-packers and manufacturers. We needed to understand the trends, the challenges, why people were more attracted to work in specific facilities. Labor can choose jobs, so we need to make our sites attractive."
Michael Chaney, a C-level Procter & Gamble retired executive, talks supply chain resiliency: "I think for years, every product supply leader or manufacturer has always said, 'Produce profit, produce profit, produce profit.' When the pandemic hit, what happened is the brands that survived were those that had what I call a 'resilient supply chain.' I think P&G did well because we had a little more resilience in the supply chain. We thought about it. We instituted a contingency plan. We instituted a thought of what could disrupt our supply chain, and how do we prepare for that? Now nothing quite prepares you for a pandemic. The reality is we try to build a more resilient supply chain, and I think that's what we did a lot with homemade factors and co-factors to build some resiliency and agility into that. That helped us a lot because we just had enough options where we could pull the reduction."
Martin Robby, Senior Commercialization Manager, Bush Brothers & Company, echoes supply chain woes: "On the front end of the last two years, it was all about supply. So, the freedom to limit your SKU offerings just so you can get more of the stuff you need to run more on the front end. On the back end, there was the issue of how do we start to return to normal? And yet, you still have supply chain disruption. There have still been periods of allocation on our part, but we didn't think we would have been this late in the process. We have really ramped up our [Syntrol Corp Price] forecasting because we can't get our infrastructure the way we want it to if we can't get better at forecasting."
Cybersecurity considerations
The average ransomware demand in 2021 was $570,000, and more than 65% of companies across all industries and verticals experienced some form of phishing attempt or email compromise in 2020.
CM&Ps aren't immune to cyberattacks and the fallout from them, as manufacturing is the second most targeted industry, according to George Forrester III, a partner at AHT Insurance. Thankfully, CPA members have access to resources and additional protections against cybercrime through AHT Insurance, Coalition, and the National Association of Manufacturers.
The first step in protecting your company against cybercrime is learning about your vulnerabilities. CPA members can get a complimentary cyber risk assessment here: Request a cyber risk assessment and quote
Labor shortage paves way for robots
There are 10.9 million job openings, marking a pre-pandemic high, while workers are also simultaneously quitting their jobs at record-high rates. To keep production going, many CM&Ps are turning to robotic solutions. Meredith Owen, MBA, Head of Business at Southie Autonomy, shared practical ways for CM&Ps to close labor gaps with robots.
Owen says the industry is prime for robots, even though there may be some hesitancy among CM&Ps to implement robotics because the return on investment seems unpredictable. However, with the use of artificial intelligence, the time, money, and skills needed to program and change over a robot virtually disappear, she says.
Some instances that are prime for robotics include:
Multi/variety packs
Display builds
Palletization, cartoning
Sub kits/boxes
Club packs
Clamshells, blister packs
Labels, hangtags, paper inserts
Future developments
Eyeing mergers and acquisitions?
For many CM&Ps, being acquired is an attractive growth strategy. During ENGAGE, Thomas Blaige, Chairman and CEO, Blaige & Company, shared unique merger and acquisition opportunities for CM&Ps. Here are some highlights:
Above-average growth, above-average profitability, and below-average capital intensity
High consolidation potential – above-average industry fragmentation
Disintermediation – brand owners shifting manufacturing to contract suppliers
Global supply chain challenges create opportunities for 3PL companies
The next ENGAGE meeting will take place February 21-23, 2023 at the Westin Riverwalk in San Antonio.
To learn more about joining The Contract Packaging Association and attending events such as ENGAGE, visit: contractpackaging.org
Companies in this article