One of the largest independent manufacturers of private-label pet food products in Europe, U.K.-based GA Pet Food Partners espouses the core values of quality, integrity, and innovation—principles it imparts throughout the business, from processing through packaging, and everything in-between.
The company is located in Bretherton, Leyland in Lancashire on a 40-acre site, where it produces 80,000 metric tons, or approximately 97,000 tons, of dry dog and cat food each year across three extrusion lines and eight packaging lines. Shares the company's Managing Director, Dr. Andy Kettle, the culmination of GA Pet Food's core values is its Freshtrusion™ process, which allows the company to incorporate higher levels of fresh meat into its recipes than provided by any other manufacturer.
---
---
Freshtrusion, Dr. Kettle explains, involves the collection of the finest fresh meats and fish from trusted farms and fisheries, transportation of the meat and fish in GA Pet Food's own refrigerated trucks, and extensive on-site quality testing. This is followed by gentle cooking of the recipes at approximately 180°F, which he says protects the products' proteins and ensures maximum digestibility and nutritional value. With the use of proprietary technology, the company is also able to reduce the moisture content of the freshly prepared meat and include increasingly high amounts of fresh meat into its recipes.
Guaranteeing the Freshtrusion-produced product retains the highest quality and gets to the consumer contaminant-free is the job of GA Pet Food's packaging operations, which recently got a boost with the replacement of three manual filling lines with one that is fully automated, reducing labor by 75%. Demonstrating the company's commitment to innovation, the line includes a nearly 22-ft-long X-ray machine, the largest of its kind ever engineered by U.K. supplier Sapphire Inspection Systems.
Designing the massive system to accommodate bags weighing up to 25 kg and measuring up to one meter (~3 ft) lying flat was a nearly two-year project that involved challenges both with optimizing X-ray detection for such large products as well as engineering the machine for easy installation in the facility.
Custom solution required
GA Pet Food is no stranger to the Sapphire platform of X-ray products. "Sapphire is the only X-ray provider that GA has partnered with," shares Dr. Kettle. "We purchased our first machine in 2013, and now we have nine on-site. Sapphire machines offer great flexibility in coping with a wide range of bag formats and sizes as well as unrivaled performance."
Flexibility is most assuredly top of mind for the company; GA Pet Food handles 700 different recipes and 2,500 different packaging formats in various constructions of paper, polyethylene, and foil. "So it's a challenge to find inspection equipment that can cope with that," says Dr. Kettle. "Sapphire has the expertise to create bespoke [custom] solutions for us that fully integrate with our own systems to provide a high level of process control and, in turn, reassurance for our own customers about the quality of every bag of their products."
One of its most recent acquisitions from Sapphire was the G40 X-ray system for a small-pack line installed in 2020 that replaces two manual filling lines and handles bag sizes from 1 to 4 kg. According to Dr. Kettle, GA selected the G40 due to the machine's flexibility in handling a range of pack sizes, as well as the option to integrate the machine with the company's Enterprise Resource Planning (ERP) system.
In early 2020, GA Pet Food Partners approached Sapphire with the need for an X-ray system that could integrate with the new large-pack packaging line it was developing to replace three manual lines. The company needed a system that could handle bags weighing from 5 to 25 kg and measuring one meter long and 520 mm (~20 in.) wide.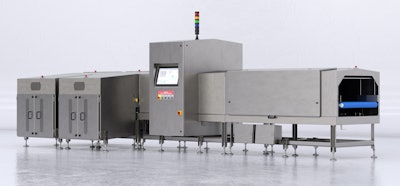 Requirements included speeds to 14 bags/min, 24 hrs/day, 7 days/week; the ability to detect stainless, ferrous, and non-ferrous metal down to 2 mm and glass down to 4 mm; and a footprint that could fit into a fairly tight space. "We also wanted the ability to checkweigh bags and collect rejects, which significantly added to the overall length," says Dr. Kettle.
He adds that another prerequisite was the ability of the X-ray system to fully control the machine through GA Pet Food's ERP system and to be able to archive all images taken by the machine. This, along with a time stamp on each bag, allows for easy identification of a specific item if there are any issues after the product has been sold.
Says Sapphire CEO Richard Parmee, "It was clear from the start that the latest innovative request from GA Pet Food Partners was going to need our unique bespoke approach to create our largest ever machine that can seamlessly integrate into the factory's existing systems to ensure every product is of the high standard."
Optimum geometry allows for large-product inspection
Engineering an X-ray machine capable of inspecting bags weighing up to 25 kg at 1,800/hr posed challenges for Sapphire in terms of the accuracy and reliability of the design. "This machine is transporting and inspecting a substantial tonnage and value of product on a round-the-clock basis, so it is built to be very robust," says Parmee. "Optimization at the proprietary component and algorithm level is key to accuracy."
With X-ray technology, the larger the container diameter, the greater the impact on detection levels. "An X-ray system creates an image where the contaminants can be seen, generally, as dark features compared with the surrounding food matrix," explains Parmee. "The greater the dimensions of the product, the smaller the proportionate difference, which is represented by a contaminant of a given size. As a result of this, we always try to design systems where we can image the pack through its smallest dimension."
The maximum GA Pet Food bag width is 520 mm, although the Sapphire machine can inspect wider bags up to 700 mm, "but the actual scanning width is dependent on bag height," Parmee relates.
---
---
To address the challenges presented by the bag size, Parmee says Sapphire adopted an approach of carefully examining the orientation of the X-ray beam to determine the optimum geometry. "Additionally, the radiographic hardware design, settings, scan rate, and product separation all contribute to creating a low-noise image, which provides the best opportunity for our proprietary algorithms to deliver accuracy."
To allow for product checkweighing using the same system, Sapphire incorporated gravitational weighing with load cells. The data from these load cells is processed by the same computer that compiles and processes the X-ray images, thus product weighing shares the same database and analysis systems as X-ray inspection. "This computer interfaces with the factory communications network, which enables data interchange—both X-ray inspection and weight—between the X-ray machine and the GA Pet Food Partners factory systems," explains Parmee. "We have been able to incorporate the most advanced digital signal processing to guarantee the accuracy of the weight measurement, even with high levels of vibrations."
Behemoth size requires careful design
Another challenge in the design and manufacture of the X-ray system was its sheer physical size; the final footprint of the machine is approximately 22 ft L x 7 ft W x 8 ft H. "It [the machine] had to be designed and built in a modular fashion so that it could be installed using a gantry within the factory," explains Dr. Kettle. "With a machine of this size, ensuring its safe use required careful consideration. We had to control the size of the doors and access panels, for example, to ensure it was still ergonomic to use.
"The physical handling of the rejects was another challenge, given the size of the bags. This needed a lot of thought to avoid any negative effects on the whole production line—and potentially factory downtime. Our solution was to design a new reject mechanism with the ability to either convey good product directly to the outfeed or safely divert contaminated product to a contaminated collection bin and underweight product to a weight collection bin. The new reject mechanism must operate rapidly, due to the speed of the line, but still reject large, heavy product sacks to the bins without damage."
For the body of the machine, GA Pet Food opted for a stainless steel construction for longevity and ease of maintenance. Although loose product is not conveyed through the machine, Parmee says hygienic design is always good practice. "Of course, inspecting a product after the packaging is sealed is an ideal situation, as there is no possibility of foreign materials entering the package," he notes. "But general sanitary aspects in all our products include ease of cleaning and having ready and rapid access to internal features of the machine."
---
---
Flexibility to handle multiple bag sizes is made possible through the machine's integration with GA Pet Food's ERP system. Explains Dr. Kettle, "To facilitate this [changeover], all machine parameters are stored on our ERP system, which the operator has access to via a single control screen for the entire line. There are only two parts that have to be manually exchanged—otherwise the line is fully automated."
The X-ray/checkweighing machine is positioned immediately following the bagging machine, an IGF 1200 from Concetti North America Corp., which fills and closes premade, open-mouth bags at speeds to 950/hr. Other quality control equipment on the line includes a throat metal detector, the Safeline T Series Profile from Mettler Toledo, which inspects free-flowing product as it falls from a weighing system to the bagging machine, a custom bag recognition system from Routeco that ensures the correct bag is loaded into the bagger every time, and a Quipack seal inspection system that uses a thermal imaging camera to provide a non-destructive means of validating the integrity of every bag seal. A Mach 5.1 palletizer from Symach, a BW Packaging Systems company, stacks the bags after they are inspected by the Sapphire system.
Transferrable technology
Custom-engineered for GA Pet Food but now available as a standard offering, Sapphire's giant X-ray machine has been given the model name G40 XL. Explains Parmee, the model shares many of the same capabilities as the company's G40 high-speed linear array inspection system, which has a detector array length of 409 to 614 mm, but has a higher capacity.
"In fact," Parmee shares, "we are currently working, in a completely different sector, on an application where we have been able to use the central inspection system from this project but with a unique reject handling for the new application."
As for GA Pet Food, Sapphire has met its expectations so well with the recent X-ray/checkweighing system, it plans to add three more pieces of Sapphire equipment in the near future.

Companies in this article