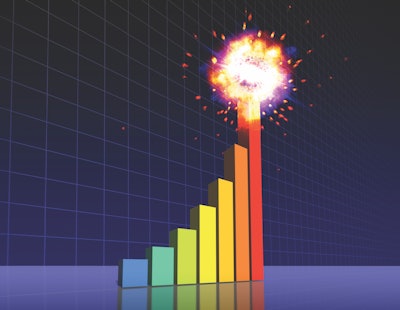 Despite the colossal challenges faced by businesses resulting from the COVID-19 pandemic, the contract packaging/contract manufacturing (CP/CM) industry in North America is one market that met those challenges and is alive and kicking. In fact, it's bounding forward at a growth rate that's "rarely seen outside a Petri dish." That's according to Carl Melville, COO of The Melville Group, whose firm produced the recently released sixth edition of CPA, The Association for Contract Packagers and Manufacturers' State of the Industry Report.
"This is a great time to be in our industry," says Melville. "In spite of probably the biggest shock to our economy, certainly since the Great Depression, our industry has done phenomenally. After a very brief pause, it has come roaring back."
According to the report, the CP/CM industry is forecast to grow at a 10.2% CAGR through 2025 to reach $121 billion in revenue, up from $67.5 billion in 2019. That number is slightly down from the 11.9% projection made in the last report (2017/2018), but still twice the rate of those industries it serves. "Our industry has been around a long time, and it's continuing to experience double-digit growth," says Melville. "I think we should celebrate that."
---
---
However, he cautions, while celebrating these numbers, CP/CMs also need to be aware of a number of industry headwinds—some resulting from the pandemic, some exacerbated by the pandemic, and some that had already begun gaining steam pre-COVID-19. Among them are the expanding value chain, SKU rationalization, repatriation rates, the era of upstream sustainability, and labor cost differentials/labor shortages.
Along with these issues, the report also covers (among many other things) the short- and long-term effects of COVID-19, the status of merger and acquisition (M&A) activity, and packaging equipment statistics, which were provided by PMMI, The Association for Packaging and Processing Technologies.
Business, M&A activity thriving
As defined in the report, CP/CMs are companies that provide contract packaging, contract manufacturing, and secondary packaging services for food and Consumer Packaged Goods companies. It does not include private-label producers. The report covers CP/CMs in North America (the U.S. and Canada) and includes input from 150 industry insiders—i.e., industry practitioners, CP/CM owners, CEOs, executives, customers, and vendors. To these insights, The Melville Group added qualitative and quantitative primary and secondary research.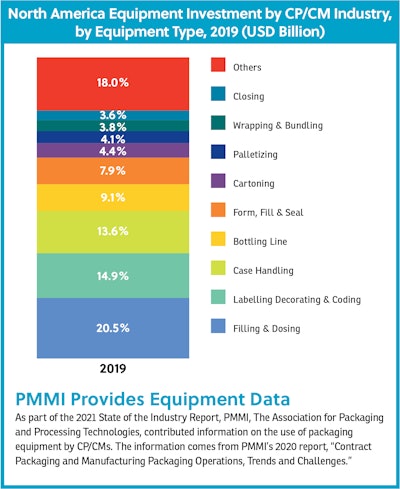 As noted, the CP/CM industry continues to exhibit significant growth, despite the turbulence caused by the pandemic. "This was a very essential business last year, and CP/CMs, for the most part, have done incredibly well," says Melville. "We've added a lot of value to the economy. We've kept the food supply open, and we kept it safe. We should all be very proud of the work we've done in food and CPG, as well as in delivering PPE and all the other things our industry has done."
M&A activity, which had been setting new records every year for the previous 10, took a pause in early 2020. As Melville relates, the bond market froze up during the early days of the crisis, but as the year progressed, M&A activity began to pick up in a big way. In fact, Q3-2020, saw a $1 billion deal. "New co-creation happens for every big merger that occurs, and there are still more folks entering the space," Melville adds.
According to M&A information provided by investment banking firm Blaige & Company, there is almost $1 trillion of capital sitting on the sidelines ready to be invested. Melville clarifies that this isn't just for the CP/CM industry, but this includes several sectors of which the CP/CM is one. Continued industry consolidation through M&A will have a transformative effect on the industry, he says, with significant impacts on the supply chain, investments, and how customers interact with suppliers.
"As these larger and larger platforms form, as they're taking company A, B, and C and making company X, and then combining that with company Y to create an even larger organization, the value propositions for customers are changing," says Melville. "The number of services a customer can receive from a given provider changes, and the scope of that supply chain continues to enhance the value chain."
Demands for turnkey services and innovation grow
Being able to provide customers with more services along the full supply chain will be an important differentiator, as one of the headwinds discussed in the report is how customer expectations continue to grow. Among the reasons cited are budget cuts, changes within legacy food companies, and small, upstart firms looking for a more expansive suite of services.
These growing expectations present both a challenge and an opportunity. According to Melville, the biggest challenge for a CP/CM is not just how to serve those needs, but also how to serve them without adding to their cost structure. "As you know, the kiss of death for a CP/CM is to become their customer. Then it becomes almost impossible to adds value," he says.Customers are also increasingly looking for innovation from their CP/CMs in nearly every area. "Brands are continuing to grab for innovation with both hands anywhere they can find it," says Melville. "These are some of the larger, more successful companies in the country and in the industry, but they're under incredible pressure from the channel—be it e-commerce or grocery retail—to produce innovation. They are looking for innovation anywhere they can find it, and CP/CMs are already a source for that."
---
---
These include innovations in product, packaging, materials, processes, equipment, formulation, and business and financial areas. Says Melville, "Brands are looking toward their suppliers and saying, 'Not invented here is dead on arrival. So bring me some packaging innovation. What can you do for me that I can't already do for myself?'"
According to the report, customers value process innovation above all else. They are looking to CP/CMs to present them with ways to do things better than they can themselves, either on a cost, quality, volume, or speed-to-market basis, and they're looking for capabilities or equipment that they don't have or that don't have the same constraints as their equipment.
"The brand relationship, now even with the largest food companies, has become much more strategic, sophisticated, and tightly bound," Melville says.
The impact of SKU rationalization and repatriation
Another headwind covered in the report is the emergence of large-scale SKU rationalization, forced by the COVID-19 pandemic. Explains CPA Executive Director Ron Puvak, "That [the pandemic] was the first time in history brands have been able to reconcile a lot of SKUs, and say, 'Look, we just can't produce these anymore, the volumes aren't high enough. We need the capacity for other things.' All of the large beverage folks as well as the food people have had to rationalize their SKUs, which has had a big impact. And of course, part of this is because people have reverted back to trusted brands and comfort foods—give me the basic Cheerios, give me the basic cornflakes, those kinds of products—and that's driven up their capacity and those needs."
Puvak believes SKUs will creep back up, as "innovation continues to be the lifeblood of these brands," but they probably won't return to pre-pandemic levels. "It'll be more controlled, probably rationalization in volumes of a particular market or product, but no, we're not going to have six rows of cornflakes on the shelves forever," Puvak says.What does this mean for CP/CMs? Short term, it has resulted in lost business, as CP/CMs often handle a brand's "long-tail SKUs," as Melville refers to them, or incremental brand extensions that make up a small percentage of a brand's volume. These are the products brands moved away from during the pandemic to focus on their core products.
However, also as a result of COVID-19, CP/CMs were the beneficiaries of a tremendous amount of new business resulting from the increased volumes of product required to meet the needs of consumers who were staying at home. While Melville notes that some of those projects will eventually be brought back into the food companies from which they came, he says that most CP/CMs believe this repatriation of product will happen slowly—a trend supported by The Melville Group's research. "So a lot of the projects that were liberated, for lack of a better term, into the CP/CM channel may not be going back into those legacy food facilities, and that's excellent for our industry," he says.
The era of upstream sustainability
Sustainability—which was, in the 2017/2018 CPA report, a "check-the-box item"—is way beyond that now, according to the 2021 report. Says Melville, in the past, data showing an interest in sustainability at the supply chain level by CP/CMs and their customers just wasn't there. "But this time around, it was a sea change—it was a really big deal," he says. "It's an item that's getting investment and attention."
Today, CP/CM customers are asking their providers hard questions related to their supply chains, such as questions on ethical sourcing audits, how wastewater is treated, how close they are to zero landfill, and their energy use—the last two of which were found to be the biggest categories.
According to the report, 70% of those CP/CMs questioned said that customer interest in sustainability initiatives have increased and will continue to become more important in the years ahead. For those CP/CMs who have a sustainability story to tell, they believe this will be an important differentiator.
---
---
However, says Melville, greenwashers need to be careful. He adds, "They always needed to be careful, but I would say even more so in this era because customers are now paying closer attention to this, and the numbers bear this out."
Another aspect of sustainability CP/CMs need to look at is their ability to work with new packaging materials and formats. Increasing demands by consumers for more sustainable packaging—e.g., lighter weight, recycled-content, recyclability, new materials, etc.—as well as potential Extended Producer Responsibility and packaging-related legislation are prompting CPGs to make significant changes in their packaging. While CP/CMs may not be making decisions about these changes, their ability to adapt their equipment and processes to handle the new packaging will be important to their success.
Labor challenges are here to stay
Pre-pandemic, CP/CMs were increasingly challenged by a lack of available labor. COVID-19 drastically escalated that problem, the report shows, with employees reluctant to work in factory environments where they may be exposed to the virus.
When asked if they believed the labor shortage was temporary and will improve in 2021, 51% of CP/CM respondents strongly disagreed, 39% disagreed, and 4% agreed. The number of respondents who strongly agreed: zero.
Coupled with the labor shortage is expense of labor. Labor arbitrage—or the fully loaded cost of a legacy food company employee versus a CP/CM employee in a similar role—used to be a huge Delta, says Melville. "That number continues to approach zero," he says. "It's not there yet, but as it approaches zero, CP/CMs lose one of the biggest levers they have.With COVID-19, CP/CMs were also forced to pay bonuses and hazard pay. "And sometimes, some of these things stick," says Puvak. "I don't think hazard pay will stick, but definitely bonuses and things like that for performance may."
---
---
Not only is there a shortage of labor, but the industry talent gap is also worse than it ever was. Says Melville, "We've told a generation of folks that this isn't the place for their career, but in fact, there are great careers in this industry, and we need to work on changing that." Some CP/CMs are working to change that, the report indicates, through initiatives such as apprenticeship programs.
Too address the labor shortage, CP/CMs are using a number of recruiting strategies. These include greater use of temp agencies, increased advertising, more work in brand development, and increased social media spending. Also—and this is quite telling of the magnitude of the problem—in the 2017/2018 report, 12% of firms reported they were willing to loosen their hiring guidelines to recruit employees; in the 2021 report, that number rose to 48%.
Automation offers a solution
Traditionally one of the advantages CP/CMs have had over their CPG customers has been their flexibility to quickly pivot to new projects through the use of mostly manual operations. But COVID-19 and the requirements for social distancing challenged this lever as well. Says Melville, "Social distancing—this is one I heard repeatedly when doing research for the report. 'We had 12 people on a line, now we can only have six. So what do we do? Do we extend the line into space we don't have? Do we reconfigure the floor? Do we cut speed by 50%?'"
This challenge, coupled with the labor shortage and the end of labor arbitrage is driving a growing number of CP/CMs to implement downstream automation. But labor issues aren't the only drivers. The adoption of automation in CP/CM environments is also being driven by customer pressures for a wider variety of products, advancements in the flexibility and ease of programming of the equipment, developments in collaborative robots, or "cobots," and lower costs.
Those packaging machines that offer high-speed changeover flexibility and easy wash down, as well as cobots that are adaptable and easily programmable are ideal for the CP/CM environment.
"Automation growth is surging in the CP/CMs," says Puvak. "And it's not just the larger, more prolific CP/CMs—it's across the board, because people are beginning to realize they can't rely on the workforce like they used to, and they need to have this more flexible workforce. And that's kind of a way to look at automation—it's a flexible workforce."
Report confirms a bright future ahead
CPA's 2021 State of the Industry Report could not have been undertaken at a more pivotal time. It captures the tumult of the COVID-10 pandemic and the short- and long-term impacts on the CP/CM industry. Says Melville, "I think it's critical for people to understand that there will be changes to this marketplace in the way we operate going forward. Don't expect that everything will go back to where it was two years ago."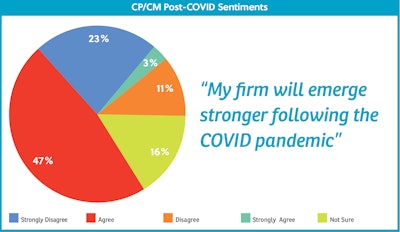 But despite numerous headwinds, "compared to where we thought we might be in the darkest days of March [2020], the next five years look extremely bright," Melville says. "As opposed to our legacy customers, we're opening new facilities, both brown and greenfield at a significant clip, M&A money is continuing to pour in, and brands are continuing to demand new things from CP/CMs, and they are rising to the occasion.
"We're a very creative industry, and we will solve the labor problem, both the cost and the availability problem. And automation is one way to do it. It's a problem, but I know we will overcome it, and most CP/CMs are quite bullish on their long-term ability to do so."
The CPA 2021 State of the Industry Report is available for purchase for $995 for current CPA members; $1,995 for non-members. More information is available at the CPA's State of the Industry Report site.