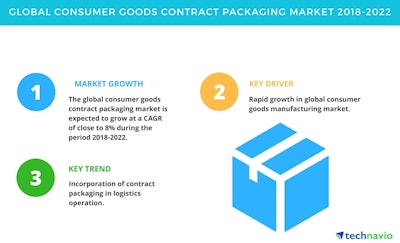 The global consumer goods contract packaging market is expected to grow at a CAGR of close to 8% during the period 2018-2022. That's according to a new market research study by Technavio, which attributes this increase to the rapid growth of the global consumer goods manufacturing market in both developed and developing countries.
In 2016, China and the U.S. were the leading countries in the global Consumer Packaged Goods market, followed by the U.K., Japan, and Canada. Notes the report, the increasing adoption of sustainable technologies and rising foreign direct investment (FDI) are the key reasons for the rapid growth of the global consumer goods manufacturing industries.
Says a Technavio senior analyst for packaging research, "The increase in R&D investment in global consumer goods manufacturing will increase the volume of consumer products in the market. The rise in FDI in consumer goods manufacturing will attract new players to enter the market. The new player entry in consumer goods manufacturing will increase the production volume in the global consumer goods manufacturing market."
According to the study, CPGs that work with co-packers usually outsource their secondary/tertiary packaging activities to a pure-play contract packaging company. However, transportation of consumer goods to the contract packagers and the return of the packaged goods to distribution centers can be time-consuming and costly. Several logistics players are incorporating contract packaging into their product portfolios to avoid such a process in the supply chain—a move that is expected to reduce overall logistics costs by 29% to 31%. In addition to the logistics costs, it will also reduce the time it takes to ship product.
The study adds that the most common types of raw materials used for packaging are plastic and corrugated paper. The cost of raw materials is an important factor in determining the end products' cost. Therefore, the fluctuation in raw material prices is a key challenge faced by contract packagers. The widening of the gap in the demand-supply chain in the last few years has also led to a considerable increase in the price of raw materials.
See related articles:
European Co-Packing Market is Growing