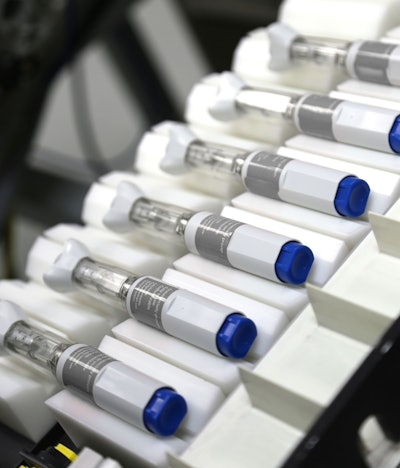 Whether you refer to it as an epidemic or call it a crisis, opioid-related drug overdoses kill an estimated 130+ people every day, according to a U.S. Dept. of Health and Human Services "By the Numbers" infographic.
Packaging has a unique opportunity to help complement the comprehensive reform effort in addressing opioid abuse. That's certainly one goal for outsourcing biopharmaceutical services provider PCI Services. Though based in Rockford, IL, the company maintains an international focus, supporting medications destined to more than 100 countries. It partners with customers in product, packaging and supply chain innovation for everything from opioids and orphan drugs to medical marijuana to e-commerce shipments. Its responsibilities clearly extend beyond the traditional role of yesteryear's contract packager/manufacturer.
"The role of an outsourced biopharmaceutical services provider is evolving in today's market," says Justin Schroeder, PCI's Senior Executive Director, Global Marketing & Design. As a strategic partner, PCI aims to deliver value to the relationship, "impacting innovation, speed-to-market, regulatory guidance, and patient-centric considerations, in addition to price efficiency. The company helps brand owners navigate and avoid obstacles, develop and implement breakthrough ideas, and has helped launch more than 50 products a year across a broad portfolio of drug delivery forms."
For example, PCI partnered with CSP Technologies (now owned by Aptar) for the commercialization of ActivBlisterTM. "This provides for tailored solutions to control the internal atmosphere within individual blister cavities," he says. "It has potential to significantly impact product stability and enhance shelf life. PCI will be running its first client stability [study] in ActivBlister in March 2019 on a first-in-market machine; a truly breakthrough technology for our clients."
Financial implications
Ever-evolving industry changes require outsourcing/contract packaging firms to adjust, particularly as the value of advanced biologic, oncology, pain management and orphan disease treatments skyrocket.
"A single dose of certain drugs we support may have a manufactured value in the hundreds or thousands of dollars, notwithstanding its exponentially higher retail value at the consumer level," says Schroeder. "For investigational clinical study medicines, they are simply invaluable.
International regulatory complexities
With its global market, PCI engages daily with international regulatory agencies. Schroeder notes, "This sometimes involves reconciling the demand and areas of focus of the FDA or EU/MHRA agencies versus those of emerging market governmental agencies in Russia, Brazil, Turkey or others.
"Regulatory standards continue to be raised, both in prescription and OTC medicines, as well as medical devices and consumer products. The rising regulatory expectations are felt in the industry as FDA has more resources to inspect and enforce requirements in places like India and China, which has led to the shift from offshoring to large-scale in-shoring for outsourced drug manufacturing and packaging activities."
Unit-dose packaging
PCI addresses worldwide challenges by investing in people, facilities, packaging machinery, controls and materials. Early this year, for example, it announced further expansion of controlled substance storage of its Philadelphia and Rockford facilities to help build its blister packaging capacity to support packaging changes brought in by new opioid legislation.
"There has been considerable discussion about the opportunity for utilizing blister packaging as one tool to positively influence the misuse of opioid and pain management medications in the U.S.," noted PCI's Phil DiGiacomo, Senior Vice President of Sales & Marketing. "A critical factor in that narrative is to ensure safety in the home. This child-resistant packaging protects younger people in the home and provides an adherence platform supporting the user to take medication as prescribed."
Schroeder elaborates: "Opioids, and controlled substances more broadly, [represent] a great example of where PCI has been engaged with various industry organizations, understanding the stringent manufacturing and supply chain requirements as well as some of the nuanced regulatory requirements from the DEA, FDA as well as the CPSC for child-resistant and senior-friendly needs, an often-overlooked element of the discussion. It is a complex area and we have tried to ensure that the FDA and legislators grasp both the challenges at the consumer level, as well as those of the highly regulated supply chain, so the solutions they bring forth in regulation can realize a positive impact."
Limited dosages/patient adherence
PCI continues to push for change in unit-dose formats. Schroeder notes, "It is well documented by FDA, DEA and many other organizations that opioids are overprescribed. Through our participation with industry working groups, the Healthcare Compliance Packaging Council and PBOA for example, PCI has advocated the advancement of unit-dose formats for prescribing limited days of therapy. Rather than the automatic prescribing of a 30- or 60-day bottle, for example, a doctor or pharmacist could provide medicines in limited three- or five-day packs.
"Calendarized adherence-style packaging has proven to support patient compliance, helping patients take medication as prescribed and as intended," he continues. "Unit-dose packaging provides a clear demonstration of when a prescription has been consumed, helping mitigate the opportunity for diversion in the household. With the unit-dose packaging format, tablets are separated and provide more difficultly to access for children. A recent statistic showed that opioid death in children has tripled over the past two decades."
Schroeder admits, "Unit-dose packaging is not a silver bullet in addressing the opioid crisis in our country, but it is a positive step as part of a comprehensive approach to changing our prescribing practices."
In recent years, PCI has earned honors from the HCPC for its child-resistant/senior-friendly packaging. The company supports several proprietary unit-dose packaging designs from companies such as Westrock-MPS and Keystone Folding Box Co. "In addition to the safety aspects, these formats provide a platform to better deliver medicines to patients with calendarization, supplemental literature, patient education, and many other support tools to realize better health outcomes," says Schroeder.
SIDEBAR:
Medical marijuana
Medical marijuana continues to receive attention as an option to more traditional approaches to treating pain. On this matter, PCI's Justin Schroeder explains, "We are supporting clinical studies of marijuana-based derivatives for ethical medicinal use. Currently those medicines are Schedule I controlled substances by federal governance, so we have actually filed and received approval to expand our DEA license from II-V to now include Schedule I medicines. Those clinical studies are overseen by the FDA.
"Individual state laws still conflict with federal law with regards to the legality of broader use of cannabis-based therapies at a national level, so that is not an area we have pursued at this time. It is our expectation that once settled at a national level, regulations will encompass these medicines and they will be governed by the same national standards for cGMP compliance, regulatory standards and child-resistance."
SIDEBAR:
E-commerce and Amazon
Another "hot-button" topic PCI is watching closely is the role of e-commerce on life sciences packaging and logistics. Justin Schroeder notes, "Amazon raised significant interest in the industry with their recent acquisition of PillPack, leaving the market pondering how that may influence distribution of prescription medicines via an e-commerce/mail-order type platform, in addition to how it could help drive medication adherence in unitizing multiple medications for patients.
"Amazon has a significant opportunity to influence the OTC market as well, particularly in light of their position around both consumer-friendly design and sustainability in defining packaging design standards. Both the prescription and OTC markets could soon see new channels for retail delivery, which will have an impact on packaging design and the associated supply chain. Amazon has also been quite vocal about addressing rising healthcare costs. Given the impact Amazon has had in other categories, we believe this is definitely a space to watch."
Companies in this article