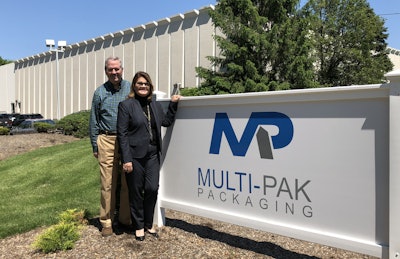 Contract packaging customers long for a co-packing partner with the ability to understand their needs and meet their demands in an ever-changing marketplace. Finding that "ideal partner" is the challenge. In 2005, husband-and-wife John and Debbie Culligan launched Multi-Pak Packaging with one primary goal: to deliver "best-in-class" contract packaging services that translate into strategic advantagesfor the client.
Before getting into the contract packaging business, both of the Culligans worked in brand marketing, which provided them with key insights into consumer pain points. Debbie Culligan previously worked in brand management at Kraft Foods and did some consulting; John Culligan held senior management positions at Procter & Gamble, Reckitt Benckiser, and Nice-Pak. During that time, both struggled with the disconnect between marketing and sourcing. Time and again, marketing would come up with a plan tailored specifically to what the consumer wanted, only for sourcing to come back and say, "We can't do that, but we can give you this."
Realizing that few in the contract packaging world were delivering exactly what the customer wanted, the Culligans saw an opportunity. After 20-plus years in corporate brand marketing, the dynamic duo bid farewell to their corporate careers and started a contract packaging operation focused on improved customer satisfaction.
"John always knew he wanted to become an entrepreneur," recalls CMO Debbie Culligan. In 2005, they brokered a deal to acquire an existing contract packaging company, after which they transitioned from identifying market gaps to filling them.
One standard of excellence
Partnering with global brands for more than 13 years, Multi-Pak offers a multitude of contract packaging services, including primary and secondary packaging, assembly, sourcing, fulfillment, and inventory management, from its West Caldwell, NJ, plant. Its capabilities include bottling, pouching, cold form and thermoform blister packaging, all types of secondary packaging, value-added packaging (VAP), and custom projects. Industries served include nutraceutical, OTC, cosmetics, medical device, and animal health.
Since it was established, Multi-Pak has maintained a perfect audit record. Its cGMP-compliant and FDA-registered and inspected state-of-the-art facility meets and exceeds standards for 21 CFR, Parts 210 and 211. Existing certifications include NSF, Kosher, Organic, and Gluten-Free.
Whether it's a supplement or an OTC product, every project at Multi-Pak is run against one standard of excellence. "From a quality standpoint, the way you train your staff is extremely important," notes Multi-Pak Quality Director Martha Fiore. "We didn't want to implement two different methods, so we made the decision to train all employees according to FDA standards 210 and 211, ensuring everything that runs through the facility would be held to the highest standard."
In addition to quality assurance, another one of Multi-Pak's differentiators is a 98% on-time delivery track record—a standard of excellence the company takes pride in. This information is updated regularly and is openly displayed on whiteboards throughout the facility for staff to reference. "We correspond with customers on a weekly basis, asking questions such as, 'What's your demand like this week?' and 'What does next week look like?'" says Vanessa Francisco, Director of Client Services. "We maintain quick turnaround times for our customers, working closely with them on demand planning." When upticks occur, Multi-Pak is prepared to meet that need, with 19 packaging lines capable of ramping up accordingly.
Multi-Pak's approach has also created a high level of accountability. "We train our staff like marketers. Nothing leaves this facility unless we're okay with how it would look at the shelf level," says CEO John Culligan. "It's not just management catching and calling out issues, it's the warehouse managers and line workers too."
Family values
"We run a family, not a business," says Debbie Culligan. "We invest in people, and they invest in us." True to that statement, the first area Multi-Pak built out in the new facility was the employee locker room and cafeteria.
"My father immigrated from Cuba, working double shifts in a factory when he came to America," says Debbie Culligan. "Back then, they didn't have the best work accommodations, which is why it was so important for us to 'give back' to the staff—the people working to make a difference for their families here in America."
Multi-Pak's "family dynamic" has shown the staff they are part of a larger team. In fact, many of the original employees from when the Culligans took over in 2005 still work for Multi-Pak today. The Multi-Pak family routinely celebrates birthdays, anniversaries, and holidays, and there is no segregation between front and back offices.
A commitment to family values also led Multi-Pak to create Multi-Pak University, an educational support program wherein management works collaboratively with employees on everything from language skills to college applications. "We go above and beyond with our staff, and because we do, they consistently give over 100 percent," notes John Culligan.
Facility management
In 2010, Multi-Pak expanded from an 8,000-sq-ft facility to 16,000 sq ft. At the time, the nutraceutical market was exploding, and consumers were looking for increased transparency, higher standards, and better practices from brands. The combination required an actionable move from Multi-Pak to keep up with the growing industry.
In 2015, market demands necessitated the need for another expansion, leading Multi-Pak to move into their current 50,000-sq-ft facility. Shortly thereafter, the company acquired an additional 30,000 sq ft of warehouse space. Today, Multi-Pak's 80,000-sq-ft facility is fully climate controlled and features a dynamic production floor and an array of innovative packaging and supply chain solutions purposely designed for logistical efficiencies.
Multi-Pak's success is based on packaging lines designed for flexibility, with high-speed changeover. Their technical offerings are diverse, including an expertly staffed engineering department that can provide clients with packaging designs as well as manufacture tooling in-house.
One of the most recent additions to the Multi-Pak facility is a new probiotic center, which opened in January 2018. The Probiotic Center offers three packaging suites—one housing a bottling line, one a cold-form blistering line, and the last suite housing a pouching line—along with warehousing that is fully temperature and humidity controlled to ensure the temperature does not exceed 70ºF and humidity stays below 30% year-round. The center has its own dedicated HVAC, dehumidification, and air filtration system with 24/7 state-of-the-art monitoring.
Holding true to the belief that "Customer is King," when a leading customer recently needed a dedicated production suite, Multi-Pak built one. Working closely with the customer, Multi-Pak created a fully automated pharmaceutical bottling line designed for optimal efficiency and endless flexibility. The state-of-the-art suite, which launched in December 2017, gives the customer full control of what is produced and when, without excessive lead times or overhead costs, and it gives Multi-Pak the ability to seamlessly respond to upticks in the customer's business with the capability to transition from one, two, or three shifts on-demand. "They never have to wait for anything," says Debbie Culligan. "We work with them on weekly demand planning and plan runs to match their needs with no wait time."
Customer-minded
"We've experienced tremendous growth over the years, a trend I anticipate will continue to increase," says John Culligan. "Business growth is great, but at the end of the day, it's about the values Multi-Pak was built upon. You take care of your family. Like our staff, our customers are part of the family."
"In the service industry, it's not about you, it's about them," adds Debbie Culligan. "You have one shot with the customer. We listen, and we deliver. At the end of the day, if the consumer likes what our customer is selling, and we deliver a best-in-class product, everyone wins."
Companies in this article