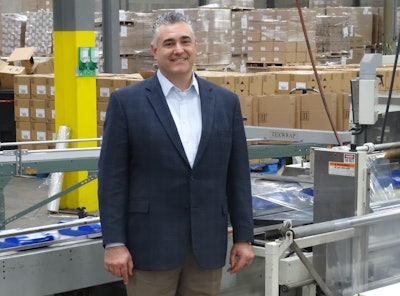 Summit Packaging Solutions is fond of football metaphors: Its account managers are "quarterbacks" for the jobs they handle, Summit has its "head in the game," and the company likes to have subject-matter experts and seasoned executives "on the bench" waiting to join the team.
Its fondness for football jargon is only to be expected. Summit's CEO, Adam Walker, is a former NFL running back and was a member of the 1994 San Francisco 49ers Super Bowl XXIX championship team. But it's not just the head coach's sports background that inspires the football comparisons, explains Summit Executive Vice President – Packaging Joe Jaruszewski. Even more than that, it's the culture of teamwork that Summit works to cultivate, both internally among its own employees as well as externally with its suppliers and partners.
Headquartered in Atlanta, Summit was founded in 1984 in Colorado Springs as Summit Container Corp., offering design and engineering of ESD (electrostatic discharge) protective packaging through five facilities across the U.S. In January 2014, 127 Summit Holdings, led by Walker, purchased the company with the intent of expanding its services to become an end-to-end co-packing supplier.
"The reason Summit Container was attractive was that it was a packaging-centric business," says Jaruszewski. "It not only gave us design and engineering capabilities, but it also gave us an immediate footprint across the United States through which we could leverage contract packaging services."
After improving the infrastructure at Summit Container, Summit acquired two established co-packers—Berkeley Contract Packaging LLC and Quality Associates, Inc.—to expand and diversify its services. During this time, Summit also launched a third division in cooperation with the Packaging Distributors of America that offers packaging supplies, equipment, and services.
Summit stats
For a newcomer, Summit has an incredible co-packing footprint. The company now operates 13 facilities across the U.S., Canada, and Mexico that together encompass more than 1 million sq ft of space, and it employs 450 full-time staff as well as up to 1,600 temporary employees on any given day.
Summit's customer base is very diverse and boasts many Fortune 500 companies. Summit Container works primarily with cable and telecom companies, providing them with custom-designed and assembled protective corrugated packaging. Among them are companies such as Time Warner Cable, Comcast, Verizon, and others.
Summit Packaging Solutions works with customers from the food and beverage, healthcare, automotive, consumer goods, health and beauty, fragrance, and technology markets. Says Jaruszewski, its services cover virtually every aspect of secondary packaging. "Any type of package that you see on the store shelf that requires secondary packaging we can produce," he says. This includes high-speed shrink wrapping and banding, bagging, blister packaging, over labeling, compact and kit assembly, RF and fin sealing, trapped blisters, pallet programs and club packs, carton packing and sampling, unsupported print-register bundle wrapping, steam- and heat-shrink banding, and PDQ and floor-stand assembly.
Within months of acquiring Berkeley, Summit relocated the company's operations from an 82,000-sq-ft plant in Kennilworth, NJ, to a new 200,000-sq-ft facility in Monroe Township, NJ. Says Jaruszewski, the expansion streamlined the flow of product through the plant and has allowed Summit to be considered for co-packing jobs that Berkeley could not handle in the past due to limited space.
Summit's stable of equipment is equally impressive, with enough machines to occupy 60,000-sq-ft across its 13 plants. At the Monroe Township plant alone, there are more than 25 blister trapping machines that run consistently over two eight-hour shifts per day. Each of Summit's facilities is furnished with the same equipment, allowing customers that serve many geographic areas to have finished goods delivered in near real time—a strategy referred to by Summit as its NearCustomer production program.
If equipment is not available in a plant where it's needed, Summit will ship it from another plant. "We have an enormous amount of equipment that is ready to go as customers require," says Jaruszewski. "In this business, it's about knocking down barriers—geographic barriers, equipment barriers, and system and procedural barriers."
Summit's acquisition of Quality Associates added embedded services to the company's portfolio, with Summit currently working within two Procter & Gamble sites to supply one-third of its direct-to-market displays. This includes packaging material procurement, assembly and stocking, and delivery of finished goods to 3PLs.
The third leg of the Summit stool is its supplies division, which offers tape, adhesives, business wrap, industrial paper, polybags, safety equipment, and janitorial supplies through PDA's 27 members. "When we have a customer that is in seven states, they can either go to a very large company for their supplies or they can plug into our resources with the PDA and allow us to meet their needs from an equipment, service, or packaging materials standpoint throughout the country," Jaruszewski explains.
Since Summit Holdings acquired Summit Container in 2014, Walker's growth strategy has focused on four areas: technology, innovation, market expansion, and mergers and acquisitions. These strategies support Summit's goal of becoming a resource for the entire supply chain by providing ideation, design, manufacturing, primary and secondary packaging, warehousing, fulfillment, and logistics, all while driving time and waste out of the supply chain.
Technology
Summit's approach to technology involves the use of the PackManager end-to-end MRP software system from Nulogy across all its plants. Using this comprehensive, standardized execution system gives Summit the data to meet the increasingly complex requirements of its customers, drive waste from the system, and perform continuous improvement.
Notes Jaruszewski, the growing demand for customized packaging—for example, building 200,000 displays with 50 variations for different retail channels, versus the old system of building 200,000 identical displays, no matter the retailers—has driven the need for greater sophistication within its MRP systems as well as its SOPs (these are also standard across Summit's locations, as are its cGMPs). "Now you have multiple changeovers on production lines, and you have line clearance procedures that cannot fail," Jaruszewski says. "You may have header cards that may be die-cut in the same way but have different print. You certainly don't want to send the Walgreen's header card to CVS. It has really required co-packers to have a far more sophisticated approach than even a decade ago."
Jaruszewski adds that Summit's IT system also helps drive waste out of the supply chain: "When you have seamless transactions within an IT solution, and you're able to become very invasive and walk through your customers' vendors' environments—their warehouses, their distribution centers, etc.—and really put each one of those areas under a microscope, you can uncover a lot of waste."
And, by leveraging the data acquired through the MRP system, Summit can enhance its business by uncovering trends and by helping its customers understand what their business looks like through Summit's eyes.
Innovation
In the last three years, Summit has spent $2.5 million dollars on R&D in its protective packaging division and has 26 corrugated designs under patent. One example of its packaging innovation is a shipper it designed for a cable company's set-top cable boxes. Jaruszewski says Summit won the job through a design competition in which suppliers were asked to engineer two boxes—one for the cable company to ship a cable box to their customer, and one for the customer to return their existing box. While all the other suppliers came back with two boxes, Summit combined them into one.
The corrugated shipper has an inner pad engineered in such a way that after the customer receives the cable box from the cable company, they can flip the pad over to lock in their old box. "It not only saves a lot of money, but it's also more sustainable," says Jaruszewski.
Summit has also created a unique model for supplying corrugated protective packaging to its customers: It supplies fully assembled boxes through a just-in-time NearCustomer fulfillment solution. Rather than just supplying the corrugated materials to a customer, Summit designs and engineers the packaging, assembles the boxes, glues the foam or other protective packaging materials in place, and delivers the fully assembled boxes to the customer daily.
Innovation also extends to its co-packing plants. "We continuously challenge our vendors to find new solutions that we and our customers can benefit from," says Jaruszewski. "We want to make sure that we don't grow stagnant with our current vendors or materials and that we are inviting the conversation as to what we can do better tomorrow."
Summit's equipment consists of a mix of modular and automated lines that allow for flexibility for short runs and maximum efficiency for longer-term jobs, respectively. With this combination, the company has the agility and nimbleness to react quickly to any size job.
Market expansion, M&A
For Summit, expanding its reach into new geographic areas goes hand-in-hand with M&As. Summit's game plan is to acquire two new companies per year and to expand its operations wherever needed by a customer. "We want to strategically fill in the map," explains Jaruszewski. "It's a hub-and-spoke model. When a large blue chip customer leads us into a geographic area, we'll open up a facility near them, and then we'll look throughout the local area to find additional business to hedge our revenue and services.
"Summit looks to grow our services and our geography, both organically and through acquisition. We are making a large effort to acquire like-minded companies. We're not looking to purchase companies in need of CPR; we are looking for well-managed companies with similar cultures to bring under the Summit umbrella to enhance our offerings to our customers."
At presstime, Summit plans to announce two new partnerships within a month that will not only allow the company to be the contract packaging resource for two global entities, but will also allow them to strengthen their offerings to their existing customers.
'One throat to choke'
To demonstrate Summit's end-to-end supply chain services in practice, Jaruszewski shares the example of a job begun last year for club-store retailer. The retailer needed a packaging solution for its line of power bars produced by a private-label food company. Summit worked with the club store to design the structure and the artwork for the secondary carton, test the packaging, and engineer the pallet display. Summit is now engaged full time in procuring the packaging material, manufacturing the cartons and the pallet displays, co-packing the product, and assembling and packing the pallet display. It also takes care of all logistics—from transporting the power bars from the manufacturer to the co-pack site, to distributing the finished pallets to the big-box retailer's stores. Taking its services to the club-store one step further, Summit is now also fulfilling its e-commerce distribution needs.
Initially the job was done at just one Summit site, in Indiana. But when the club store brought on new product manufacturing in Canada, Summit opened a site in Toronto to serve them there. "We built the equipment in New Jersey, shipped it over the border, set it up, and began running in two days," says Jaruszewski. "It was very quick and really helped our customer to have just one turnkey event. Our CEO would call that 'having one throat to choke,' and that's us. If it's a material supply issue, a freight issue, a co-pack issue, a distribution issue, or an e-commerce issue, we solve the problem for our customer."
'What's important now'
Summit CEO Adam Walker reminds his team often, "We need to win, and that means taking care of What's Important Now. If we do that as a collective group, we will win." With these words, the company has scored many touchdowns in the span of just two years.
Growth strategies aside, it's the Summit team that has helped bring the ball down the field, Concludes Jaruszewski, "Our CEO is a former NFL football player. He's a Super Bowl winner. We are a competitive group here. This executive staff—as well as all our teammates throughout the company—are truly passionate about what they do. I've never met a group that works as hard and as smart as our team. That's what's encouraging for our future."
Companies in this article