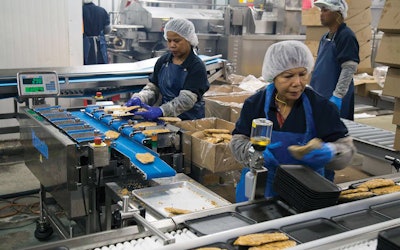 Seattle, WA-based Northwest Seafood Processors (NWSP), a division of Odyssey Enterprises, Inc., specializes in custom processing, private label packaging, and product development for frozen breaded, battered, and par fried seafood, as well as battered vegetables. NWSP's operations include a complete range of equipment options and packaging solutions to accommodate both large and small (5-oz to plus 10-lb) retail and foodservice vacuum-packed, tray-packed, bagged, and/or boxed product runs.
For its frozen seafood products, NWSP had been hand-scaling each item. But this process was time-consuming and labor-intensive. So in the Summer 2015, after evaluating various automated options, NWSP installed two Model TSDW-205W semi-automatic combination weighers from Yamato. These compact units measure 28.9" wide x 61.1" deep by 31.9"-35.1" high.
The TSDW equipment is engineered to gently handle and belt-convey fixed-weight food products for combination scaling. It features easy wash down and is compact for plant floor space conservation. The high-speed (up to 1800 weighments per hour), high-accuracy weighing system reduces costly product giveaway and damage to delicate products, improving overall packaging line efficiencies.
Ted Hadley, CFO and GM for Odyssey Enterprises, Inc., says that the purchase of these weighers was a relatively low investment when compared to the overall benefits. Hadley notes, "We installed this equipment for several reasons. The price is significantly less than a full-size combination scale, and the installation costs essentially were zero. The programmability is straightforward, and the compact weighers can be moved from line to line, as needed. Also, we like the gentle-handling belt conveyor, the easy-cleaning capability, and the overall simplicity and flexibility of the weighers. We use the system to feed tray-pack and pre-made pouch lines. Labor costs have been reduced because each weigher can automatically do the work of four hand scale workers in the equivalent amount of time."
Companies in this article