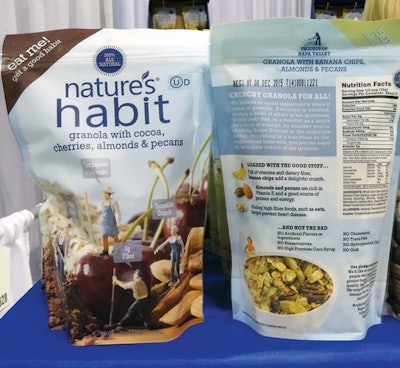 National brand owners: If you have not yet climbed aboard the health and wellness bandwagon, that wagon could pull out and leave you behind. At the 2014 PLMA Private Label Trade Show, held in mid-November in Chicago, good-for-you and good-for-the-planet products and packaging stole the show, in categories as varied as food and beverage, personal care, and pet products. Represented among the 2,750 booths at this year's show were a bountiful selection of items labeled organic, natural, gluten-free, free-from, low-calorie, fortified, vegan, kosher, recycled, recyclable, and tree-free, to name a few of the claims.
Providing products that are on-trend is one of the ways private-label brands are keeping up with—or surpassing—their national counterparts. As PLMA reports, year after year across the U.S., private label's growth continues to outpace that of national brands, reaching new heights for consumer sales and retail market share. "According to the latest industry sales data compiled by The Nielsen Company, private-label unit market share in supermarkets has reached 23.4 percent, and dollar market share is now at 19.4 percent. Total private label sales in the U.S. last year surpassed $112 billion," PLMA says.
Another way private-label brands are attracting consumer attention is through innovation, making them destination brands, rather than alternative options. This innovation was also evident at the 2014 show—the largest in PLMA's 34-year history. Among some of the standout newcomers were Italian Mobile Pizza in a single-serve, microwavable box, lemon gelato in an elegant glass dessert cup, and Badger State Fruit's PET package for dried cranberries.
In describing the 50 products that took top honors in its 2014 Salute to Excellence Awards, exhibited at the show, PLMA said, "When it comes to the store brands being introduced on the shelves of today's retailers 'look at me' is outshining 'me-too,' as innovations in product concept, ingredients, packaging, and merchandising trump national brand equivalency for award-worthy attributes of debut items."
Functional, healthy foods abound
One of the annual highlights of the PLMA show is the Idea Supermarket®, a special exhibit where private-label products from retailers around the world, winners of the PLMA competition, and other notable products are corralled. The "supermarket" is a good place to spot private-label trends as well as scope out innovation.
The trend this year, as mentioned, was healthy options. Among the national retailers, Aldi exhibited its Simply Nature brand, described by the company as "simple foods made with honest ingredients that's [sic] naturally delicious." The line includes cooler, dairy, frozen, and pantry foods and beverages, as well as snacks and sweets. The new Gold Emblem Abound brand of "nourishing and wholesome snacks" from CVS/pharmacy (see pwgo.to/1281) was there, as was Target's Simply Balanced brand, "Made to Matter, Handpicked by Target," which includes 225 products in snack, beverage, frozen seafood, dairy, and cereal categories.
Gluten-free was also well represented—for example, Sobeys Canada's Compliments line and Aldi U.S.'s liveGfree line, among others. Organic had a presence too, with Wegmans' Organic line and Target's Simply Balanced, with products for both kids and adults.
How is this translating to packaging? Lots of matte-finish flexible packaging, windowed bags and boxes that offer consumers a view of the products inside, earth-tone hues, and images of whole ingredients. Case in point: Meijer Natural's Bulger & Quinoa product, a mixture of durum wheat and quinoa—"a good source of fiber" and "naturally low-fat"— comes in an 8.5-oz matte-coated standup, reclosable pouch, with a window on the front. The bag is printed in a palette of brown and rust colors and features photography of a bowl of the prepared product mixed with colorful vegetables.
On the show floor, Napa Valley-based Nature's Habit displayed its line of 100% all-natural granola trail mixes and cereals. Its products, half of which are private label, are made with "crunchy nuts, heart-healthy whole grains, and antioxidant-rich dried fruits," says the company. They also include ingredients such as flax, sunflower, pumpkin, and sesame seeds rich in dietary fiber, vitamins, and minerals as well as dried fruits. Options include non-GMO, kosher, vegan, added protein, ancient grain, and organic, among others.
Says Todd Whitten, Vice President of Sales for Nature's Habit, "There are a lot of granola products out there, but once you try ours, you'll see the quality difference."
Packaging for Nature's Habit's 11 granola varieties—a resealable standup pouch in a 12- and 4-oz size—is both informative and whimsical, showcasing the brand's personality and emphasizing adventure and an active lifestyle. Following suit with other health-conscious brands, the pouch is printed with a matte coating "to convey a natural feel," says Whitten, and offers a clear window on the back panel that shows the granola. "Showing the product is extremely important," Whitten says. "If you buy something, and you don't see the product until you open the package, you may be disappointed."
Package graphics include a blue-sky background and photography of the wholesome granola ingredients at the bottom. Arrayed atop the ingredients, miniature figures, such as backpackers, farmers, runners, and kids playing baseball, stand, sit, and hang, with speech bubbles overhead that proclaim product benefits. Colors include burnt orange, deep red, and moss green, among others.
Whitten says the package's resealability as well as the 4-oz size promote granola as a snack, while its eye-catching graphics help it to compete on-shelf with national snack brands.
Other health-driven products in flexible bags exhibited at the show included Gourmet Basics' Slim Chips chia, quinoa, and flax popcorn snack in a matte-finish pillow pack; Golden Beach's MunchRite Snacks, including dry roasted edamame, chickpeas, peas, and wasabi peas, in a windowed, standup pouch; Sunrise Growers' Organic Sweet Mango Chunks and Organic Strawberries in a standup, resealable matte pouch; and Target's Simply Balanced Organic Rolled Tortilla Chips in a resealable, matte-finish pillow pack in teal.
Pets deserve healthy snacks too
Not to be outdone by their human-food counterparts, petfood producers also displayed healthy options in similar packaging formats. Green Bay, WI-based Vital Essentials ("Purely raw. Instinctively healthy.") introduced its new VE Freeze-Dried Vital Treats for Dogs line in six varieties, which the company says "appeals to health-conscious dog parents." The treats contain no preservatives, artificial flavors, or colors, and are grain- and gluten-free.
Packaging for the freeze-dried treats is a 2- to 2.5-oz windowed, standup pouch with a hang tab. The pouch is decorated with a black background, with bright bursts of color that differentiate varieties and emphasize the "vitality" that the product promises.
Scott Pet, of Rockville, IN, showcased its Little Grillerz line of healthy treats for small and medium-size dogs. "Consumers want to feed their pets natural foods, but bones tend to be bigger in size, so small and medium-size dogs get missed," explains Brad Moseley, National Sales Manager for Scott Pet. "Little Grillerz are smaller cuts designed for smaller breeds."
The "Made in the USA"-labeled treats include varieties such as knuckle slices, beef ribs, pork femur, and mini pig ears, in a reclosable, flexible standup pouch in range of sizes with a hang tab. With their matte finish, the bags display "an upscale appearance," says Moseley. A window on the front allows consumers to see the natural treats; package colors include cream, deep blue, and umber.
Options for coffee cartridges
At the show, at least two brand owners exhibited their solutions to the material waste associated with the single-serve coffee and tea capsules used with Keurig-style brewing systems. Mother Parker's EcoCup™ is claimed by the company to be "the first capsule that can easily be completely disassembled without tools and doesn't add extra material or complexity in order to enable this functionality." The BPA-free EcoCup uses a recyclable filter and cup that are accepted by many curbside recycling programs.
To recycle the EcoCup capsule, consumers locate the tab on the top of the pod, snap off the lid, peel off the used filter for discard, and recycle the pod and lid. EcoCup capsules with clear lids are currently being used by Higgins & Burk loose-leaf teas and the China Mist line of blends for brewing gourmet iced teas. The technology will be expanded to single-serve coffee capsules in 2015, says Mother Parkers.
Taking the biodegradable route, Cameron's Coffee of Shakopee, MN, offers biodegradable Single Serve coffee in four organic coffee blends. The Single Serve comprises a biodegradable lid and ring, and a filter in place of a plastic cup. The lid and ring are made from renewable materials that include corn, beets, and bamboo, and are free from BPA and polystyrene.
According to Hassan Shouman, Sales Director for the company, during brewing, Cameron's filtered Single Serve acts like a drip brewer, allowing for a better-tasting coffee. In addition, he says, with the traditional plastic single cup, the heated plastic can make the coffee taste like plastic, unlike Cameron's Coffee Single Serves with coffee filters.
In addition to rolling out its biodegradable single-serve packaging, Cameron's also redesigned its packaging artwork to be more shopper-focused, says Shouman. The project was a 12-month process to simplify the shopping experience in stores and tell the story of Cameron's Specialty Grade Arabica coffees and its unique technology.
Earth-friendly paper products
Also in attendance were at least two providers of eco-friendly paper products such as bathroom tissue, napkins, paper towels, and facial tissue. From New Zealand, Greencane showcased its four-pack of bath tissue and two-pack of paper towels. The products comprise 70% recycled sugarcane and bamboo fiber (bagasse), a byproduct of the sugar refining process, and 30% certified wood pulp that lends the paper strength and softness. Packaging for the products is plastic-free and 100% compostable.
Says Greencane, the benefits of the product versus a 100% wood pulp version is that sugarcane, being a type of grass, is fast-growing and is usually harvested on an annual basis. During harvesting, only the growth part of the plant is removed by large harvesting machines or is hand-harvested, which results in a very low environmental impact.
"This prepositioned brand can provide localized retailers the opportunity to use Greencane Paper as their sustainable private-label brand, similar to the giants of the sector—Whole Foods Market with 365 Everyday Value and Walgreens with Ology," says Greencane.
Speaking of Ology, the provider of this private-label brand—True Green Enterprises of Boca Raton, FL—also exhibited at the show, with its Green2 tree-free products. Made from sugarcane husk and bamboo grass, the products are targeted at those consumers "who want to go a step beyond recycled paper," says Tom Chisari, National Sales Manager for TG Eco Products. "We are seeing more and more efforts to be greener. Consumers are asking for it, but there is a problem in the recycling world."
Green2 products, which include bath and facial tissue, paper towels, napkins, plates and bowls, and copy paper, as well as commercial paper products, are also whitened with hydrogen peroxide, which Chisari explains is a safe and natural alternative to bleach. The products are currently available in 16,000 stores nationally.
Fun and fancy innovations
Attracting a lot of attendee attention at the show was single-serve Italian Mobile Pizza, from Eat Better srl of Modena, Italy. The 2.82-oz, rectangular, snack-size pizza slice comes in a compact carton, measuring roughly 6 in. H x 2.75 in. W x 1 in. deep. While the frozen pizza can be cooked in the microwave, it does not use a susceptor but has "microwavable paper," says Greta Zuccheri of Eat Better's sales department. The carton features two tear-away strips that encircle the package and is covered with a clear film wrapper. Consumers can prepare the product by removing the film wrap, placing the entire carton in the microwave and cooking for 1 min. The pizza can also be cooked in a traditional oven or a toaster oven, sans packaging. Package graphics for the product in six varieties are mouth-watering, featuring a photo of the cooked pizza, ingredient icons, and a band at the top using the colors of the Italian flag. The pizzas come in a 20-ct display case, with the cartons standing upright.
According to Zuccheri, the Margherita and Cheese variety is currently being sold in Schnucks under their private-label brand; at present, Eat Better cannot export the meat-containing varieties.
Also from Italy, Interra Food Marketing of Perugia was exhibiting an elegant package for its Gelato al limoncello lemon-flavored gelato: a reusable, fluted dessert glass. The 220-g product is sold in a two-glass multipack wrapped in a paperboard sleeve. Larger glasses are available for foodservice venues as single servings with a plastic lid. According to Interra Marketing Agent Sportoletti Massimiliano, the product can be supplied in different gelato flavors and in plastic cups.
Another product making its debut at the show, "Heart Healthy" and "Naturally Fat Free" premium dried cranberries from Badger State Fruit Processing, Pittsville, WI, are packaged in 6- and 14-oz PET containers with vibrantly printed, full-body shrink sleeves. The containers with flip-top caps, make snacking easy, with the smaller container offering portability and an easy grip. Says Jeff Dalin, Director of Sales for Badger State Fruit, "No one is packaging fruit in this type of package."
Packaging graphics are bursting with color, with images of ripe red cranberries covering the top half of the bottle, overlaid with a green banner for copy. The bottom of the label is clear, showing the dried cranberries in the container.
As the private-label market continues to grow, no doubt there will be many more innovations in the year to come. Plan to attend the 2015 PLMA Show Nov. 15-17 in Chicago to learn about them firsthand.