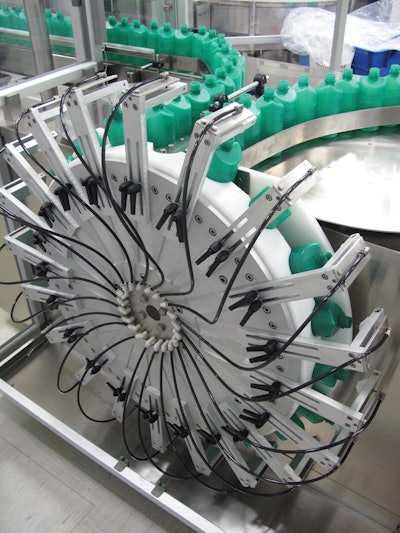 In the world of contract manufacturing and packaging, versatility and ease of changeover go a long way. Just ask the folks at Doppel Farmaceutici, the pharmaceutical contract packaging powerhouse located just south of Milan, Italy.
Recent installations at Doppel's plant in Cortemaggiore, Italy, have brought tremendous advantages (see also www.bit.ly/pwe00446). A new line for filling liquids into high-density polyethylene bottles is a perfect example, says Sabina Gualazzini, production manager at Doppel.

"On this one new line we can produce lots of formats, bottle shapes, and cap varieties," says Gualazzini. "First of all, we can handle 100-, 200-, 300-, 400-, or 500-mL bottles. Packaging formats vary, too. For vaginal douche we fill an oval bottle and apply a device for application plus an overcap. For an over-the-counter skin disinfectant product we use a round bottle and apply a dispensing plug plus overcap. For cough syrup we fill a round bottle and apply a different style of child-proof closure plus a measuring-cup overcap. This kind of flexibility is very important to us."

Primary packaging on the new liquids line is done inside a filling room where temperature and humidity are carefully controlled and all machines use filtered, compressed air. Just outside is secondary packaging equipment. Nearly everything inside the filling room was supplied by RAV Sistemi s.r.l., beginning with a bottle unscrambler. Bagged bottles are emptied by an operator into a floor-level bin. A flighted elevator brings bottles to a rotary unscrambler/orienter from which bottles exit single-file on a belt conveyor. Next is a machine that blows purified air into the containers to clean them. Each container is captured in the pocket of a wheel and inverted as a blowing nozzle enters to blow the purified air. As the wheel nears the completion of its 360-degree rotation, the bottles are discharged single-file onto a conveyor leading to the 12-station, intermittent-motion, linear filling machine.

A feed screw meters bottles into the filler and halts their forward progress when each is positioned beneath a fill nozzle. The nozzles descend for filling and retract when filling is complete so that bottles can then be discharged by the feed screw. Doppel fills in one of two ways. If only one product component is involved, 12 bottles are filled simultaneously. But when a product contains more than one component, the feed screw advances six bottles per cycle. Nozzles 1-6 fill component A and then the feed screw advances bottles another six positions so that Nozzles 7-12 can fill component B.

Four-station capping system

Exiting the filler, bottles enter a starwheel that meters them into the intermittent-motion, four-station capping system. At the heart of this system is a pocketed wheel that takes the bottles in pairs from station to station. In the first station, a reciprocating device strokes back to pick two polypropylene plug dispensers from a magazine feed and then strokes forward to insert the plugs into a pair of bottles. In station two, a similar device strokes back and forth to place caps on a pair of bottles. In station three the caps are torqued. Station four, not in use on the day of our visit, is used to place a measuring cap overcap.

Filled and capped, bottles are conveyed outside the filling room and move through secondary packaging. The first stop is an ink-jet printer from Domino that prints variable data such as batch and expiration date on the bottle sidewall. A short distance later, an Argus vision system from Laetus reads the bar code to make sure it is correct and legible.

Next is an Etipack pressure-sensitive labeler used for products other than the skin disinfectant, which has all the graphics it needs printed right on the bottle. A cartoner from Cariba is next. Each bottle of skin disinfectant goes in a carton. A checkweigher from Prisma Industriale makes sure the right amount of product is in each container and rejects any containers that are outside of pre-set tolerances. Then comes a second pressure-sensitive labeler, this one from Marchesini. Deploying a number of sensors from Sick that help ensure registration and positioning accuracy, this labeler applies a label required by the Italian Ministry of Health for financial and regulatory purposes. Case packing on a Model PS 510 system from Marchesini system comes next, followed by a Mettler Toledo checkweigher that ensures all cases have the right number of components. Finally, at the end of the line is the newest piece of equipment. Just added in September, it's a palletizer supplied by CAM.

The complete layout of the new line, including the three hoppers needed to automatically supply plugs and overcaps to the application devices, was designed around the dimensions of the existing space. Typically, it requires three operators. All the RAV Sistemi machines are managed by Siemens PLC and rely heavily on servo motors for their versatility and ease of changeover from one format to the next. In addition to bringing size and format flexibility to Doppel, the new line lets the firm produce up to 50 bottles/min, nearly twice as many as was formerly possible.

Tube filling, too

A similar boost in productivity was gained over on the tube-filling side of things at Doppel when a Marchesini twin-channel linear Millenium 200 tube filler/closer was installed.

"A key to its increased capacity is that it uses two nozzles to fill instead of the single nozzle we had on the machine it replaced," says Gualazzini. "It also brings us a lot of flexibility in sizes we can fill, anywhere from 3 grams to 100 grams."
Integral to the filler is a tube feeder that takes tubes from a feed track two at a time and uprights them from a horizontal to a vertical position while placing them into pucks. These pucks carry the tubes around an oval-shaped track that includes the twin filling nozzles, a closing station, variable-data embossing station, and filled tube discharge. Either aluminum tubes or plastic laminations can be filled and closed.

The tube filler's balcony structure provides maximum accessibility from either front or back, which simplifies cleaning and adjusting. Changeover in tube size is controlled by servo motor and is activated at the Siemens PC touchscreen controller. All sizes are stored in the PC and the operator simply selects the desired size from a menu. The machine then automatically adjusts all parameters accordingly, including puck conveyor height adjustment.

Tubes emerge from the filling operation on two parallel belts. A continuous-motion pick-and-place device has eight vacuum picking heads mounted on an oval-shaped race track. Each head picks two tubes at a time from the belt and places them in the flighted infeed conveyor of a Marchesini MA-255 continuous-motion cartoner. It pushes tubes into a folding carton along with a pre-folded paper insert.

"We have good experience with previous Marchesini models, and this cartoner has all the speed that lets it keep up with the high-speed tube filler," says Gualazzini. "Also, this cartoner is flexible enough to accept all those formats we do."
A checkweigher from Prisma is followed by an SL400 pressure-sensitive labeler from Neri, part of the Marchesini Group, that takes care of the label required by the Italian Ministry of Health.

Operated by three people, the new tube line has greatly boosted productivity at Doppel. "We can now do in one shift what it used to take two shifts to do," says Gualazzini when asked to describe the impact of the new tube-filling line. "With our tube business is growing, the extra capacity is good to have."
Companies in this article