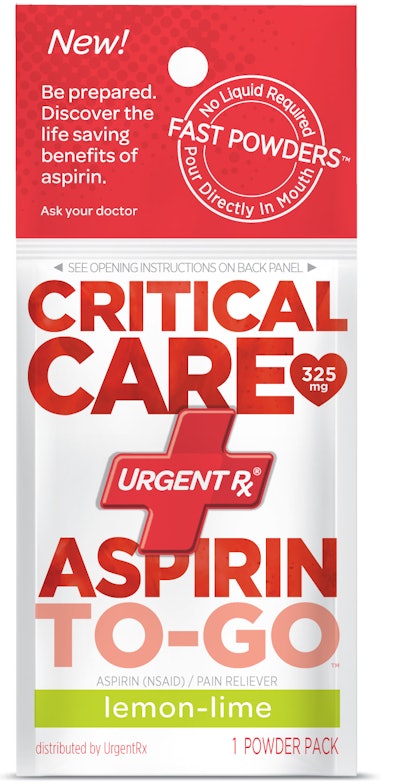 A credit card-sized flexible packet containing flavored, powdered medication delivers perhaps the ultimate dose of consumer convenience and portability for six different UrgentRx products, including UrgentRx® Critical Care/Aspirin to Go, a product that has already demonstrated that it has helped save lives during apparent heart attacks.
Aspirin to Go contains a single 325-mg dose of aspirin. The pack is torn open by the consumer or caregiver and the powdered aspirin is poured directly into the mouth. This sublingual administration by which drugs diffuse into the blood through tissues under the tongue allows the medication to rapidly reach the bloodstream where it can reduce heart damage or ultimately save the life of a person suffering a heart attack.
Aspirin to Go is one of six similarly packaged products distributed by UrgentRx, a brand of Denver-based Breakthrough Products, Inc. Jordan Eisenberg, UrgentRx founder and president, explains, "We got started a couple of years ago, basing the company around the need we saw to provide first aid for heart attacks. A lot of folks carry aspirin because studies show that if you take aspirin during a heart attack you are about 23 percent more likely to survive. But the reality is that a heart attack won't likely happen when you're standing in a pharmacy where you have easy access to aspirin. Even if you have the forethought to carry medicine with you, you may not have liquid, so if you are really panicking or in a bind, it's very difficult to choke down a pill. And a chewable pill can be extremely bitter-tasting.
"UrgentRx Aspirin to Go is a flavored powder in a 20-micron particle size that's small enough to be absorbed sublingually. That makes a huge difference because if you can get the product into your bloodstream that much faster, your odds of surviving increase significantly. With every second from a heart attack, there is damage being done to the heart. So by the time a pill gets to your stomach and begins digesting, powders would already be in your bloodstream."
The product launch began in Colorado in early 2011. Aspirin to Go is joined by Headache Relief to Go, Heartburn Relief to Go, Upset Stomach Relief to Go, and Ache & Pain Relief to Go. Later this year the company plans to add a diphenhydramine product to address severe food allergies. All products have a two-year shelf life.
UrgentRx has its products made by a contract manufacturer that uses a form/fill/seal machine to package powders into packets.
The CMO worked with UrgentRx leadership in the packaging material selection process. UrgentRx packets are made from a White Stickpack pouch material with DuPont Surlyn® with a 48-ga overlaminate with permanent adhesive. The package provides child-resistance and is printed in four-color process with spot colors on a combination flexographic press.
"We have a unique type of material that serves as a barrier to keep out moisture, heat and light, and also allows for the printing of nice graphics," says Eisenberg. "It's a material that not only protects the product, but maintains its integrity inside. We don't want the powder to cake or clump, and we don't want moisture transfer. The material also has to be rugged enough to remain in your wallet where it's going to be sat on over and over again, for months at a time, without bursting or tearing."
A decision to redesign the packaging followed the product's initial launch after the company gained a better understanding of who the UrgentRx consumer was, and why they were attracted to the concept.
Eisenberg says the new packaging "was updated to promote simplicity with a clean, modern look to attract the on-the-go OTC consumer while simultaneously focusing on the symptom first, which is how consumers shop OTC. In addition, the packaging highlights UrgentRx's point of differentiation—fast, convenient relief in the form of a flavored powder."
Diverse sales market
Prior to launching the UrgentRx products, the company solicited feedback from both consumers and retailers to validate the concept. Packs sell for $1.39 and are being launched at retail nationwide, at both brick-and-mortar and online stores, including drugstore.com, Walgreens.com, Amazon.com, at select Walmart, Kroger, and SuperValu locations, at convenience stores and gas stations. The company has also sold them for use by Emergency Medical Technicians, physician offices, ski patrols in Colorado, and even on American Airlines flights.
Eisenberg believes the packaged products offer a clear point of differentiation for UrgentRx. With these packs, he says, "our products are there when you need them. You don't need to scramble and find a store, or drive somewhere to get what you need when it is vitally important. It's flat, it doesn't take up space, it is not bulky, it is waterproof, and you can just pour the product right in your mouth, without the need for any liquid."
The pack's portability and convenience are key benefits, but more importantly, Eisenberg says, the company has received affirmation that they have actually saved lives. "We are trying to save lives and make a great impact in the communities where the packs are available. I think we are doing that."