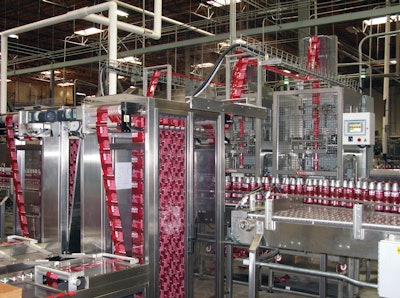 "Right trumps time and money. If you do it right, the time it takes to do it and the money it costs both take care of themselves."

That, says Tom Hamic, is the prevailing business philosophy at contract bottler United Packaging Group. Founded about five years ago, UPG has in short order become something of a powerhouse as contract packagers go. Two brands in particular, Neuro and Talking Rain, are "exploding," says Hamic, one of UPG's two owners. And though UPG does market an own-brand bottled water called Penta, the business that has fueled the firm's growth has been contract manufacturing and bottling for other brands. In some cases, as with Santa Monica, CA-based Neuro Drinks, for example, the company marketing the beverage is a "virtual manufacturer" that has no production facilities of its own and relies entirely on contract packaging for its manufacturing requirements. In other cases, like with Talking Rain of Preston, WA, UPG supplements the bottling capacity that a beverage company has in-house.

Two lines of special interest at UPG's Colton, CA, plant are Lines 3 and 4. Line Three was installed initially as a bottled water line, where purified, flavored, and enhanced waters of various kinds were filled in several sizes of PET bottles. But growth in carbonated beverages required the addition this spring of a Meyer CSD filler remanufactured and upgraded by Sidel (www.sidel.com). So now the line offers UPG the flexibility to do carbonated or non-carbonated beverages on the same line.

Another significant addition that affects both Lines 3 and 4 is the addition of a Sidel SBO 18 stretch blow molder, which was being unwrapped and installed when Packaging World visited the plant in June. It will feed either Line 3 or 4 based on volume requirements. UPG is no stranger to self manufacturing its bottles, as four stretch blow molding systems are already operating within the firm to supplement the supply of bottles that are purchased. Hamic says that in addition to reducing costs through self manufacturing, he gains better control over inventory and warehousing requirements by self manufacturing a certain portion of his own bottles.

Unscrambler brings flexibility

One machine found at the head of both Lines 3 and 4 is a Necosort-III bottle unscrambler from Nalbach.

"As a contract packager, we have to be able to run multiple products and change very quickly," says Hamic. "That's where these unscramblers come in. If the neck finish is the same, changeover takes just minutes. And even if we're switching to a different neck finish, it only takes about an hour. The unscramblers have been incredible where changeover is concerned."

Also, the sorting drum on the Necosort-III unscrambler is oriented vertically, which minimizes the machine's footprint compared to alternatives that are available. Each unscrambler at UPG has a footprint measuring just 110 x 96 inches.

Also a key contribution is one that comes from the Lanfranchi (www.lanfranchigroup.com) air conveyors that move bottles from the unscrambler to the filler block. "The Infinity air conveying system is all servo-based," says Hamic. "We can go from bottle neck diameters of 26.7 to 28 to 38 mm by making a selection on a touch screen. The servos all along the air conveyor automatically adjust to grip the new neck size we're switching to. Traditionally this has been done by hand, which takes hours."

While a number of carbonated or lightly carbonated beverages can be filled on Line 4, it was Neuro Sonic in a 14.5-oz clear PET bottle that was in production on the day of PW's plant visit. A lightly carbonated nutritional supplement that is formulated to boost "mental energy," Sonic is one of several unique beverages sold by Neuro. A detailed look at how production is handled with that product on that line is representative of how things are done across the board at UPG's shiny new plant.

Bottle depal

At the very front of the line is bottle depalletizing by a Priority One machine from Arrowhead Systems Inc.. It pushes layers of bottles into a floor-level hopper. Bottles are then elevated toward the top of the Nalbach unscrambler, which in turn orients them and feeds them to the servo-controlled Lanfranchi air conveyor.

Filling is done on a Eurotronica FM-C filler from Sidel that is integrated in block fashion with a Sidel rinser and a Sidel Arol capper. "Among other things, like speeds to 600 bottles a minute, I like the flexibility I get from this Sidel system," says Hamic. "I can do still beverages or CSD or blended products in sizes from eight ounces to two liters. For a copacker, that's important."

Filled and capped bottles pass through a Lasetec laser coder and a Filtec fill-level inspection system, both supplied by Industrial Dynamics-Filtec. The laser coder is used for bottles that, unlike the Neuro bottle, don't have shrink sleeve labels. The level inspection system is in place to reject any bottles that are underfilled. Another inspection system on the line, from Teledyne TapTone, checks to make sure internal CO2 or nitrogen pressure, depending on the product in production, is within parameters.

Next is labeling in one of two formats: on a Sidel Rollquatro roll-fed labeler or a Tripack HSA-300T tandem shrink sleeve labeler. The Neuro bottle gets the shrink sleeve label. So, bypassing the roll-fed labeler, it moves into the tandem shrink sleeve labeler, where each head labels every other bottle.

Both heads of the tandem Tripack sleeve labeler are equipped with a film accumulation feature that makes it possible to splice in a new roll of film with no interruption to labeling. What happens is that when a roll of label material gets to a certain low level, the accumulation feature is activated and film begins to fill the accumulation rollers. Once the roll of label material is empty, labels are drawn from the accumulation rollers while an operator splices a new roll to the butt end of the old roll. When splicing is complete, the operator hits a button on the labeler's control panel and the accumulation rollers are inactivated until they are needed again.

Supplied by WorldPack Inc., the PETG label material is in the form of a continuous tube with a 4-mm clear section separating each label impression. The tube is pulled over a forming mandrel and a photoeye picks up the position of the clear area and communicates that information to the labeler's controller. This is how the labeler knows when to cut a label from the continuous roll. The label is then driven down over a bottle by two application wheels, one on either side.

The shrink tunnel that follows, also from Tripack, has a three-way adjustable steam baffle system that makes it easy to adjust steam baffle angles from the control panel outside the machine. Again, for a contract packager facing many bottle shapes, such ease of adjustment is a welcome, if minor, detail.

Overcapping

Next in line is the application of Neuro's sleek bullet-shaped overcap. It's done by a Sidel Arol capper fed by a Shibuya Hoppman cap sorter/feeder. The overcap snaps onto the primary cap in such a way that the two essentially become one. Two dimples molded into the overcap make its removal easy in the consumer's hands.

Bottles pass a Videojet ink-jet date coder on their way to secondary packaging, which is done on a Sidel Cermex system that can handle any of three formats: unsupported film, corrugated pad with film wrap, or corrugated tray with film wrap. All that remains is overhead conveying to a remote palletizer from vonGAL and a stretch wrapper from Wulftec.

"We're driven to be the best copacker in the world," says Hamic. "We may only have been in business for five years, but in that span of time we've done more than most companies do in 25 years. We're always looking for the latest technology to give us a competitive advantage, and we've been fortunate in having great partners. We couldn't do it without the support of our suppliers."
Companies in this article
Videos from Shibuya Hoppmann Corporation