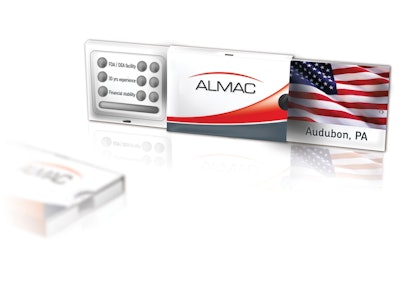 Almac, a leading, global service provider to more than 600 pharmaceutical and biotechnology companies worldwide, offers a broad range of packaging services that include R&D, biomarker discovery and development, API manufacture, formulation development, clinical trial supply and its own, proprietary and integrated phone-and-Internet-based patient response and drug management system.
The company, with 3,000 employees, is based in Craigavon, Northern Ireland, and is joined by UK facilities in Elvingston and Manchester; and U.S., facilities in Durham, NC, San Francisco, CA, and two sites in Pennsylvania: Souderton, site of the recently-opened, $120 million, 240,000 sq. ft. North American headquarters site; and Audubon, PA, the company's U.S. commercial pharma co-packing flagship.
While Almac has operated the 100,000-sq.-ft. plant as a contract packaging facility since 1997, it's been strictly dedicated to clinical products, or pre-commercialized products, such as those used in clinical trials.
All that began to change in the fall of 2011.
"Audubon has always been a packaging facility, but now it's a commercial packaging facility," says David Downey, vice president of business development for Almac Pharma Services; "100% of the business resources, employees and investments at the upgraded plant will be dedicated to providing contract commercial packaging services."
The initial $10-million capital outlay for the clinical-to-commercial packaging conversion at Audubon was just a start. The company spent millions more on high speed equipment for blistering, bottling, walleting and biopharmaceutical labeling/packaging. The company's long-term compliance to mandates from the U.K.'s MHRA, or Medicines and Healthcare products Regulatory Agency, give lead the company to expect a glitch-free U.S. Food and Drug Agency validation and approval process.

A peek inside the plant
Upon FDA approval, likely this fall, Audubon will host commercial primary and secondary packaging of branded prescription and over-the-counter (OTC) drug packages. These include tablets and capsules into bottles, blisters, wallets and hospital unit dose formats along with secondary labeling and packaging of biopharmaceutical vials and ampoules.  Automation and integration are keys to productivity and throughput, from major assets to the controllers, servos, touchscreens, OEE routines and in some cases, touchscreen interfaces that improve life on the line for operators. These technologies support several new packaging machines. Some highlights:
A new high-speed blister line for primary packaging of solid oral dose products in materials including PVC, PVC/PVDC, Aclar and aluminum. This $3.3-million high-speed Uhlmann UPS 4 system with integrated C2206 cartoner is rated to package up to 12,000 blisters per hour with online digital or flexo printing. Quality control software manages integrated checkweighing, printing and vision-based auto-rejection.
A high speed bulk-fill bottling line for dispensing tablets into bottles, jars and tubs at speeds up to 14,400 bottles per hour. Electronic filling systems with in-line fill sensors will confirm fill count accuracy, complete with labeling and component code and print verification.
A Newman 4VAL labeling system to apply clear and paper self-adhesive labels to more than 12,000 vials and containers per hour. Optical character verification inspects for bar codes on each label – it can verify that the correct labels are on the container and reject mislabeled or non-labeled containers.
Ready for serialization
Pharma co-packers are keenly aware of the increasing problems posed by counterfeiting, misbranding/packaging and related illegal activities across the global pharmaceutical supply chain. Further, global requirements are increasing for drug-makers and marketers to provide item-level serialization down to the smallest sellable, packaged unit. Accordingly in the United States, it appears that California's ePedigree serialization initiatives will take effect starting in January 2015, with further nationwide adoption a possibility.
Almac has custom-developed its own serialization and 2D matrix barcoding system to meet the need for global GS1 serialization standards compliance.
"We built and own and amend the software ourselves because we could not find a system on the market that met our requirements," says Geoff Sloan., vice president of manufacturing operations for Almac Pharma Services, adding: "As a global company, we have no choice but to get ahead of the curve on this issue."
The system lets Almac apply and verify 2D matrix barcodes to each individual package for traceability from manufacturing to the consumer end-use point. Because serialization requirements aren't fully developed, and vary from country to country, the company implements different solutions as needed. For example, serialization data is applied to drug products entering Turkey, where full item-level serialization is required, while 2D matrix barcodes are used for shipments to France and Austria.
The adjoining illustration (See graphic in images, above) shows a machine readable GS1 compliant ECC200 DataMatrix (2D barcode) to ensure uniqueness of the saleable unit. To the right of the 2D code are text data:
     (01) Global Trade Item Number (GTIN)
     (21) Serial Number
     (17) Expiry Date (in GS1 YYMMDD format in this case)
     (10) Batch Number
Additional plain-text information includes batch and expiry information (S.K.T. is the Turkish prompt for expiry).
Cutting costs and carbon
At presstime, Downey says contracts are likely for "a number of clients already slated for Audubon." Some packaging contracts will be transferred from existing U.K. packaging operations, including a large-scale contract for blistered, sterile packaged drugs; and an expected contract to package 1.5 million-plus bottles annually of branded, generic tablet and capsules. These will be manufactured in Craigavon and bulk-shipped to Audubon, where most will be packaged in bottles for U.S. market distribution.
By shipping U.K.-made tablets and capsules in bulk across the Atlantic instead of shipping finished retail packages, Downey says Almac will reduce costs, improve quality, reduce carbon footprint and "give our U.S. client partners a local 'go to' person that will enhance our ability to ensure all clients needs are met."
This cost-cutting, sustainable solution arose when Almac sat down with its clients, including one in the process of commercializing a triptan drug (used in the treatment of migraines and cluster headaches). Shipping in bulk and packaging at Audubon produces both cost and sustainability benefits.
"One pallet of bulk tablets is equivalent to more than 10 pallets of finished goods, which translates into a tenfold-or-better reduction in our shipping requirements," says Sloan. In keeping with the nature of its business, the Audubon plant provides temperature-controlled storage (controlled ambient & refrigerated 2-8°C), secure storage for controlled drugs (Schedules II, III & IV) and global distribution.
To support this effort, Almac is moving to tighten integration across its transatlantic Quality and Logistics management systems, which are based on an Oracle and SSI Tropos-based enterprise and logistics platform.
Additional sustainability initiatives at Audubon include engineering upgrades for reduced greenhouse gas emissions and water reclamation; and increased attention to sustainability factors in "every packaging project," says Downey, from packaging material reductions and reuse; to reusable, and refillable, lighter-weight and biodegradable materials.
Holistic solutions, packaging
The sum of Almac's parts is that design, manufacturing, storage and logistics are managed in a holistic fashion to solve problems on any continent. Take the case of one U.S.-based client's challenge in the commercial, European launch of a new treatment for Fabry disease (an enzyme-related disorder that can manifest in a range of problems and lead to heart attack and stroke).
The drug marketer had an initial design and format in mind, but the cost would be $30 per unit! Teaming-up with Almac, the partners considered several key requirements. These included patient compliance, F1 child resistance, senior ergonomics, self-administered usage, cost effective and — last but not least — the finished 28-day dose package be pocket sized.
Through prototype development and focus group testing, Almac arrived at a pocket-sized blister wallet that was deemed the most user friendly, 'green' and was also six times less expensive to produce than the drug marketer's initial concept.
The product, currently manufactured and packed in Craigavon, will soon become yet more cost-effective to produce; it's among the first packaging contracts to be transferred to the new Audubon facility. 
Companies in this article