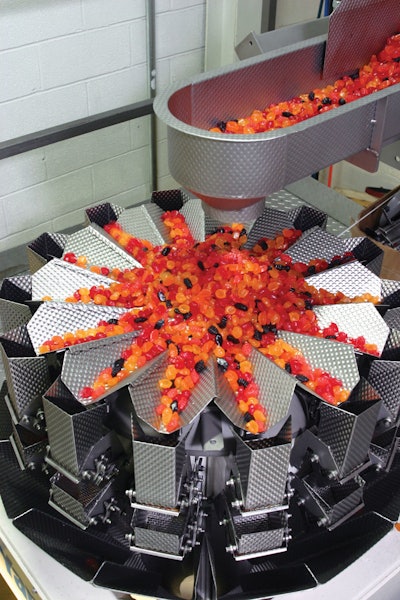 During the early morning of Sunday, August 28, Hurricane Irene roared into New York's East Coast, dumping torrential rains. The Moodna Creek near Cornwall, NY, north of New York City, quickly flooded, sending a wall of water into the Cornwall Industrial Park, housing Superior Pack Group and several smaller businesses. The flood waters knocked down one wall of Superior's building, and within just a few hours, the plant was four feet under water. Company management estimated a $2 million loss in equipment and product inventory.

First thing on Monday morning, August 29, company management, including president and CEO Israel Schiff and director of sales Joel Hirsch, had a daunting decision to make. "Do we stay in business," Hirsch recalls them asking themselves. The answer was a resounding yes—they were not about to abandon their loyal customers. But the quickest way to get back to business was going to be in another facility. That same afternoon, they found an empty plant in nearby Harriman, NY, on enough land to allow for future expansions, should they need it. The lease was signed.

Lightning-fast transition
"There was nothing in the building but electrical power," says Hirsch. "No plumbing, no air conditioning to maintain temperatures for food products, no security, phone or computer connections." But the plant was very clean, and contractors were quickly hired to rectify the power problems.

However, getting back to business required equipment, too, and that was an even bigger problem. Some smaller packaging machines, such as ink-jet coders, printers, tapers and sealers "were completely gone," Hirsch says. Some larger equipment had been knocked down by the force of the flood waters, and assessing the extent of damage necessitated a thorough cleaning first. Superior's own quality control staff oversaw the cleanup effort, with the company's entire staff working 24/7 in shifts to accomplish the task. Some equipment, it was determined, could not be salvaged. With others, emergency orders were sent for replacement parts. "We couldn't even see what parts needed to be replaced until the machines were cleaned," Hirsch explains. "We started slowly, machine by machine. Everything has been built to standards. Some are custom built."

Unfortunately, since the hurricane is an act of nature, insurance did not cover the losses or replacements. Instead, Superior applied for Small Business Administration and other federal loans to cover expenses. In addition to losses from inventory and machinery, Superior suffered losses from modifications made to the former building, on which they had a very long lease.

Amazingly, Superior Pack Group started up its first packaging line just five weeks after the hurricane. By November 1, the company was in full production again.

Superior employs about 400 people, which includes 50 people in management and sales. The company works three shifts, six days a week, with a minimum of 80 employees per shift, to as many as 150 per shift, when workload necessitates. Founded in 1995, Superior has grown through several expansions and is considering yet further expansion in its new facility.

Because several of Superior's customers on the eastern seaboard lost finished product in the hurricane's wake, Superior ramped up production to replace needed inventory for those companies, as well as replacing the inventory it had lost.

Sweet results
Superior specializes in the confectionery market, with customers ranging from startup companies to Fortune 500 corporations with very recognizable brands. Laboratory testing is done on-premise, and warehousing and inventory control are additional services. The company is AIB and Silliker food-safety certified, FDA and NYSDA approved, and Kosher certified. Realizing its good intentions to not forsake any customers, despite the adversity, all services and customers have been maintained as before the hurricane, Hirsch says.

Although Superior Pack Group does not sell directly to retailers, their customers do. Early in 2003, according to Hirsch, "We were asked by one of the largest food and snack-food manufacturers to pack their gummy snacks into small 0.9 oz single-serve pouches. We had to be competitively priced. We had to source the candies from bulk and package them for Walmart. Timing was of the essence.

"Sticky candies are difficult to handle," he continues. Superior tackles this situation by conditioning the candies and having equipment custom-built with dimpled surfaces. "Using our own staff and engineers, we actually exceeded the machinery speeds estimated by the equipment manufacturer. Now we produce 50 million of these small pouches every month for this customer."

Superior Pack Group thrives on very short lead times and turnkey operations. "We help our customers through crunch times," says Hirsch. "We work with huge manufacturers with seasonal and other deadline product launches. And that's just on top of our everyday business.

"New customers are impressed with our dedication," Hirsch claims. "We now have updated equipment and new capacity, with room to grow even more. The curse has actually been a blessing."
Companies in this article