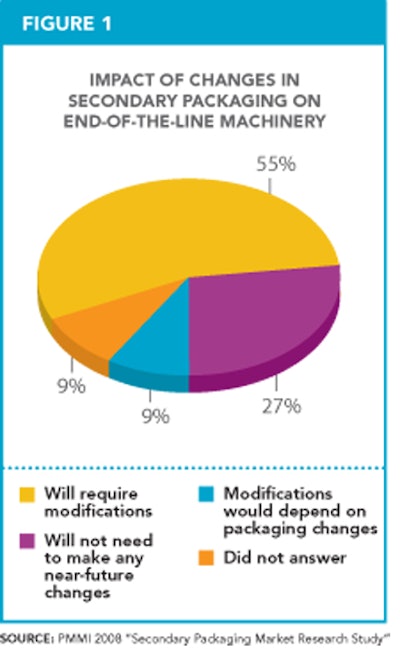 The need for robust secondary packaging seemingly flies in the face of the call to sustainability and green initiatives. Mass retailers want shipping cases that can do double duty as displays at retail. Products manufactured in Asia must withstand the 5,000-mile journey to the U.S. shores. Increasing Internet sales mean more goods are being shipped directly to consumers' homes. Retailer-mandated pallet patterns require stronger stacking strength. Yet, consumer packaged goods (CPG) companies, as well as retailers, are demanding lighter-weight materials to save on shipping costs, smaller packages to maximize cube utilization, and higher recycled-content corrugated—all to meet sustainability initiatives.
A research survey commissioned by the Packaging Machinery Manufacturers Institute (PMMI, www.pmmi.org), published in late 2008, addresses the conundrum of conflicting goals for secondary packaging. At contract packaging plants around the country, secondary packaging operations are commonplace. Sixty-seven companies participated in the study; 54% were CPG companies and the remainder were contract packagers and material suppliers.
Sustainability's role
Sustainability has emerged as a true driving force in packaging change, according to PMMI's study. Overall cost saving is a primary component of that change, through materials weight downgauging and package size reduction. Yet nearly half of the survey respondents—18% of all the survey participants were contract packagers—say they need improved product protection and increased package strength.
In addition, 55% of companies participating in the study say that changing approaches to secondary packaging and the search to implement cost-effective strategies would require modifications to their packaging equipment, which they are considering. These responses are detailed in Figure 1. Respondents also listed changes they want to make in their secondary packaging, and these are prioritized in Figure 2.
So, how can companies involved with secondary packaging have the best of both worlds? Some CPG companies and contract packagers shared their perspectives with Contract Packaging on where trends in secondary packaging might be heading.
Good price…at what cost?
Ira Smith, president and CEO at ActionPak (www.actionpakinc.com), a contract packager in Bristol, PA, explains:
"For almost two years, we saw large demand and price increases in all types of commodities. As the cost of paper and plastic increased, we have seen some major brands cut costs by downsizing the gauge and strength of secondary packaging. If done correctly, this is a win-win for all, including the consumer and the environment. However, the process must be thought out and tested. If not, it can lead to a disaster in the real world. Commodities are now falling in price, but I feel the days of robust packaging will not return. Price is king in this economic environment, but at what cost?"
Recycled content
Overall, 70% of the survey respondents point to an increasing use of recycled content in packaging, especially corrugated, although they cite problems arising with adhesion and bonding, dust clogging the packaging machinery, and compromised board strength.
At MSW Packaging (www.mswpackaging.com), a contract packager in Lawrenceburg, IN, corrugated with a high post-recycled content was causing problems on a case erector. "The recycled content was so high that dust became a problem. It was creating maintenance issues and wear and tear on the machinery," says MSW president Chris Nutley, confirming the survey's findings regarding machine problems encountered with dust.
Brand owners expressed concern with warping from exposure to moisture in conditions such as extreme humidity. One alternate option, according to the participants, is a transition from regular slotted cases (RSCs) to trays with overwrap film, especially for beverages and canned goods. That suggestion does not necessarily work as well for product packaged in less sturdy materials.
Make shippers work harder
On a related topic, reuse of secondary packaging materials is another route to materials savings, Nutley says.
"Every contract packager is being challenged by its customers to reduce the amount of materials used in packaging," Nutley says. "The first thing we do after receiving product from a customer is throw away that secondary packaging. We put the corrugated into the recycling bin and then put the product into new packaging. We've suggested to the CPGs to develop shipping containers that could then become the final package. Reused and reconfigured packaging won't go into the recycling stream. It's more work on the front end, and it's not a fit for all companies. We want to help the customer to help us."
Reuse and reconfiguration are clever alternatives to downsizing the packaging materials, but they are measures that are not universal successes. Especially with display cases, Nutley says CPG companies are asking for materials reduction.
"It can be done in some instances, but not all. Product damage costs begin to outweigh the materials savings," he explains. "The packages are not arriving (at the retailer) in the condition that they left our plant."
Damaged pallet loads rising
ActionPak's Smith succinctly describes the need for product protection.
"Some pallet loads are going out with so little protection that we are seeing increased damage during storage, shipment, and multiple handlings," he explains. "Who pays for the damage? The club stores don't because they have the ability to back charge for damaged goods. Ultimately, it comes back to the CPG and then us because we are the last leg in the supply chain. When you design at the tipping point, you will see more damage. But whose fault is it really?" Smith muses.
Club stores often are the driving force in packaging materials source reduction to lower costs and in-store labor, and to address sustainability or green initiatives, Smith explains. "In our world today, less is becoming more. The club stores want pallet patterns that don't require additional top sheets and corner posts. Less may be more, but I fear we may get to the point where the emperor has no clothes."
Jack Ampuja, president and CEO of Supply Chain Optimizers (www.supplychainoptimizers.com), a consultancy in Buffalo, NY, and Toronto, Canada, says Walmart and other large retailers are driving the change in secondary packaging. He believes the need for contract packagers has never been greater, especially for handling the unique packaging and palletizing mandates from these retail giants.
"The contract packagers are the specialists at complying with these mandates," Ampuja says.
Sustainability goals drive the packaging choices at Wm. Wrigley Jr. Co., Chicago, IL, which owns 21 brands. According to Tim Iverson, director-worldwide external manufacturing, contract packaging accounts for a substantial percentage of the company's global operations. Wrigley is committed to sustainability and insists that its partners in packaging and its materials suppliers do the same. While contract packagers repack a small amount of Wrigley's products, the majority are packaging naked food products.
Iverson cites the example of Wrigley's Big-E-Pak HDPE bottles for its Eclipse brand; each container holds 60 gum pellets. The bottle's secondary packaging, which includes a shrink label, uses about 20% less material per piece of gum than traditional packs. Although Wrigley designed the bottle's specifications, the contract packager weighed in on the basic design, especially its coefficient of friction, so more bottles could be run more efficiently on the co-packer's machinery. Iverson says Wrigley listens fully to its contract packagers' suggestions on materials specifications but tests carefully for robustness, especially in secondary packaging.
Looking ahead, participants in the PMMI survey see further changes for secondary packaging and the logistics functions: more uses for RFID, especially for traceability; new materials, such as non-petroleum media; and more recycled content, which, in turn, will prompt changes to packaging machinery so that it can handle the packaging without encountering difficulties.
Secondary packaging—wherever it heads over the next few years—is indeed in a time of transition