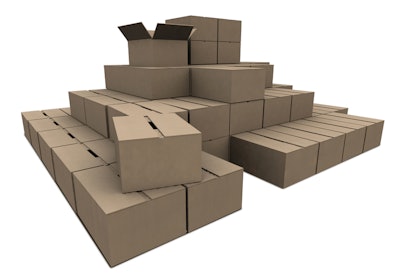 Whether our companies provide contract-packaging services, packaging materials, facilities, fulfillment, logistics, or labor, we all serve the large consumer packaged goods (CPG) companies either directly or indirectly.
We know those same companies increasingly are talking about sustainability. That trend creates a huge challenge for us as we attempt to react before this customer "need" becomes an absolute requirement.
The most difficult part of eating the 10,000-lb elephant we call sustainability is determining where to start. I suggest that a great way to launch a sustainability program is with corrugated board, and here are four reasons why:
• We all buy, sell, and use corrugated. Although it may take the form of many configurations or styles, corrugated is a packaging product we all have in common.
• Corrugated universally is accepted as green. There usually is debate or argument about the "greenness" of almost any packaging material, but rarely about corrugated board. The beauty of corrugated is that it is renewable and naturally green. It is 100% biodegradable and 100% recyclable. The type and percentage of recycled content that corrugated features is fairly easy to determine and control. Those benefits make it one of the most sustainable packaging materials.
• Corrugated will help you enhance your value to current and potential customers. Does the customer care who buys the corrugated? Absolutely. Our overseas competitors, for example, have been using "delivered, all-inclusive pricing" for some time to help our customers reduce procurement costs. You can imagine how much money a CPG company can save when it is able to purchase both the product and the packaging and have them delivered to the company's doorstep free of variable costs. It isn't just about product cost; today, it is also about internal and external cost control.
I realize that buying corrugated board usually includes headaches, work, and cost, but assuming responsibility and control of our customers' requirements for corrugated puts us in the driver's seat on sustainability. We are now in a position to influence, if not direct, positive changes to assist in our customers' sustainability initiatives. Can any customer not appreciate a vendor that helps them reduce material and labor costs, while also making them greener?
• Corrugated requires minimal but positive change. In the television series Monk, the title character says, "I don't have a problem with change. I just don't like to be around when it happens."
Embracing change
Change is rarely comfortable, but to do a complete job for your customer in the area of corrugated, it often requires new and impartial help. Your current corrugated supplier is not likely to have the inclination or the expertise to help you automate or substantially reduce your use of corrugated board. Consider using a new and broader-based supplier that is able to bring you solutions rather than just product.
Remember, sustainability also is about reduction of packaging materials; the current supplier is very rarely eager to suggest a change that will reduce business or profitability.
Packaging is but a sliver of the overall sustainability picture. Still, for better or for worse, it is an area that probably receives a disproportionate amount of attention. Fortunately, we have a great place to start becoming more sustainable, because corrugated is one of the most visible products and easiest products to manage in packaging.
Corrugated is fairly black and white in terms of its greenness. In my next column, I'll discuss plastics and the world of sustainable "mostly gray" that plastic offers.