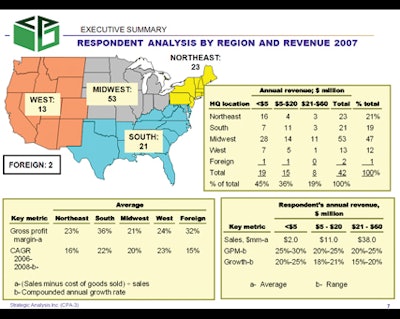 The report, now available, is the most comprehensive survey of contract packaging available in the industry. It was funded entirely by members of the CPA, but also included input from non-member contract packagers.
The initiative to collect, refine, and develop in-depth knowledge of contract packaging came from the association. Strategic Analysis Inc. (SAI), a third-party company that alone holds the original survey information, facilitated it.
CPA is marketing the report to contract packagers that did not participate in the survey, suppliers to contract packagers, universities offering packaging degrees, libraries, investment bankers, and a variety of consumer products groups involved in contract packaging. The report will be repeated and updated at regular intervals. It is anticipated that subsequent reports will chart growth and movement within this dynamic packaging service business.
Visit www.contractpackaging.org for further details on obtaining the report.
RFQ traffic on the rise
Request For Quote numbers on the association's Web site show signs of rebounding. After a first-ever six-to-eight-week period of reduced RFQ inquiries moving through the association's Web site, a marked increase in activity was noted beginning in late January—in both quantity and quality.
While there have been no long-term conclusions drawn from this recent increase in RFQ traffic, the increased activity bodes well for the service of contract packaging. Service providers that are most engaged in responding to RFQ requests will be poised to prosper as projects are resumed.
The long and short of planning
Changing business dynamics requires that the association's board of directors take a new look at long- and short-range planning. Beyond the basics of the board's Vision Statement and Mission Statement, one-, three-, and five-year plans require further examination. Will business be conducted the same way we saw it even a couple of years ago? No.
Some of what was seen and planned has unfolded exactly as predicted and planned. Other sound observations have moved in another direction. Like the core members (contract packagers) served, the association board must be able to maintain a high level of flexibility—to almost literally be able to "turn on a dime" as market conditions change. Be smart, be nimble, and be very quick. If an immediate review is called for pertaining to association business, it will be undertaken.
In a couple of instances, changing dynamics also have impacted CPA bylaws, which will be reviewed.
Committees, volunteers accomplishing objectives
There are currently six functioning committees within the CPA. They are Management, Marketing, Meeting, and Membership. In addition, an Associate Members Committee is devoted to the specialized needs of associate members, and a Survey Committee is responsible for completing the State of the Contract Packaging Industry report.
The CPA continues to work to form an Education Committee. Once this has been accomplished, the committee will develop a number of products, including packaging terminology, certification, sustainability, and other educational initiatives. Sincere thanks to all committee chairs, their committee members, other volunteers, and staff for significantly accelerating the goals and objectives of the association.
New members bring new vitality to the CPA
Even in the current economic climate, new members are joining the association. The goal is to engage these new members in association efforts as early as possible.
It is no secret that this activity accelerates a member's growth—and also the association's.
New association members include: Tripack, CIVision, Traditions, High Liner Foods (USA), Millennium Packaging, Prime Contract Packaging Services, GSC Packaging, Accurate Packaging & Fulfillment, Bemis Clysar, Menasha Packaging Co., National Custom Packing, and Maxell Packaging Services.
Association signage helps build the brand
All members receive framed certificates of appreciation with each new membership renewal. These are suitable for display.
Counter cards also have been sent to all members for display at industry events. If you walked around Pack Expo last November, you saw the green-and-white counter cards frequently.
Finally, the association encourages the use of the CPA logo on member companies' Web sites, display advertising, letterhead stationary, business cards, and sales support literature. Such displays reinforce the commitment these companies have made to the business of contract packaging.