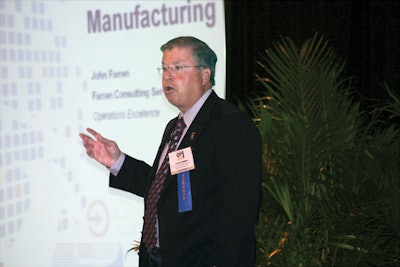 It is Friday afternoon, and you've just learned that your European factory is facing a major problem and won't be able to deliver on schedule.
To make matters worse, two of your contract suppliers say they lack the capacity to deliver this week's finished-goods schedule. For the past eight months, you have been battling a declining customer service rating. Your top customer has de-listed two of your No. 1 selling products because of failure to deliver. The company president has called and asked what you're doing to rectify the situation immediately.
You assembled a team to sort through the situation and get the facts to identify what caused the problem. Two weeks later, you've learned:
1. Internal factories have a poor record for schedule adherence.
2. There are too many contract suppliers—more than 100 globally.
3. Virtually no process has been established for managing quality control or schedule adherence.
4. No single process exists for managing contract suppliers. Some are managed by internal factories as a resource to make up production, doling out orders as well as rescinding them as suits their needs.
5. There is no sense of partnership or loyalty from your supply base.
6. Clearly, no contract manufacturing strategy exists.
The team has asked you to put a contract manufacturing team (CMT) together to prioritize and address the problems. The team will consist of group heads from supply chain, finished goods planning, procurement, and R&D. Manufacturing will lead the team. Here are the implementation steps:
Step one: The team will put a recovery plan in place to correct the internal manufacturing issues. It will establish improvement objectives that are specific, clear, accountable, and time-bound. Finally, team members will track results weekly.
Step two: Effective immediately, the CMT will manage manufacturing operations.
Step three: The team will identify the top four or five contract manufacturers that are impacting customer service. Purchasing will initiate discussions with suppliers to establish improvement objectives.
Step four: The CMT will meet weekly and monitor internal and external schedule adherence weekly.
Step five: The team will create a product supply strategy that optimizes both internal and external finished goods suppliers.
As a result of these improvements, the internal factories focus on their improvement plan, identifying maintenance, quality, and raw material deliveries as the top priorities. A program with fewer resources is established.
Procurement has summarized the external problems as follows:
• There is no sense of partnership or allegiance on the part of the CPG company's finished goods suppliers. "The internal factories would place supply orders with us and rescind them if they were running well," procurement's report says.
• Quality standards were inconsistent across the supply base. Quality issues often would impact the external suppliers' schedule adherence.
An effective product supply strategy starts with understanding the business plan and the global business objectives. With a clear understanding of the business goals, you can now focus on designing the best product supply strategy.
In our case scenario above, you determine there is a need for efficient internal manufacturing capability that will focus on core competencies and proprietary products. Improvement programs will restore internal performance. Contract manufacturing, however, will be a critical element in delivering the product supply strategy.
As a result of these actions, performance was restored, with customer-service levels reaching new heights. The lessons learned are pretty straightforward.
If you use contract-manufacturing services, ensure a clear strategy. Include your contract manufacturers in your discussions.
If you are a contract manufacturer, be more than a service provider, It is your obligation to know where you fit in the product-supply strategy of your customers.