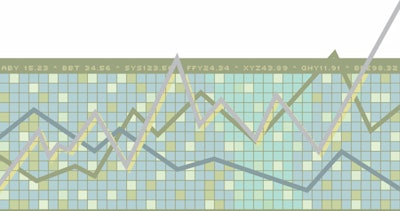 The U.S. market for medical devices has experienced consistent growth in recent years, registering $74 billion in sales for 2005. This record achievement reflects 4.8% growth from 2005 to 2006 and a five-year compound annual growth rate of 4.2%.
Contract manufacturers are an important subset of the medical device industry. These are manufacturing-oriented companies that do not have products of their own but instead manufacture components that go into other companies' end products. Within the overall medical device industry, contract manufacturing generated sales of $4 billion in 2005—the most recent estimate. They represent only 5% of the total sales, but they are growing nearly four times as fast as the end-product companies they serve.
There are many signs that the contract manufacturing sector is consolidating toward a better-organized state, although more than one-half of the business is controlled by companies that individually comprise 1% or less of the market. Many contract manufacturers have annual revenues of less than $5 million, and most specialize in the application of one technology. Large contract manufacturers are able to realize multiple cost advantages in acquiring smaller players, and consolidation has already begun as small companies realize the value a large acquiring company can provide.
Industry profile
Medical device contract manufacturers work closely with original equipment manufacturing companies (OEMs). The main features of a medical device contract manufacturer are a range of process capabilities, a focus on quality, customer responsiveness, and efficient operations. The major segments in contract manufacturing are component manufacturing, final assembly, sterilization, packaging, warehousing, and design engineering. Component manufacturing is by far the largest of these segments, comprising 44% of the total sector.
Contract-manufactured medical devices are widely used in a variety of markets such as critical care, emergency rooms, home healthcare, and industrial laboratories. Contract-manufactured medical products can include simple tubing sets, very complicated biosensors, and ultraprecision devices made from plastics, metals, electronics, and ceramics.
Medical devices are classified as Class I, Class II, or Class III, depending on applications and risk. Class I medical devices do not cause any potential harm to the user and are typically very simple in design. Class II devices can include special controls to ensure safety and effectiveness. Class III devices require premarket approval from the U.S. Food and Drug Administration to ensure device safety and effectiveness.
Contract manufacturing specialization includes high-precision metalworking, plastic molding and forming, wire working, and electronics. A large number of contract manufacturers deal with high-volume disposable and low-volume reusable devices.
Sophisticated manufacturing machinery, coupled with the high capital cost of modern equipment, favors an outsourced manufacturing model for medical devices. Contract manufacturers can maximize high-production equipment and apply state-of-the-art know-how to design for cost-effectiveness. The best contract manufacturers act as designers and business partners with their customers.
Industry trends
The trend behind the shift to outsourced manufacturing is based on product and material costs. Larger amounts of research and development are being spent by medical device OEMs to create the newest technologies. As these products are developed, companies often are faced with the reality of how much it will cost to mass produce the product and bring it to market. Specialized labor can be expensive and, even though many companies try to hold down costs by setting up production abroad, there is a limit to how much money can be spent on new facilities and capital equipment.
A contract manufacturer offers a more cost-effective means of producing a product and components by providing factories, staffing, materials, and other inputs needed to meet the OEM's needs. Currently, 20% of medical device components are being manufactured under outsourced contracts, and that figure is expected to grow faster than the overall industry over the next 10 years.
The following trends highlight current dynamics and present a glimpse of what will drive the medical device contract manufacturing market in the years to come.
• OEMs are looking for one-stop shops where they can bring projects at any point in development for design assistance, parts production, and packaging. This causes contractors to move out of their niches to become more full-service providers.
• The cost associated with new-product development can be highly capital-intensive. It is more cost-effective to have portions of the product development function outsourced to reduce costs associated with mass production. Contract manufacturers who are willing to help customers at the design phase build relationships that can help lock in long-term customer contracts.
• OEM companies are attempting to reduce development time by bringing products to market faster to compete more effectively. Outsourcing enables medical device companies to accelerate time to market.
The medical device contract manufacturing sector is about $4 billion in annual revenues. The industry is highly concentrated at the top, with the five largest companies controlling more than 35% of the market.
On the other hand, it is highly fragmented at the bottom, with more than one-half of the companies recording less than $5 million in annual revenues and less than 1% of total industry revenues.
Consolidation has increased in recent years as larger contract manufacturing companies realize that it is more efficient to have a wide range of manufacturing technologies located under one roof.
This is more beneficial for the needs of medical device OEMs and results in economies of scale for larger contract manufacturers.
The author, Kevin McKenna, is managing director at Cherry Tree Securities, Minnetonka, MN, an investment banking firm that specializes in private company transactions and that's active in the medical device contract manufacturing market. The information in this report summarizes client research the company conducted on contract manufacturing in the medical device market.
Contact McKenna at 952/893-9012.