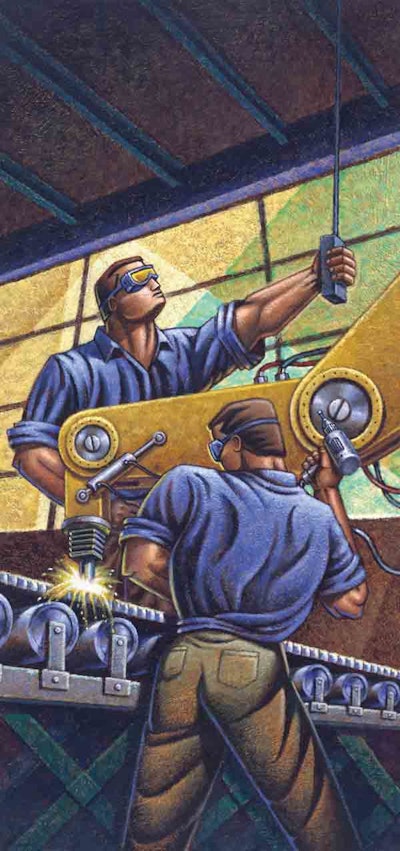 Do you know the difference between an emergent and a traditional worker? Do you know which type works for you? The answers are vital to your success, whether your company provides contract packaging services to product manufacturers, or you're a product manufacturer that also functions as a contract packager for other consumer product companies.
The contract packaging industry is a huge, important, and just-in-time world in which contingent or temporary workers are the key to managing supply and demand. When demand for co-packing services is high, a temporary work force can be quickly expanded to capitalize on all opportunities. When demand declines, temporary workers can be released for placement with other employers. Spikes in demand need never impact your permanent work force or your mission-critical operations.
But many companies are missing the mark in terms of doing what is necessary to retain valuable existing employees and giving themselves a competitive advantage in recruiting and acquiring top talent.
For more than a decade Spherion Corp., Fort Lauderdale, FL, has analyzed the American workplace through surveys conducted for the company by Harris Interactive. Spherion's most recent survey exposes a troubling gap between employers and employees on critical workplace issues, including factors that drive retention, draw candidates to one particular employer over another, and surround work-life balance. Spherion also found that fewer than one in five employers is well positioned to attract and retain top talent. According to Spherion's Emerging Workforce® Study:
• 60% of workers rate time and flexibility as important in retention, but only 35% of employers recognize its importance.
• 49% of employers rate financial compensation as a very important driver of retention, but 69% of workers believe it is.
• On average, employers expect 14% of their work force to leave in the next year, but nearly 40% of employees intend to find a new job in the next 12 months.
• Just 44% of workers believe their companies are taking steps to retain them, and 31% believe there is a turnover problem at their company already.
• Only 34% of human resource managers mention turnover retention as a key concern.
The great divide
One of the biggest disconnects between employers and employees is the importance workers place on their ability to maintain a balance between their professional and private lives. The study found that 86% of workers agreed that work-life balance and fulfillment was a top career priority. Further, 96% said that employers were more attractive to them when they helped employees meet their personal needs by providing work-life balance options. However, employers have not responded to those needs in significant numbers.
Spherion's research revealed that only 24% of employers offer a formal flextime program, 12% offer telecommuting or remote work options, and 11% offer job sharing, for example.
Of greater concern: 60% of employers don't plan to offer job sharing, 56% don't plan to offer telecommuting, and 33% don't plan to offer flextime.
Clearly, maintaining work-life balance continues to be a top priority for most employees, and temporary workers are certainly no exception. Many have chosen temporary work for these very benefits: to be able to work a shorter week, a different shift, a split shift (or other flextime option), or to drop out when they wish. They want to work on their own terms, and generally exercise greater control over their time.
Rise of the emergent worker
The new breed of American worker revealed by the research is confident, self-reliant, change-ready, and propelled by a set of workplace values and expectations that differ dramatically from what employers have previously encountered. Spherion calls them emergent workers. This growing segment of the work force represented 31% of workers in 2003 and is expected to comprise 52% of all employees by the end of 2007. At the same time, the more traditional worker role is gradually approaching extinction.
This phenomenon is occurring across the country, and no industry is immune. Industries such as contract packaging that rely heavily on temporary workers will need to understand emergent workers, how and why they can deliver increased quality and productivity, and what it takes to attract and retain them.
Table 1 depicts the historic shift of attitudes—from a decline among traditional workers to the rise of the emergent worker. It also tracks the development of a transitional category that Spherion has termed the migrating employee. This category represents workers who possess some of the values of their emergent counterparts but still hold traditional beliefs about work and the workplace.
Employers of all types, including those in contract packaging and other light-industrial environments, should pay particular attention to the projections for 2007. This year, more than half of the work force is expected to make up the ranks of the emergent, the migrating category is forecast to dwindle to 40%, and the number of traditional workers is expected to plummet to less than 10%.
Understanding this pattern is vital to using temporary workers effectively. Consider investments that contract packagers have made in training employees in particular operational systems or specific skill sets (such as assembly of complex product kits) or regulatory procedures (such as clean-shop requirements). Employers exercising emergent characteristics will enjoy a competitive advantage in retaining trained workers and inspiring trained temporary workers to return for future co-packaging projects. The benefits include time- and cost-savings associated with fewer workers who must be hired and trained from scratch.
With the most recent study, employers have been profiled for the first time, and workplaces have been identified as emergent, migrating, or traditional.
The results were alarming, with just 19% of employers exhibiting emergent profiles. These savvy few understand the changing attitudes of American workers and have begun to make the appropriate adjustments.
Table 2 compares some key values of emergent and traditional employers.
Remember the data presented earlier—that 96% of all workers were attracted to employers who helped them meet their personal needs by providing options? Emergent employers can tap into that vast majority when they recruit and hire contract packaging workers.
On the other hand, traditional employers, which comprise one-third of all companies, are seriously disadvantaged when it comes to attracting and retaining talent because of the gulf between management and employees. Contrary to emergent employers, traditional organizations operate with entirely different, and outdated, views of the values that influence employee retention. As a result, they are only able to attract candidates from about 8% of the entire labor pool. That's not exactly a competitive advantage in the battle for labor, especially when qualifying applicants for temporary work or trying to recruit the specialized skill sets that contract packagers often require.
There are other advantages for contract packagers to move their organizations toward a more emergent style—and catch up with their employees. When emergent employees work in emergent environments, there is an almost compounding effect on productivity and overall job satisfaction. Emergent employees who work in an emergent company have almost 85% higher job satisfaction, 56% greater trust in their employers, and 43% greater loyalty to their employers.
Satisfied, loyal employees invest a higher level of discretionary effort in the service they provide to your customers every day, in the products they build, the packaging functions they perform, and the reports they produce.
There is really no reason not to create an emergent workplace, and no reason not to start today.
Table 2 Comparison of Employer Values
Value Emergent Employer Traditional Employer
Time and Flexibility Ranked high as retention driver Ranked low as rentention driver
Career/Earning Growth Expected as part of company culture  Reserved for select performers
Bonuses and Rewards Based on performance and contribution Applied ad hoc, tenure-based
Work Force Planning Integrated with strategic planning  Tactical and sporadic
Contingent Workers Vital part of overall work force  Minimal, nonstrategic use
Companies in this article
Videos from Universal Labeling Systems, Inc.