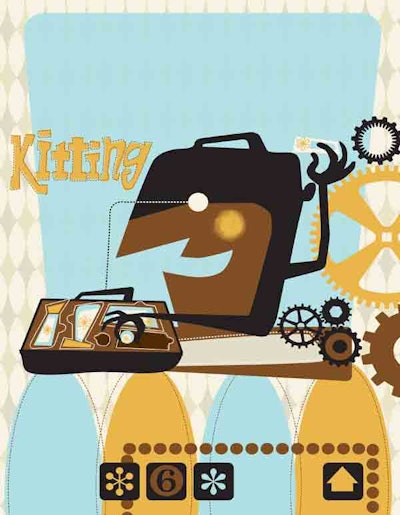 Kit packaging is becoming an essential service of contract packagers in meeting consumer packaged goods (CPG) companies' need to push time-sensitive products to market. CPG companies are trending toward shorter marketing windows to drive incremental sales by adopting tactics such as bundling related products together in "suitcases" or promotional packages, and simplifying the use of compliance-prompting drug packaging.
For these and other marketing scenarios, kits sell. At the most basic level, a CPG company simply sends finished products to a co-packer. They could be either individual product units in master shipper cartons or products that need to be removed from other packages and then repackaged with related products into a shrink-wrapped, poly-bagged, or folding-carton kit.
Here are several recent examples of kits and kit-packaging scenarios that are producing results in today's marketplace:
• Target Corp. markets Emergency Quick Kits, containing products from baby formula to self-powering radios, on the Internet.
• When Wal-Mart increased its order of AcneFree kits, University Medical Products shifted the increased assembly volume peaking at one million kits per month during back-to-school season—to a contract packager.
• School Zone Publishing bundles children's books, flashcards, bingo games, and CDs into three types of Time to Learn club-store suitcases.
Time-to-shelf, ROI, and capital costs are three reasons kit packaging is an economical choice for CPG companies. Kits are time-sensitive and labor-intensive packages whose production complexities extend beyond the capabilities of many product manufacturers. Assembly is often done by hand and requires flexible operations and work force staffing. Co-packers can modify their packaging lines quickly to accommodate short-term projects, and they are tuned into local networks for ramping up temporary work force levels as necessary. Kit packagers also warehouse components and final products, and track component lots after assembly.
A kit packager that assumes responsibility for manufacturing-line configurations and the hiring, training, and supervision of flexible work forces while instituting and maintaining quality systems during production maximizes a CPG company's ROI (see www.packworld.com/view-19022).
Leading kit packagers are taking additional manufacturing steps off product manufacturers' hands, freeing them to shift focus elsewhere. For example, CPG companies are now asking co-packers to manage materials sourcing, says Aaron Bacon, vice president of sales at Aaron Thomas Co. Inc. (www.packaging.com).
Preparedness kits
Aldelano Packaging Corp. (www.aldelano.com) recently created four emergency preparedness kits for Hurricane Katrina victims. Three kits—tailored to men, women, and infants—contain specialty items like baby formula and women's tampons and sanitary napkins, as well as waste disposal bags. A fourth kit includes self-powering AM/FM radios and universal cell-phone chargers.
Target Corp. sells Aldelano's emergency kits under the QuiKit brand at www.target.com. Aldelano distributes emergency kits through www.emergencyquickkits.com. Aldelano is working to persuade government agencies to purchase the kits in bulk, says Bob Hollingsworth, Aldelano general manager. Aldelano determines what is necessary for each kit and then sources the materials, mostly from China.
"Depending on the quantity ordered, we can offer an option for customers to build their own kit," Hollingsworth says. "These customers can pick whatever items they'd like to be included and have their branded name on the kits."
Aldelano assembles the kits on customized lines. The kits are packed individually into white corrugated cartons and shipped either individually or stretch-wrapped on pallets.
Acne-medicine kits
University Medical Products, Irvine, CA, markets AcneFree through retailers and at www.universitymedical.com. The acne treatment works by applying several products that are packaged together. University Medical assembled AcneFree kits at its own facility, but when Wal-Mart upped its order by 300,000 units, the marketer shifted the work to Aaron Thomas. Each kit contains two tubes and three bottles of cream and medicine nested in polyvinyl chloride trays that are packed in SBS windowed cartons, says Augusto Gameros, University Medical's procurement supervisor.
 University Medical ships materials to Aaron Thomas, which then summons all its resources for the back-to-school peak selling season. Aaron Thomas configures its line and staff for each contract by amassing up to 350 temporary employees and rolling machines onto the product line that will produce the kits.
"We maintain many different types of machinery, and everything is mobile or flexible," Bacon says. "We mix and match machinery that works for each project."
 For the peak seasonal order, Aaron Thomas assembles nearly one million AcneFree kits per month. Aaron Thomas built the AcneFree display pallets for Wal-Mart's 2007 back-to-school campaign, says Greg Hunt, University Medical's vice president of operations. Two to four weeks are required from when an order is received until the displays arrive at Wal-Mart stores.
When qualifying co-packers, University Medical looked to satisfy several objectives. "They must assemble to our specifics, and they need to be able to handle the volume," Hunt says. "Our aesthetics require that the product shows in the window as we like, that the product be lined up properly, and that all components face the right direction."
Producing educational kits
Such precision came in handy recently when Praxis Packaging (www.praxispackaging.com) operated three shifts to produce club-store-suitable Time To Learn suitcases for School Zone Publishing Co., a Grand Haven, MI, publisher of children's educational products. Three subassemblies were required within the fully assembled corrugated cases of products for children in preschool, kindergarten, and first grade, says Scott Hanmer, vice president of sales. Praxis assembled and applied fifth panels on the suitcases offline. Finished cases were then brought to the kitting-assembly line for filling.
Elsewhere, pallets containing sheets of printed flash cards were fed into the line. Each pallet contained 2,500 sheets of cards, with 56 cards to a sheet. On an automated line, the cards were separated and bundled into individual decks of 56 cards. The decks were manually separated and placed on another conveyor, where an operator loaded them for filling into cartons.
The decks, along with about 20 additional product SKUs and 10 other packaging components, were placed into three types of Time to Learn kits. Praxis labeled and drop-shipped 1,800 rainbow packs in one recent month.
Besides nimble operations, kit packagers are being asked to provide a wider range of services.
"Traditionally, our customers have provided all the packaging components, as well as the packaging for us, and we assembled them," Bacon says. "Now they're asking us to do the component purchasing through our own vendors or through my customers' established vendor base.
"I then add my established markup for all those components and sell the kit as a complete turnkey unit to my customers," he says. "Traditionally, in kitting, the contract packager has only charged for assembly service."
The markup is a CPG company's convenience cost for moving assembly service off-site.
"These vendors want to downsize. They don't want to maintain a large purchasing department," Bacon says. "They're looking for fixed pricing. They don't like the variable of rising and falling packaging prices, and this is one way to consolidate their supplier network.
"They don't have to worry about scrap factor or loss factor of the components. That markup is worth all those benefits."
Always challenges
Increased sourcing responsibilities bring more challenges to kit and assembly co-packers, and they're stepping up material resource planning to ensure adequate component availability. They are also tracking components moving through the system.
For example, Praxis operates what Hanmer describes as a "traceability" system. Components are entered into inventory and logistics systems, given a purchase order number, and assigned to a job. A paper trail follows the lots as they're assembled.
Some kit packagers are also tasked with hiring and assembling a labor force. Because CPG companies often use kits to call attention to special values and limited-time offers, speed to market is critical. Those requirements make for a cyclical work season for kit packagers. Also, kits may include several dozen items packed in various ways. Work forces, often made up of temporary workers, have to be trained to pack various components in the correct sequence into each pack.
Carrie Sprenger, vice president of marketing at TMT Companies Inc. (www.tmtcompanies.net), says staffing seasonal job peaks is useful when TMT assembles variety packs. Sometimes, mass-produced products arrive in master cases on pallets. Individual primary packages must be removed from their cases and repacked into another case in prearranged configurations.
TMT does just that for Campbell Soup Co. The co-packer arranges nine bottles of V8 Splash and three bottles of Pomegranate V-Fusion into colorful variety packs. Campbell's mass-produces the two products and ships them to TMT in master cases. Campbell's also sources the packaging components.
The products arrive at TMT in pre-filled bottles on pallets with one flavor per case. Plastic wrap is removed from each case and in a series of hand-assembly steps, the various flavors comprising the multi-pack are repacked from their master cartons into the new pack. The new packs are then film over-wrapped, inspected, loaded onto wrapped pallets, and shipped, explains Dawn Nye, vice president of packaging.
TMT fills these orders with temporary workers, including mentally and physically handicapped adults. "They're an excellent work force for us," Sprenger says.
A growing range of services has kit packaging expanding beyond its status as a hidden market for basic assembly work. Kitting appears poised to deliver the custom packages that CPG companies need to compete today. With expanded services such as sourcing, kit packagers are positioning themselves as indispensable players in getting the right package to the right market fast.
The author, Jean Thilmany, is based in St. Paul, MN. Contact her at thilmanyj@yahoo.com.
Companies in this article