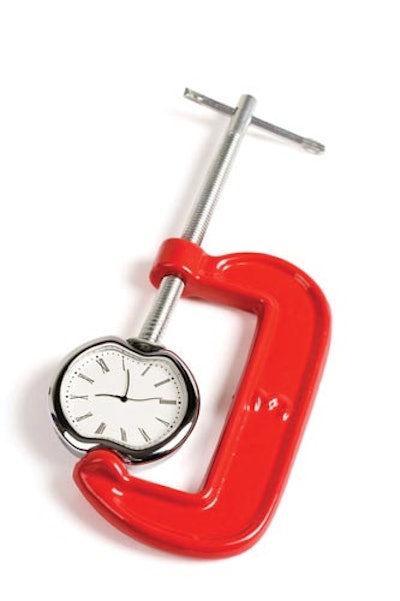 Dollar stores want their own package sizes to create a different type of value—at a different price point—than discount stores. Walmart, in turn, formulates a new strategy to compete with dollar stores; it plans to change some of its merchandise assortment, and change package sizes, near shoppers' paycheck cycle, then revert back to normal package sizes for the remainder of the pay period.
Microsoft requires extensively customized package components for its new Xbox and computer accessories, while Boehringer-Ingelheim Roxane needs new graphic card inserts in its drug cartons to reflect current marketing efforts. Both of these efforts require hand packing.
These are just four scenarios that could dictate a retailer's or a consumer packaged goods (CPG) company's need for the right amount of manufacturing volume and speed at precisely the time when they need it. One term often used to describe this need is "capacity," and CPG companies bringing products to market often turn to contract packagers to provide the amount of capacity they need, when they need it. They do so primarily for either of two reasons: Either they lack adequate capacity in their own production plant, they don't have their own manufacturing lines, or they lack the equipment expertise to do it themselves.
"It's incumbent upon us to provide our customers that flexibility, to build that into our system," says Scott Hanmer, vice president of sales at Praxis Packaging, Grand Rapids, MI. "If CPG companies could figure out how to do that themselves, they would."
Plan for all scenarios
To do quick-turnaround product launches and meet seasonal or variable spikes in demand would require product manufacturers to rent or build production facilities to fill short-run needs. That's a risky proposition, considering that upwards of 90% of new products fail.
So they turn to contract packagers, but even then, success isn't always easy. Brian Wagner thinks he knows why CPG companies struggle with what he refers to as the "fuzzy front end:" They typically plan for the most likely scenario for their volume and time needs instead of preparing for a range of scenarios.
On top of that, Wagner, vice president at Packaging & Technology Integrated Solutions (PTIS), says key mistakes are made in planning for capacity needs when decisions are made in a linear fashion—prompting a series of handoffs that could require months to complete. "By looking instead at total systems costs and planning events concurrently, things can be done in a matter of weeks or less," depending on the scope of the project, Wagner explains.
Careful planning of events is important when interfacing with multiple contract packagers and other vendors, particularly when the product scope is as large as Microsoft's. Many of Microsoft's package components are custom-made, in part to improve the overall customer experience, as with the company's recent launch of its new Xbox Kinect sensor. How the packages are displayed are an equally important consideration.
"Most of what we pack is done by hand, so there is a strong partnership and interface on the assembly and feedback from our contract manufacturers," says Jeff Loth, Microsoft structural design manager. "We incorporate their feedback to optimize assembly and packout to optimize costs."
Loth says Microsoft typically works backward from the launch date, through production and packout and all the way back to the initial creative stages. Next, create a design brief that includes the needs of each stakeholder—"it will capture the requirements and considerations of all the players," he says.
Interestingly, Loth explains that Microsoft doesn't engage manufacturers upfront but rather waits until mid-project, when the concept is defined but not yet refined. "We try to engage them as early as possible in development for the obvious benefits, but sometimes selection of the final contract manufacturing is not made until the middle of projects," he says. That approach works well for Microsoft, but Wagner suggests that in general, CPG companies explore the merits of getting all stakeholders involved at the beginning of a project. He recommends creating what PTIS describes as a "Holistic Design Brief."
"There's value for suppliers and contract packagers, too, in using this to ask all the questions you need to ask to do your job well," Wagner says. "It aligns them and the CPG company and lets others know what they need to know to do their job."
However, Wagner, who has visited a lot of packaging plants over the past two decades, says in his experience it's "very rare" that this level of all-inclusive planning is occurring. That is leading to the bottlenecks when CPG companies need "X" amount of potentially unforeseen line capacity, potentially when a contract packager cannot offer it.
"Most of it is internal at CPG companies where they don't have contingencies in place" and instead wait too long to investigate options, assuming the capacity they need will be available when they need it, Wagner continues. "They don't plan in advance for six, 12, 18 months out. They should be asking questions like, 'What's out there, and where? Let's run some scenarios with different contract packagers.'"
Understanding and working through different scenarios can pay huge dividends, Praxis Packaging's Scott Hanmer says, because the work that contract packagers do can vary greatly from one project to the next. Typically, products in test market or other circumstances where success is uncertain can start out with manual labor. "Every retailer wants something different, so it's not easily automated, and there's a lot of variability in the package itself," Hanmer says.
Rework is another variable that can lead to unexpected special needs for production capacity. Although rather than on a production line, the work usually is performed manually.
An example is changes to inserts inside drug cartons. One Praxis Packaging customer, Boehringer-Ingelheim Roxane, needed to make a copy change on printed insert cards for one of its pharmaceutical brands. "It's almost like we're planning a launch when there's rework to be done on our packaging," says Stephanie Haas, Boehringer-Ingelheim Roxane senior buyer.
The company, adds Ken Ferrari, director of strategic sourcing, avoids bottlenecks by contacting Praxis Packaging one month in advance of when forecasts say the work will need to be done. "Our quality assurance department works with their quality assurance people to make sure everything is ready to go," Ferrari says, adding a tip for CPG companies when sourcing contract packagers: "What's paramount to all of this is quality. You have to have that right culture to work well together."
J. Michael Smith, CEO and president of Carolina Beer & Beverage, Mooresville, NC, adds a similar perspective. "You have to design flexibility and work with your customer to make sure that flexibility meets their needs over time," Smith said when discussing capacity issues during a panel discussion at the Contract Packaging Association's annual meeting in February. "That's paid off for us over time and given us some nice work."
As CPG companies and contract packagers focus on capacity issues, Eric Wilhelm, CEO of IAM Acquisitions, encourages them to think about agility to get best results. "I view flexibility as doing and agility as thinking," says Wilhelm, a former contract packaging company owner whose new firm manages supply networks for CPG companies. "Agility also takes in everything upstream and downstream of packaging."

Companies in this article