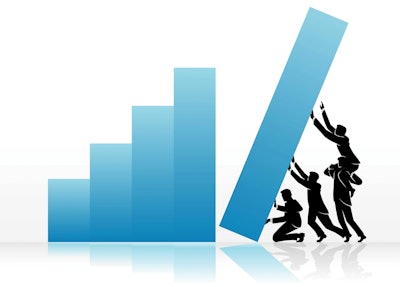 Customers frequently search for ways to reduce costs. If not issuing RFPs (RFSs, RFIs, RFQs, etc.) to find a lower-cost supplier, then the focus is on continuous improvement and how to lower manufacturing costs on existing products. The emphasis has been and continues to be on cost savings within the consumer packaged goods (CPG) industry. After all, here you are, reading a column that is focused on cost savings. Need I say more?
The question is: Have we been doing this so long that we are on the down side of the curve relative to cost savings? Are we trying to "get blood out of a rock?" While many opportunities exist within the industry to improve efficiencies and further drive costs from the system, overall, many companies are experiencing diminishing returns, given the achievements of years past. If we are experiencing reductions in percentage savings generated, perhaps it's time to begin to seek the next horizon for improvement on a parallel path. Based on the information shared below, it sounds like it may be time to make a concerted effort to "jump the curve" and evolve beyond our current approaches.
Value Creation conference
In September 2010, the Foundation for Strategic Sourcing held the Value Creation through Collaboration conference to explore ways not just to reduce costs, but also to create value. The question is, how do we progress beyond current methodology to a level where value is actually created through collaborative relationships? A number of provocative presentations were made, and the highlights are noted below.
• Alan Day, managing director of State of Flux, is a global thought leader in Supplier Relationship Management (SRM), the practice of establishing programs to create value with suppliers. Day has collected data to demonstrate a competitive advantage to be gained from working collaboratively with suppliers. In fact, leaders are receiving considerably more benefits than followers are. There are a number of examples in a variety of industries. Leaders put more into people and skills than followers do, and executive sponsorship is key to success.
• "Cost Savings will not be enough in this turbulent business environment," said Jeff Piluso, partner with A. T. Kearney. To reap benefits in the future, companies need to move toward value-driven supply. The challenge is determining whether supply organizations get executive approval to migrate to a value driven approach. Companies must think "out of the box" regarding traditional sourcing approaches, which include sharing the value.
• One of the highest-rated speakers of the event was Jonathan Hughes, a partner with Vantage Partners. Hughes said that his research, which indicates traditional views and patterns of focusing on cost, have made it difficult to move to the next level of collaboration. The next stage would include many areas, including innovation, one of the most highly sought-after capabilities in the upstream CPG supply chain today. It comes down to a paradigm shift in both customer and supplier organizations to promote collaborative approaches. Attitudes and perceptions may limit innovation. The key to developing collaborative relationships is understanding each partner's capabilities and needs.

Finally, several F4SS members shared success stories demonstrating how their organizations have created value within the upstream CPG supply chain. Though the examples varied significantly in how it was achieved, there was a common thread throughout. Achieving mutual respect and understanding, combined with two-way transparency and executive support, leads to an unprecedented ability to create value. Perhaps the time has come for our industry to explore a shift in focus from cost savings to value creation.
The author, Lisa Shambro, writes this column on matters of cost containment relating to contract-packaging services. Contact her at lisa.shambro@f4ss.org.
Companies in this article