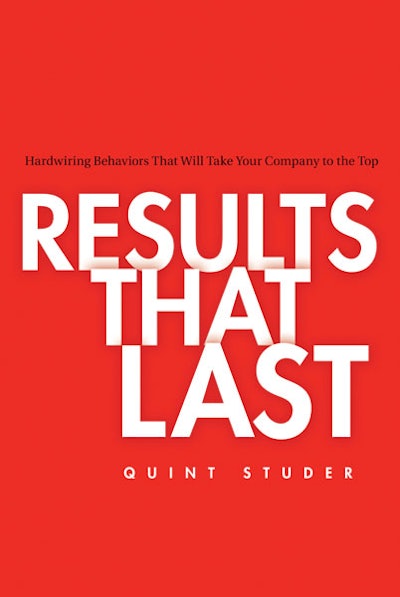 On both sides of the aisle, the resulting changes in corporate structures mean that decision-makers relocate often. Essential relationships in package development are shorter-lived. The companies that win in this challenging environment will be those that streamline their operations.
Sounds obvious, but how? Quint Studer, founder of the Studer Group, believes the key is developing consistently excellent leadership, rather than leaders. That way, you harvest intellectual capital while also maintaining accountability in your organization as "point people" move on.
"Leaders will always come and go; that's just a fact of life," Studer emphasizes in "Results That Last: Hardwiring Behaviors That Will Take Your Company to the Top" (Wiley, ISBN-13:978-0-471-75729-0, October 2007). "But too often, when a key leader walks out the door, the success a company enjoyed under his or her leadership disappears, too. The key is to standardize proven leadership practices that will survive in your organization longer than any individual leader or team."
Over 298 pages, Studer explains how. Though the principles he sets forth are general, I found the book to be readily adaptable to contract packaging, whether you're a manager of contract manufacturing at a consumer packaged goods company or a business development director for a contract packager.
The author suggests that managers of quality and growth should emulate financial decision-makers in their companies, and he poses a fundamental question. "If we don't tolerate variances in expenses, they why do we tolerate variances in other aspects of leadership and management? When we ask leaders about variances in other areas, such as quality and growth, their action plans and accountability are often sketchy. Corrections may take weeks or months—or may never happen."
Therefore, Studer asserts, setting measurable goals leads to improved outcomes. Leadership that tracks and traces results can monitor variances (and eliminate the inconsistencies in quality that some product manufacturers lament as problematic with contract packagers).
This approach leaves room for personal style, he continues. "What you are doing is creating consistency built on the foundation of best practices. You're also creating a culture of excellence," Studer writes. The author offers five steps for long-lasting results:
1. Revisit your customer satisfaction surveys. Measure what matters, and measure it often. Most service ratings are done on a five-point scale. Focus on improving the fours to fives—the people who are evangelists for your company.
2. Determine which issues are most important to your customers. Develop reassuring key words for speaking to use at the beginning of the transaction. Avoid "we/they" divisiveness.
3. Devise service-recovery key words for the inevitable bumpy transactions.
4. Train all stakeholders thoroughly on how and when to use those key words.
5. Use "rounding" to enhance outcomes. Rounding borrows from the notion of doctors making daily rounds to check on patients. Routinely check on all points, such as procurement and purchasing.
This last point is particularly insightful for contract packaging, where communication and trust are tantamount to making an external packager a viable extension of a product manufacturer. Rounding is another way of assuring that all stakeholders, including packaging, participate in the critical upfront communications to launch a project. A recent study (see www.packworld.com/view-18925) conducted by Packaging World found that all too often, such all-inclusive communication remains wishful thinking. These omissions can derail the packaging process.
There's plenty in this book to justify its cover price ($24.95 in the U.S., $29.99 in Canada). It is a useful addition to the library of anyone associated with contract packaging.
Companies in this article
Videos from Universal Labeling Systems, Inc.