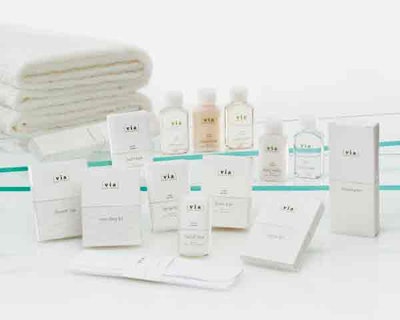 Here's an easy way to get acquainted with the work of contract packagers: The next time you're in a hotel room, look at the complimentary products on your countertop, from shampoo and bar soap to shoe polishers and sewing kits.
Blending and packaging of these products for motels, hotels, and resorts, known in the hospitality industry as "guest amenities," is a $400 million industry. The demand for guest amenities is growing as more facilities are built.
The lodging industry often turns to contract fillers and packagers to produce these products, and the packaging needs of the hospitality market share similarities with those for retail. Both industries are highly segmented, competition for brand presence is stiff, and products customized to create differentiation are among tactics for improving guest loyalty and identifying the "players."
Similarities with retail
Amenities also present contract manufacturers and packagers with many of the same production challenges as retail. Foremost, products are proliferating. But many variables impact the amenities that are presented in guest rooms—and how. At the lowest end, these are usually stock product formulations and packaging. At the highest end, they are more likely custom-blended products in customer-specific packaging. The range also includes licensed products for national brands, and some contract manufacturers develop and market their own brands.
Many variables affect the options that hotels select. A luxury resort wants a strikingly different product and package than a motel. Mid-tier hotels want contrast between both the high and low ends of the market. In addition, independent operators face a different set of economics than conglomerates operating multiple chains of hotels in different tiers of the industry. Different product quality and packaging parameters signal each level, and hotel chains often have more product-formula and package-decorating options at lower per-unit costs than independents because they order in much larger quantities.
Beyond the expanding product variety, contract manufacturers and packagers of amenities also face the challenge of satisfying hotels' increased need for speed to market. With reduced storage space and tight cash flows, hotels can't maintain large product inventories. Instead, they often turn to fillers and packagers to produce what they need, when they need it. The hospitality industry's demands are shrinking the turnaround time for generic products in stock packaging. A few years ago the cycle was a week, but today it's as little as two days. Custom orders can require three months or more.
In this scenario, co-manufacturers and packagers of amenities also must be adept at distribution. Marietta Corp. (www.mariettacorp.com), a major contract manufacturer and packager of personal-care guest amenities, oversees a global network of 400 distributors who make frequent product deliveries that enable hotels to manage just-in-time inventories.
There's one other consideration that taxes contract fillers and packagers in the amenities market. Ordering volume is tied as closely to the economy as to filling and packaging issues. When times are good, hotels tend to offer guests more amenities, and contract fillers and packagers must be ready for spikes in demand.
All of these variables must be weighed in developing any successful guest-amenities program, says Bruce Brandel, president of The Packaging Team (847/438-8849). His firm is a sales representative for companies such as American Blending and Filling (www.blendandfill.com), Visual Pak (www.visualpak.com), and Klocke of America (www.klocke.com), which fill and package products for the hospitality industry.
"It used to be all round bottles with stock closures, with different labels or decoration," Brandel says. "Now, the product is defined by the uniqueness and decoration of packaging and identity to contents. The cap, bottle, and products are specific to hotels.
"This means many more SKUs and tooling changes to meet package variances. All bottles and caps no longer fit on the standard high-speed line. The product runs are shorter, forcing manufacturers to run high-speed lines as well as mid- and small-run lines to accommodate market changes."
Many hotels and national brands have confidentiality agreements with their vendors to protect proprietary product formulas and packaging strategies, and they hesitate to discuss their amenities programs. But in general, they say the best results are achieved in producing amenities by accomplishing two goals: first, balancing the need for the right product in the right package for the right guest and second, simplifying production line complexity.
Market segments
Guest amenities are one tactic for separating each tier of the hospitality industry, because they support guests' different cost-value expectations. Contract fillers and packagers broadly identify four segments of amenities products that they produce.
1. Private-label products. At motels, guest amenities are often generic product formulas in stock packaging. The extent of package decoration may be simply the motel's name or logo printed on a bar soap wrapper. But at high-end hotels, private-label amenity programs can be as grandiose as gift baskets of shampoo, shoe polish, and an array of toiletries with exclusive products in one-of-a-kind bottles and cartons.
2. Co-operative or co-branded amenities. A branding method of choice for many midtier hotels is aligning with recognizable brands to separate themselves from the generic amenities offered at motels. In this arrangement, a hotel shares the "billboard" space on a package with a national brand or a contract manufacturer's own brand in an approach giving both partners visibility. For a bottle of conditioning shampoo, one label reads "Hampton Inn" and "conditioning shampoo" and another label reads "Breck with Aloe Vera, Nettle & Sage." Package design may or may not become more sophisticated than for motel amenities.
3. Branded boutique products. Higher-end hotels establish licensing agreements for higher-end products. Both partners gain brand enhancement, and the packaging moves higher along the scale in both quality of materials and decorative features.
4. Exclusive boutique products. In a second segment of premium products, five-star hotels and resorts create their own salon brands. Bottles with custom shapes, elegant labels, and soft-touch resins contain custom-blended products to create "wow" factor that travelers associate with a specific hotel or resort. Amenity packages at the highest level may hold more than the standard 1 oz of product, extending the brand experience of the hotel or resort by inviting guests to take "a bit of paradise" home with them.
Where a hotel falls in this range of approaches depends on more than just marketing strategy. Filling and packaging costs must be weighed carefully in the marketing mix. Jim Berklas, senior vice president of Marietta's Guest Amenities Division, estimates total delivered price at 12 cents to $1 or more per unit for liquids and as low as 3 cents for bar soap. Depending on the number of guest amenities provided, the cost to a hotel for setting out those complimentary creature comforts ranges from a few cents to much as $4 to $5 per night for each occupied room.
Jim Moseley is executive vice president at TricorBraun (www.tricorbraun.com), which provides a lot of containers to contract packagers for use in the amenities market. Moseley estimates the difference in packaging material costs at about 25% between a motel and a five-star resort.
In addition to filling and packaging costs, order volume must be considered, says Patricia Campbell, executive vice president at Coughlan Products Corp. (www.coughlanproducts.com). The benefits of a custom product and package at the luxury end of the hospitality industry can come with a trade-off, she says. Product runs for independent resorts are usually too low to allow for test marketing a small batch of product units. The operator of a 100-room resort might have to commit to a six-month product supply to meet minimum volume requirements, depending on the filler and packer's capabilities, putting more pressure on the product and package to be "dead on" for resort guests.
Conversely, 60% of the U.S. hospitality industry is composed of chains, and many of these operate in the midtiers. Conglomerates own a number of chains and operate at multiple tiers of the market. Their sheer size gives these large corporations advantages in pricing and decorative options for orders of millions of units, Campbell explains. Test marketing becomes a more viable option.
Whatever approach is taken, Berklas says, "Hotels don't make a lot of money on amenities, but it is a promotional sampling opportunity that many people find appealing in the privacy of their room." Guest amenities contribute to the bottom line indirectly, he explains. When hotels can add incidentals that are segment-appropriate and desirable to guests, they can charge higher room rates.
The different approaches to guest amenities are apparent on packages appearing in guest rooms today.
• In Japan, Hotel Nikko Tokyo displays its Kinu brand in simple yet elegant packaging. Bottles of shampoo and body lotion appear to have frosted matte finishes with the brand name printed in silver on clear, pressure-sensitive labels. The elegant label on a clouded-finish bottle creates the essence of an exclusive product.
• Water bottles at the opulent Waldorf-Astoria Hotel in New York take on a long-neck shape. Both the unusual shape and the bottle's black-and-gold pressure-sensitive label, positioned off-center on the bottle, present just the right touches for pampering affluent guests.
• In the midtier market, Marietta formulates and packages its own line of amenities under the Via Nature brand. This is one example of a product line in which a hotel can either accept both product and packaging "as is" or customize them.
Serving the market
The process for ordering guest amenities varies. Independent spas and luxury hotels often work directly through contract fillers and packagers. They want products in their guest rooms that support their image and the types of treatment regimes that upscale guests expect. These custom programs require 90 days or more to complete.
Coughlan Products is one company that creates custom formulations and contract manufactures nonaqueous products for the luxury market. Luxury hotels frequently enlist fillers and packagers for lavish, customized products because continually changing hotel preferences for bath and body products demand packaging lines that are both flexible and adaptable. Resorts don't operate these lines. In addition, Campbell says, niche co-manufacturers working with waterless products possess in-house product research and development capability that's outside the core competency of a hotel or resort.
In the luxury market, Coughlan provides what Campbell describes as "specialty amenities." These include wrapped, custom-printed 1-oz effervescent bath cubes bearing the hotel logo, bath soaks in single-use tubes, bath soaks in form/fill/seal pouches, as well as scrubs in multiuse sizes of squeezable tubes for upscale resorts.
"There seems to be a trend in the resort/spa industry to place full-size product in guest rooms as a way to communicate and reinforce the luxury experience," Campbell says. "These skin-care-savvy spas are concerned that the products in the rooms support their image and the types of treatment regimes that these upscale customers expect."
Coinciding with the opening of a large hotel in Las Vegas, Coughlan formulated effervescent sugar and bath cubes. Then it filled the cubes into pre-supplied wrappers bearing the hotel's name prior to distribution in guest rooms.
In the luxury market, Marietta follows a five-step process when creating custom amenities, says David Hempson, senior vice president. The company begins by qualifying the hotel as a luxury property and then visits both the hotel's Web site and its premises to assess guest demographics and review facilities.
Next, Marietta makes a presentation of its capabilities. Ideally, the hotel's decision-maker is present. "If a customer wants a unique product outside of our existing brands, we can match the hotel image and experience," Hempson says, explaining that Marietta operates a compounding facility and has package design capability. At this point, the hotel conveys preferences for product formulation, packaging materials, and product presentation options.
In a follow-up presentation, package design boards and mock-ups are presented for the hotel buyer's approval, along with product formulation and pricing information and lead times. Finally, Marietta asks for the hotel's business.
The process works a bit differently for stock items in motels and midtier hotels. Orders are placed and filled primarily through a distributor. Such is the case with Marietta's Via Nature line the midtier market. Via Nature is one of 16 lines of stock amenities that Marietta offers. Though packaging for the line can be customized to a hotel chain's specifications, when it is "stock ordered," distributors often fill orders from existing inventory working directly with Marietta.
"In practical terms, there can be many sources of a lead: the distributor, Marietta's sales rep, and hotels contacting Marietta's customer service or the distributor's customer service," Hempson says.
Getting best results
Marketers and purchasing managers for national or regional brands looking to gain entry to the amenities market should pay particular attention to the capabilities of vendors that create these products. Some provide a full suite of services, from product blending, to package design to filling. Others may either blend or package only or require submitted artwork for package design.
In addition, the ability to perform line changeovers efficiently between package runs and to produce amenities satisfactorily in either very high or very low volume can vary considerably among fillers and packagers.
TricorBraun's Moseley notes one
other important factor in qualification stage. Contract packagers source materials from different vendors. The same materials may not work identically on each packager's machinery, so it's a good idea to check out details such as the capabilities of your packager's lines.
Understand the factors that impact product and packaging choices, as well as ordering volumes. "If you don't know this market," The Packaging Team's Brandel says, "you'll be overwhelmed." [CP]
The author, Jim George, is the Editor-in-Chief of Contract Packaging magazine.
Companies in this article
Videos from Universal Labeling Systems, Inc.