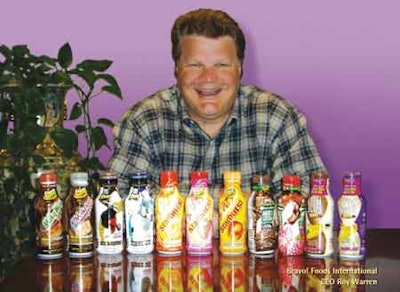 PW: Is there a difference between the dairy industry's approach to the market and yours?
Warren: I think that for too many years, the dairy industry has been denied share of throat because they think like manufacturers rather than marketers. How many of the people that have produced award-winning beverages—Gatorade, Nantucket Nectars, Snapple­—were actually the manufacturers as opposed to marketers who used copackers for manufacturing? The answer is zero. Because manufacturers think first about production efficiency. They want to know how to make money with the machines they currently have. That leads to fewer SKUs, high-volume dedicated runs, and less creativity because creativity means cost. It's messy. Unlike a manufacturer, on the other hand, are brand development firms like ours. A brand developer thinks first about how to satisfy the customer. He then goes out and finds a copacker that will meet customer needs.
PW: So where does this thinking lead you as far as packaging formats are concerned?
Warren: We knew for some time that if we were going to build a brand company, that we needed shelf-stable packaging. Shelf-stable dairy products in plastic containers are not attractive to a manufacturing mindset. They require more expensive equipment and containers. But we believe there is a place for them because they allow us to escape the restrictions of the chilled distribution system. Aseptic filling lets dairy products enter the immediate-consumption channel, where a beverage is bought and consumed immediately rather than taken home to the refrigerator. Our bottles can go to consumers on a red Coke truck that doesn't need refrigeration rather than on a dairy's store-door refrigerated route.
PW: How does the consumer fit it?
Warren: That's the irony of it all. There is a significant benefit to the consumer in shelf-stable dairy products because you don't have to worry about them spoiling in the kids' lunch box, or in the pantry or garage where you store them prior to putting them in the fridge for when you want to chill them. But American consumers see that as a negative thing, because in America we've become trained to believe that if it isn't fresh it isn't as good.
PW: To be truly successful, won't you have to bring the consumer around?
Warren: No. The advantages gained in warehousing and distribution will carry it through. Even if the consumer never recognizes it as a benefit or an advantage, shelf-stability for dairy products add so much value by eliminating refrigeration costs and spoilage and by improving all kinds of distribution outlets and marketing opportunities-like vending, for example-that the concept is still economically sound.
—Pat Reynolds