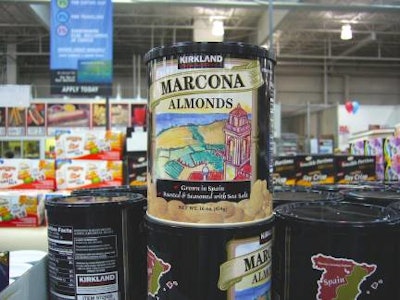 Warehouse club stores have become more aggressive players in packaging by leveraging it as both a promotional and merchandising strategy to impact their bottom line.

Consumer packaged goods (CPG) companies, as a result, are feeling pressure to provide continually changing product assortments and packaging that help to increase transaction size at the checkout. Beyond that, packages are being required to look different for each player in the club channel to heighten the sense that new "treasures" await with each trip to the store.

Facing all these demands, CPGs that want to provide the value that gets their products into club stores—and keeps them there—can achieve the best results by aligning with contract packagers that understand the channel's packaging preferences and requirements.

Although no credible data exists on the growth of contract packaging in the club store market, co-packers who serve the channel say they are thriving. And while experts disagree on how much growth may be left in the channel, warehouse clubs will continue to be among the stores that push the leading edge of packaging strategy. Three primary players—Costco, Sam's, and BJ's—dominate the club store channel, and each is enjoying increasing sales per square foot.

The use of a co-packer for club-store packaging makes sense for two reasons. First, many CPG companies lack enough resources to serve the channel. They see the clubs as "unstable, risky, and too costly," according to industry newsletter Warehouse Club Focus.

Michael Clayman, the publisher, is a former buyer for Costco. He explains that CPG companies lacking resources still need to track club activities, including merchandising strategies, innovative product needs, and packaging strategies. These efforts have become more difficult as CPG companies downsize and reduce costs while narrowing their focus to creating and marketing products.

The second reason why co-packers should be considered for club-store packaging is that the clubs themselves believe they now know as much about the packaging drivers that produce sales as the CPGs themselves. Clubs are identifying the packaging features they deem important and then specifying them as requirements in their stores.
On both these accounts, contract packagers can advise on current best practices and produce packages that meet or exceed current channel specifications. For example, Sam's wants the 40˝ dimension of the pallet to be the selling face while Costco wants the 48˝ side to face shoppers. But pallets for BJ's can be only 50% of the height of pallets at Sam's or Costco to conform efficiently to BJ's smaller stores.

Production line flexibility is important, too. Co-packers' flexible packaging lines and variable workforces may offer additional value because they don't distract resources away from other necessary tasks inside CPG companies.
On the other hand, Amy Zettlemoyer, director of packaging at Sam's Club, offers this message to contract packagers servicing the club market: "If you've had your filling equipment for a while, it's old and you really should look at replacing it."

A number of factors are driving the use of contract packagers in club stores, helping them shed their image as houses of products in unimaginative packaging. Here are three:
1. The rise of the display pallet.
2. The emergence of "retailer promotional packaging."
3. The growing importance of sustainable packaging.

The pallet as the shelf

Warehouse clubs offer members value prices on a limited selection of brand-name and private-label products within many product categories. They operate on rapid inventory turnover, high sales volume, and lower operating costs than retailers. Gross margins are 8% to 14%, compared with 20% to 40% at discount stores or supermarkets.
Club stores meet these objectives by dictating which products they stock in their stores and, increasingly, how they are packaged. Why? Channel blurring has caused retail to become oversaturated, according to retail experts. Club stores want product assortments that enable their members to justify their annual membership dues. And, each club wants packaging that fits its specific merchandising strategy.

These factors are placing greater emphasis on secondary and tertiary packaging, with more printing on corrugated. The rise in rapid inventory turnover and visual impact is becoming more evident through the emergence of the display pallet, which has become the shelf in a typical club store.

The most shopper-friendly of these pallets carries the term "360-degree pallet," and it highlights the channel-specific capabilities of contract packagers. The Oxi-Clean display pallet in the accompanying photo shows how it works. Cartons are loaded to create a display that faces outward and is shoppable on all four sides of the pallet.

Contract packagers build display pallets with another factor in mind—speed to shelf. "The displays have to be shoppable the minute they hit the sales floor," says John Mazelin, director of business development at Packaging Unlimited (www.pkgunltd.com), which produces display pallets for club stores. "In order for them to be effective, decisions on the display have to be made at purchasing, before a contract packager gets the order."

Well-designed display pallets also have to minimize waste, Mazelin adds. Club buyers are looking to reduce in-store labor costs, and they are demanding displays that produce little or no scrap as the pallet sells down.

Promotional packaging

Another marketing tactic, promotional packaging, is taking root in club stores. In this approach, a contract packager repurposes primary packages. Promotional club-size packages include a two-for-one twin-pack or a decorative master carton containing three bottles of salad dressing.

Promotional packaging falls under the emerging club store philosophy of the "treasure hunt." This tactic leverages shoppers' urge to buy products on impulse; they expect to discover new and unique items each time they enter the store. Warehouse Club Focus' Clayman says club stores are scratching this consumer itch by continually rotating 15% to 25% of their merchandise. Shoppers may enter the store with 10 items on their shopping list and purchase 15 or 20, increasing the "ring" at the checkout line.

Success with promotional packaging often requires short-run packages and displays that engage shoppers. Flexible packaging lines and variable workforces are needed to produce the packaging and displays, or to shrink-bundle primary packages together, and contract packagers provide these services.

Yoshida Foods International, Portland, OR, markets sauces under the Mr. Yoshida's Fine Sauces brand. When Costco expressed interest in carrying the brand, Yoshida realized it would need to think about value differently to extend the brand. "Our 64-oz bottle has been our standard size for years," says Frank Heuschkel, Yoshida general manager.
Yoshida turned to DePaul Industries to create a twin-pack of 44-oz bottles for Costco. DePaul arranged the Yoshida multipacks into corrugated trays and shipped them on 50-tray pallets. These tactics saved Yoshida additional time and money.

"We could do the multipacks ourselves, if we wanted, but that's away from our core business of developing sauces and selling them," Heuschkel says.

To which Dave Shaffer, DePaul general manager, adds, "The timeline is getting tighter for store delivery. The fact of the matter is that products are staying on the shelf a shorter period of time. Club store buyers like bringing in new products that bring new customers. Yet, product manufacturers are spending 'X' amount of time and money for a small part of their package production for club stores. We've reached the point where a contract packager can help a product manufacturer build packaging into the pricing so the manufacturer knows their margin."

Packs create exclusivity for a warehouse club and intensify the "thrill of the hunt" for consumers. Sam's Club's Zettlemoyer offers another perspective on the treasure-hunt philosophy: "Continue to refresh and have excitement in your packaging," she says, stressing that packaging is the only communication with a Sam's Club shopper. "We want to fulfill this idea that if you don't buy it now, it may not be here the next time you come in the store."

The Wishbone Limited Editions salad dressing three-pack also delivers on this tactic. Unilever worked through an undisclosed contract packager to bundle two varieties of salad dressing into a corrugated sleeve that secures the bottles in a corrugated tray. The packaging configuration—two bottles of Cranberry Walnut dressing flank each side of a bottle of Rosemary Lime—is exclusive to club stores. Both the sleeve and the tray extend Wishbone's green and yellow colors from the bottle labels.

Six Wishbone multipacks fit into a die-cut master display case. The front panels on the sleeve and display case invite impulse purchases with the message "Special Flavors for a Limited Time Only!"

Zettlemoyer recommends that CPG companies that work with contract packagers examine other packaging configurations for club stores besides bundling several retail-size packages into a multipack. "Otherwise, it's hard to show consumers the value."

The rise of sustainable packaging

Warehouse clubs are also looking to maximize value for their members with packaging that addresses end-of-life issues. The term broadly associated with this movement is "sustainable packaging." However it is defined, the goals include material and waste reduction, material substitution, renewable and recyclable resources, and eco-friendlier package-production processes. Contract packagers will figure prominently in meeting these objectives.

Club stores are logical early adapters to sustainable packaging objectives because they carry larger packages, thrive on display pallets, and require packs that provide theft deterrence. It all adds up to a lot of disposable packaging material.

Following are recent sustainability initiatives in the club-store channel:
• Wal-Mart Stores Inc. has the ambitious goals of being supplied 100% by renewable energy, having zero material waste, and selling products that sustain the earth's resources and environment, all by 2025. Wal-Mart is striving for those goals with the creation of Sustainable Value Networks to serve both Wal-Mart and Sam's Club.
Packages that fit Wal-Mart's sustainability mission will be those that remove, reduce, reuse, renew, and recycle packaging, and that also achieve a cost savings or are cost-neutral. Here's a tip: Wal-Mart and Sam's Club will reconsider a package they previously rejected if a CPG company can show that the package either reduces materials or shelf space.

As Sam's Club's Zettlemoyer observed above, initiatives that are driving club store packaging may require contract packagers to consider different equipment to handle emerging packaging materials. Next-generation shrink wrappers are among these machines, and the new Bio-Wrapper from Polypack (www.polypack.com) is one of them. Polypack describes the Bio-Wrapper as a shrink wrapper created for multipacking products using polylactic acid, a biodegradable film that's beginning to draw interest from club stores.

• Costco is answering the call for a materials reduction in security packaging by replacing some plastic clamshells with Natralock™ a, paperboard-based product from MeadWestvaco (www.meadwestvaco.com), for products that require protective packaging. Paperboard, a renewable resource, is the key component in the new packaging. Products are sealed in an amorphous polyester "bubble" between two pieces of paperboard. The paperboard is printed with bold graphics and wording to create an attractive "billboard." The packaging's flat surface can be safely opened with scissors without the frustration of cutting through welded ridges common in clamshells.

"By its very nature, protective packaging is a throw-away item, so these materials can't be expensive," explains Scott Carnie, general manager of Costco East Coast Packaging. "The idea is to sell the item at the best value possible."

• Hewlett-Packard Co. (HP) has introduced packaging in which recycled polyester copolymer (RPETG) replaces polyvinyl chloride. HP is using RPETG thermoforms in a design for ink-jet cartridges sold in club stores. Display Pack (www.displaypack.com) a contract packager, assisted on material selection and testing. HP is transitioning its range of ink-jet cartridges sold in Costco, Sam's, and BJ's into this new packaging, says Andrea Lantz, customization manager.
Michael Richmond, senior partner, Packaging & Technology Integrated Solutions, believes sustainability objectives will be reached on a broad scale as the value chain becomes more integrated. Richmond urges contract packagers to begin educating themselves now on sustainable packaging.

"The contract packagers that get themselves educated from a value chain perspective will be the ones getting the business," Richmond adds. "For packaged goods companies looking to be successful with club stores' sustainability goals, one of your first questions for a contract packager should be, 'How can you help us with sustainability?' For all practical purposes, most everyone is ill-prepared to answer that at this point."

Companies in this article
Videos from Universal Labeling Systems, Inc.