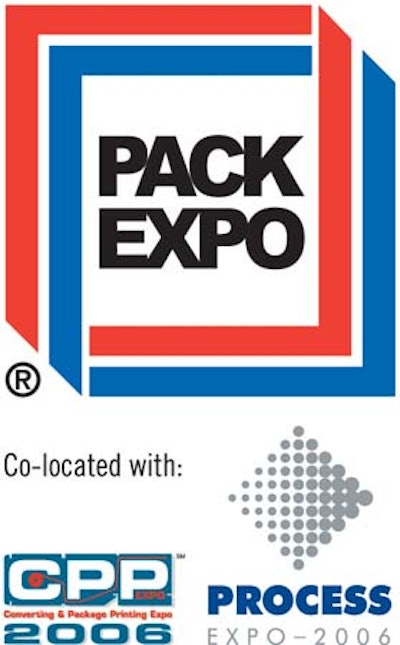 29-Nov. 2, 2006, at McCormick Place.
Pack Expo's organizer, the Packaging Machinery Manufacturers Institute (PMMI), describes the contract-packaging pavilion as "a great starting point for assessing a project and exploring the many possible options provided by contract packaging partners."
Pack Expo 2006 will place an international focus on recent developments in packaging technology and showcase exhibitors' advances in packaging and converting machinery, materials, packages and containers, and components. PMMI anticipates that more than 1길 exhibitors will participate.
This year, Process Expo and CPP Expo will be co-located with Pack Expo. Process Expo will feature more than 350 exhibitors on the upper and lobby levels of Lakeside Center at McCormick Place, focusing on developments in processing technology to meet the challenges faced by the industry's food and beverage manufacturers. CPP Expo, featuring nearly 250 exhibitors, will be on the lobby level of Lakeside Center. Its focus will be on new market synergies of the package printing, converting, finishing machinery, and supplies industries.
Other attractions at Pack Expo International 2006 include:
• The Brand Protection Center pavilion. It will focus on packaging initiatives and technologies to protect against bioterrorism, package tampering, counterfeiting, and product adulteration.
• The Containers and Materials pavilion. More than 40ꯠ sq ft of exhibit space will be dedicated to innovations in materials, containers, and converting machinery.
• The Radio Frequency Identification pavilion. This area will highlight solutions that meet supply chain requirements.
• The Showcase of Packaging Innovations. An array of the latest award-winning packages from packaging organizations around the world will be displayed.
Show hours are 9 a.m. to 5 p.m. Sunday through Wednesday and 9 a.m. to 2 p.m. Thursday.
Registration and exhibitor information is available at :
www.packexpo.com
Packaging Machinery Manufacturers Institute
Phone: 703/243-8555
Companies in this article