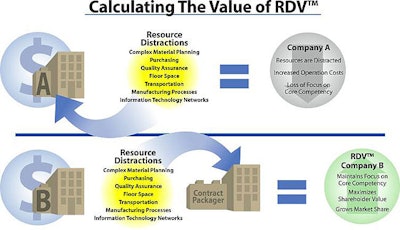 Imagine a resource, any resource. It could be money, water, time, or fuel. Time is recognized as the most valuable resource of all.
Regardless of what it happens to be, the resource has maximum and inherent value when engaged toward a primary purpose–let's say its "core competency." But when used for a non-core purpose, the resource loses its value and thereby significantly diminishes the return on investment (ROI) to its shareholders.
In today's lean manufacturing environment, that distraction could make the difference between both market share gain or loss and a financial profit or loss.
At Wilpak, we have trademarked a phrase that describes this situation. We call it Resource Distraction Value™ (RDV), and it has powerful relevance for contract packagers. Let's look at an example to demonstrate how and why.
Visualize a consumer product goods company that has built an efficient supply chain to include highly engineered plants and a distribution network that provides blinding speed to market.
We'll call it Company A. This company's resources have been aligned toward a common goal: to manufacture the highest-quality products, in an efficient and state-of-the-art environment, delivered to customers on time, with the lowest possible total delivered cost. When this occurs, Company A maximizes shareholder value and solidifies market share.
An inventory audit breaks down Company A this way:
• Duties. Managers and personnel are involved in production, engineering, material handling, planning, control, quality assurance, maintenance, purchasing, safety and training, transportation, human resources, information technology, accounting, security, sanitation, distribution, materials, and inventory.
• Facilities. These include the actual buildings, floor space, and the cost of transportation, handling, and storage of the product that is displaced from this valuable space.
• Equipment. These are manufacturing, processing, packaging, and material-handling assets.
• Systems and processes. These include standard operating procedures, information technology networks, systems and software, as well as data and "tribal" knowledge.
Each of these resources provides a huge value to Company A. Just imagine the total dollars they represent on a balance sheet. When aligned toward the company's core competency, they are leveraged for maximum return.
The cost of distraction
What happens to the bottom line if resources in any of these areas, and their value, get distracted? Just introduce an interruption anywhere in the lean manufacturing flow. This interruption might take the shape of a new product launch, a seasonal marketing promotion, or a customer-specific packaging requirement.
Once a commitment has been made to manage this non-core event internally, Company A must depart from the streamlined information flow and lean manufacturing that has been developed to make Company A competitive in the first place. In other words, all of the lean practices and successful processes must be abandoned or altered to allow for this new non-core event. When handled internally, this non-core event becomes a cost center for Company A. It also drains resources from its core competency.
Personnel resources are significantly distracted. They must manage new components, vendors, employees, processes, materials, equipment systems, and so on. They are forced, beyond fail, to take their "eye off the ball."
Management resources are found spending too much time tweaking new people, new equipment, and new processes. Facility resources are strained and distracted from producing maximum return. Valuable floor space is used for a non-core activity and normal inventory gets displaced to outside warehousing. Parking lots, rest rooms, and break rooms get pressure from an influx of personnel. And so it goes.
The normally streamlined information and product flow are adversely affected by this enormous distraction of resources. Company A is no longer singularly focused on what it does best.
Outsourcing's benefits
Now, let's look at Company B, the competitor across the street. When facing the same challenge, as Company A, Company B chooses to outsource a non-core event to a contract packager. A contract packaging company's core competency is to manage manufacturing companies' anomalies by providing the consumer product goods company "Resource Distraction Value" and allowing the manufacturer to maintain and grow its market share.
The packaging event can be a line item on Company B's profit-and-loss statement rather than become a cost center. The advantages to leveraging a contract packaging relationship meet both strategic and tactical objectives.
Strategically, it allows new ideas, products, and channels to be explored or deployed at virtually any time without capital expense or corporate gridlock. Tactically, a contract packager enables a manufacturer to drive down per-unit costs while limiting exposure to the unknown new or different products being outsourced.
More important, the immense value of the consumer product manufacturer's resources is never distracted. The contract packager provides the capacity, manpower, inventory management, equipment, space, design, logistics and speed to market while striving to drive cost out of Company B's per-package cost.
This becomes a win-win situation for both the manufacturer and the contract packager. Company B maintains its core competency and gains market share. The contract packager gains additional business from Company B. Moreover, Company B keeps its eye "on the ball," dead on.
It gains a considerable market advantage over Company A. Why? Company B continues to buy better, sell better, produce better, and distribute better as a matter of continuous improvement on its core competency. [CP]
See sidebar to this article: Putting the value on the process
See sidebar to this article: CP certification metrics in development
Companies in this article
Videos from Universal Labeling Systems, Inc.