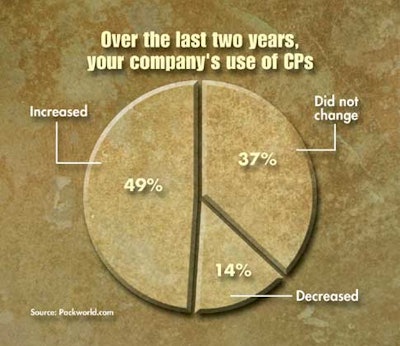 Contract packagers are getting better—or at least better appreciated—according to the results of Packaging World's latest survey of end users. Actually, both statements are probably true, when the 2004 survey results are compared to the most recent PW survey, published in January '02 (www.packworld.com/go/c095)
More than any other factor, this year's survey shows an overwhelming level of satisfaction and enthusiasm among end users toward the companies they use for packaging assignments. In the earlier survey, there was considerable balance between those companies that were happy with CPs vs those who had issues with them.
In the 2004 survey, conducted on PW's Web site, Packworld.com, in January, the favorable responses far outnumbered those that were negative. When the survey asked a completely neutral question about how the end users felt about CPs, the favorable responses outranked negative comments by 4:1, of those respondents who shared either a decidedly positive or negative opinion. Of course, many other responses combined both positive and negative factors. (See sidebar, Methodology, for a profile of the 214 participants that were selected for this report.)
Regardless of whether the respondents' comments were positive, neutral, or negative, it's obvious from the survey results that manufacturers will continue to outsource many packaging projects to CPs.
For the first time, the PW survey also reports on the use of offshore CPs. Although nearly half of the respondents say their companies don't use foreign CPs, only 4% of the respondents say that their companies' use of overseas CPs will decline in the future.
Most of the responses closely parallel the answers to the survey two years ago. Once again, technology that's not available in-house and the minimizing of upfront investments were the two major drivers for using CPs.
Becoming a normal part of business
Some years ago, the use of contract packagers was normally limited to those instances when companies had orders for special packs or a company wanted to test the waters for a new product or package. Today, based on comments from manufacturing company respondents, CPs have become regular, routine business partners for some companies.
"We have very good lines of communications with our contract packagers," stated an engineer with an industrial products manufacturer in the Midwest. "When we design a retail-ready product, we do so with our CPs' capabilities in mind." Similarly, a packaging engineer at a beverage company in the Mid-Atlantic States stated: "We view our contract packagers as full-service business partners, and we involve them from the design inception of the package all the way through to final shipping."
The warehouse manager for a food processor in the Midwest said, "Our contract packager works well with our production and purchasing departments to develop top-notch packaging systems for our products. Because our products are food, this close relationship is vital."
When it comes to close relationships, one respondent from a contract packager may have described it best: "We are a contract packager for one single large company. Our relationship with our one customer is very dynamic in every respect. Not only are we a separate company to them, we also serve as the voice of their internal production and packaging organization. On one hand, it makes it easy to say 'yes' to our customer. But it also makes it easy to tell them that we need a different specification when we do."
Some real partnerships
One of the big differences in the results of this survey, compared to 2002, revolves around the relationship between the manufacturer and the CP. In both surveys, respondents were asked about whether they were considering establishing true partnerships with their CPs. In '02, slightly more than half of respondents said they had already established partnerships with CPs. This year, only a third of respondents said that.
That difference, however, may be more artificial than real. That's because the information-sharing obligations of a true partnership between companies has become much better understood in the last couple of years.
Still, many respondents are enthusiastic about forming partnerships with their companies' CPs. One of the few international participants, a supply chain manager for a chemical manufacturer in England, put it this way: "We use many CPs, depending on their geographical location. With most, we have a traditional customer/vendor relationship. However, we have in development partnership efforts with several selected CPs that we use."
A senior vice president for a beverage packer in the Mid-Atlantic region said, "We have a very strong bond with our CPs. That's because of our 'partnering attitude,' so that we actively view them as part of our team." The plant manager for a food company in the Midwest agreed. "We work very closely with CPs on time-sensitive projects. We help to provide them with the necessary resources so that we are all successful, together."
Other relationships, too
Just as some manufacturers—perhaps those with the most experience—talk openly about partnerships, others are more guarded-and conventional—about how their company views CPs.
The purchasing manager for a midwestern maker of household products said this: "We use CPs for packaging volumes beyond what we can handle during peak times. We also use them for 'dog' projects where it would not be economical for us to package in-house." Another participant, with a large manufacturer of household cleaning products, said: "We work closely with one or two for primary packaging. For secondary packaging or special packs, we have fewer restrictions. But regardless of the assignment, we closely monitor quality and inventory."
Several respondents mentioned that their companies outsource to sheltered workshops, usually employing handicapped people. "We currently use a contract packager that employs only handicapped workers, and we use that company for many of our repetitive-motion projects," said the plant manager for a West Coast household products manufacturer. The purchasing manager for a medical products company in the Southeast focuses on the benefits of using workshops: "Their work is speedy and efficient, and we are helping the community by keeping more people at work. We view it as a win-win situation."
Not all positive
Although most of the participants reported high satisfaction with CPs, others took the opportunity to point out problems. Most often cited as areas of dissatisfaction were the quality of work, communications between the companies, and meeting delivery schedules. "In the big picture, they never have performed as well as we could do it in-house. Maybe some companies don't care about that, but we do," said a research and development technician for a major chemical company in the Northeast. An engineer with a national food processor grumbled, "We think their work lacks quality, but they make it quick and cheap to get products to market. We see them as a tool to minimize risk."
A marketing manager for an industrial manufacturer in the Midwest said: "I'd like to be able to hand off projects, and let them run with far less supervision on my part." The chief executive officer of another industrial manufacturer in the Midwest said he sought "better understanding of what is required, so the CP can get it right the first time."
That sentiment was shared by an engineer for a cosmetics manufacturer in the Northeast: "Our CPs need to understand how important it is to get it right the first time. It might take longer or cost slightly more upfront, but there is no more important decision to be made in the long run."
Several respondents called for more attention to issues like U.S. Department of Agriculture regulations, current Good Manufacturing Practices, or graphics capabilities. Overall, the negatives were cited far less often than two years ago. In what might be a glimpse of the future, the purchasing manager for a maker of household products in the Midwest said: "We currently have excellent relationships with our CPs. The biggest area of concern is with our foreign sources to improve lead times and project turnaround time."