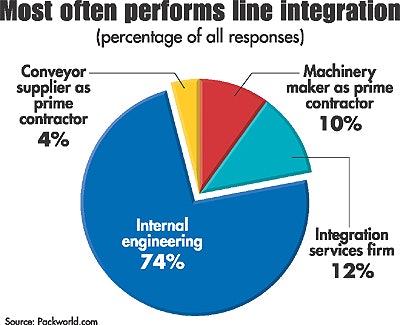 Integrating packaging machinery to work together in a packaging line can be handled in a variety of ways, from using in-house engineering to relying on a systems integrator or a machinery supplier. However, according to a Web survey conducted recently by Packaging World on Packworld.com, it appears that systems integrators will be doing more of this work in the future. This trend will be even more pronounced, the study revealed, where computerization is a factor. For example, 72% of survey respondents said they would increase reliance on outside suppliers for line integration expertise as machines become more computerized.
Some 234 valid responses were tabulated for this report. Respondents were also encouraged to add their own comments about their experiences with using vendors for line integration. These ranged from appreciative to mixed to negative.
"We've had success with companies that have a broad product line," said an R&D executive with an industrial products maker in the Northeast. The engineer for a small Western food processor has also benefited from the services provided by outside integrators. "Our processes are relatively simple," he writes, "but we are finding ourselves getting more into computer and PLC-driven devices that are more challenging. We've had good results thus far with the advice and help of our equipment suppliers for the integration of our packaging lines."
"By and large," said a maintenance executive for a major brewer, "we've received acceptable performance from outside suppliers. However, performance varies and you don't always get what you pay for. Our experience has been mostly positive. But I'm concerned about our lack of in-house expertise for future troubleshooting."
Among the respondents whose experience with outside companies handling integration was a mix of good and bad was an engineer for a national personal care products maker. "Mechanical integration has typically been acceptable, but most controls integration has been performed poorly," he said.
The plant manager for a large East Coast contract packager of beverages likes using integration specialists when relying on outside help. "Although they are expensive initially, the project is brought up quickly and the result is superior."
One respondent talked about integrating for flexible production. "We've witnessed a lack of understanding and willingness to allow for flexibility," said a plant manager for a small food processor in the Midwest. "Oftentimes, these outsiders don't want to acknowledge the 'gray area.' Most consulting firms see only black and white, but our business was built on the 'gray area.' Our ability to be flexible has helped set us apart from competitors."
Another opinion came from an engineer with a large Midwestern food company. "Outside integrators can be expensive. Unless the installation consists of off-the-shelf 'plug-and-play' equipment, the lion's share of the challenge occurs weeks after installation, when projected efficiencies need to be attained. By then, system integrators are gone."
"A lack of understanding of our particular packaging needs and trying a 'one size fits all' approach," was the complaint by an engineer for a West Coast food processor.
See sidebar to this article: Methodology