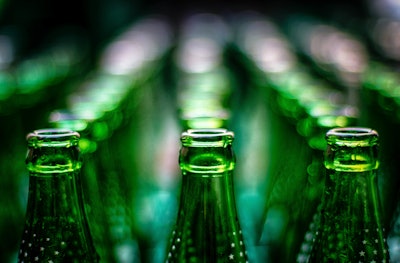 Getty Images
Overall packaging volume could grow by over 30 billion units from 2021 to 2025, and that growth is coupled with some unexpected changes in packaging popularity.
That's according to PMMI Business Intelligence's 2022 report "Future of Packaging and Sustainability." The report predicts folding cartons and glass bottles will gain significant momentum by 2025.
Folding cartons, glass bottles gain momentum
Folding cartons are predicted to make the biggest jump in popularity between 2021 and 2025, with 38.9 billion units and a 1.4% combined annual growth rate (CAGR). That's compared to 36.8 billion units and zero combined annual growth from 2016 to 2021.
The report predicts continued popularity for folding cartons through 2030, driven by rapid compostable and certified paper-based packaging growth.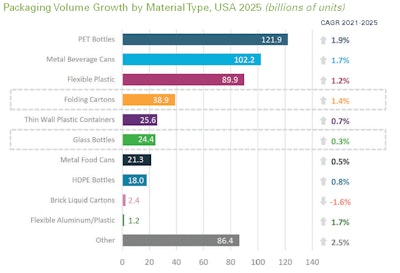 One chief packaging officer at a packaging manufacturer says compostable packaging, like folding cartons, can be exciting, but it still needs work.
"At end of life lots of municipal collection facilities don't actually provide composting, they just look at it as plastic and dispose of it in a landfill," the packaging officer explains.
Glass bottles are also taking a turn toward popularity. The package type could hit 24.4 billion units and a 0.3% CAGR by 2025.
That may be a relatively minor increase, but it is more impressive, considering that glass bottles were the only package type with a negative CAGR (-0.5%) from 2016 to 2021.
Top package types maintain hold
PET bottles are continuing to hold the top spot for overall plastic volume by 2025. With 2021 to 2025 predictions exceeding 120 billion units and a CAGR of 1.9%, PET bottles take up about 23% of all packaging by volume.
Compared to their performance between 2016 and 2021, PET Bottles should exceed volume from that period by over 7 billion units. The pack type's CAGR did see more rapid growth before 2021, though, at 2.8%.
The report says PET bottles will continue to hold the top spot by 2030, driven by PCR content and demand growth for beverages.
"Progress has been made with PET bottles," says a VP of packaging and R&I at a consumer packaged goods company. "We want to move our plastic packaging in that direction and work with governments, other CPGs, and consortiums to push that way and have a loop [supply] for plastic."
Also keeping their spot as the second most popular package type are metal beverage cans.
The package type took up a 19% share of packaging from 2016 to 2021, with 95.7 billion units and a CAGR of 2.9%. Up to 2025, metal beverage cans project to hold about the same share, with 102 billion units and a 1.7% CAGR.
The report forecasts metal beverage cans to maintain their 2nd place spot through 2030, supported by capital investments taken by water and water-like beverages, including seltzers.
Source: PMMI Business Intelligence, 2022 Future of Packaging and Sustainability
Download the FREE report below.