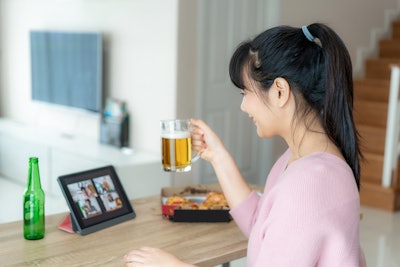 Despite COVID-19, or perhaps because of it, "Americans are saying 'Cheers' more often." That's according to a recent white paper of the same name from AMC Global that reports that when it comes to adult beverage consumption and purchase habits, some demographics are drinking more, and certain beverage categories are growing in popularity.
Among the insights included in the paper:
·     Consumption of alcoholic beverages has shifted as the pandemic continues, with 27% of respondents reporting that they have been drinking more.
·      While most respondents say they will go back to the same or less than their "pre-pandemic" drinking from an amount standpoint, 9% say they will continue to drink more.
·      Most of those drinking more alcohol fall into younger age groups, ranging from 21 to 34. For example, 41% of those age 21 to 34 report drinking beer versus just 11% of those 35 or older.
---
See: Molson Coors Beverage Company Increases Production Capacity by 400%

---
·      People seem to be experimenting more with alcoholic beverages, with 23% of consumers trying new-to-market or new-to-them beverages like spiked seltzers.
·      People are mixing cocktails at home, and they are choosing what are perceived as "healthier" or lighter varieties of packaged alcoholic beverages, including lower ABV wines (12% or 13% max), spritzers, and spirit-free cocktails.
·      Thirty-three percent of consumers are trying new beers, 20% are trying new wines, and 14% are trying flavored malt beverages.
---
See: Market Snapshot: Beverage
---
·      Other "hot" beverage categories consumers seem increasingly willing to try include spiked nitro and cold-brew options and ready-to-drink cocktail options, including new flavors and mixtures.
·      While convenience seems to play a role in beverage purchase decisions, sustainability is top of mind for consumers, with 67% now more aware of how their actions and the actions of others impact the environment, including the use of sustainable packaging.
·      The slowing of on-premise sales of alcoholic beverage has had a clear impact on sales of single-serve units, although some studies are showing this trend in softening.