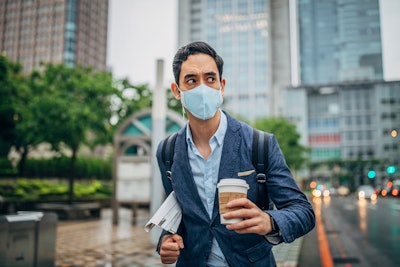 A large number of respondents to Mundo PMMI survey (80%) are making internal adjustments in expenses, purchases, adapting shifts, teleworking, optimizing their inventories and specializing in product references of greater need and output.
At Mundo PMMI we wanted to know what Latin American CPGs are thinking in the midst of the disruptive and unforeseen circumstances their companies are experiencing today due to coronavirus crisis.
The ample response from readers to our questions about their operations in the midst of the current pandemic allows us to draw an overview of the moment and their expectations for the near future. We asked them through an online survey launched on April 2nd, and the results could not be more surprising: in less than two days we received nearly 951 responses from various countries in the region, mostly from those in charge of the course of their companies in different areas: CEOs, presidents, directors and senior executives (25%); managers and sales representatives (10%); production, operations and quality assurance area managers (18%), and professionals in charge of engineering activities (8%).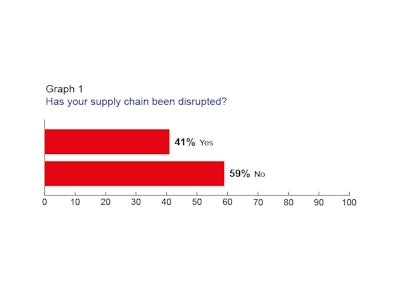 Responses came from different mass consumer packaged goods sectors in the region, with a major participation from food and beverage manufacturers, as well as from the health care, personal care and cosmetic sectors.
The first issue we sought to analyze was the disruption that CPGs are facing in their supply chains – supplies, ingredients, packaging materials, spares parts, -- among other elements essential for their daily work.
Less than a month after the alarms went off and the mandatory isolation measures and border closings began, 41% of companies participating in the survey reported suffering disruptions in their supply chain, seen in Graph 1.
The effects of these interruptions reported by CPGs are more pronounced in the supply of inputs and ingredients for their products, as indicated by 59.6 % of the responses in the Graph 2. The disruption in the supply of packaging materials (30%) and the difficulty of accessing spare parts for their equipment (8.2%), as well as other drawbacks, are also impacting CPGs, due to technical and operational reasons arising from the effects of the Covid-19 crisis on their markets. "Many clients have ceased operations or have simply stopped paying for and requesting my products," said one of the participants, expressing a concern currently shared by other companies.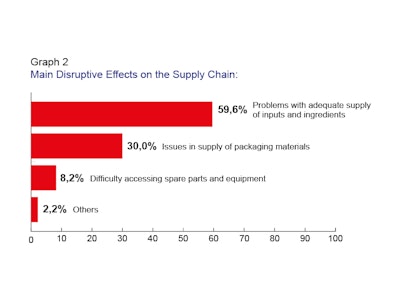 An Outlook that Generates Confidence
A fundamental question the survey sought to answer were the means and strategies companies would adopt to keep up with production demands, in the event that government restrictions were prolonged two or three more months. The answers offer a hopeful scenario.
Continuity of operations is the scenario that most CPGs expect during an extension of the isolation measures. Close to two thirds of the respondents (65%) affirm that their companies will continue working.
A large proportion of them (80%) will make internal adjustments in areas such as expenses, purchases, adapting shifts, teleworking, optimizing inventories, and specializing products to references of greater need and output.
EXPO PACK MEXICO canceled due to Covid-19, read full story here.
For their part, 20% of these companies indicated they will continue their activities normally – abiding by the biosecurity measures the pandemic requires – since the effects of the coronavirus have not interrupted their traditional operations, and they maintain the ability to carry on normal operations.
"We have spare parts and materials, supplies and local raw materials; so we do have what is necessary to continue our production, albeit on a smaller scale." said a CEO of a food production company.
Other companies surveyed (22%) face a panorama of uncertainty, and condition the continuity of their operations to the ability to solve supply chain and financial obstacles, the postponement of projects by their clients, and the lack of concrete plans at the time of answering the survey, among other issues.
"If the cash flow is not interrupted and there is a supply of raw materials, we will continue working, otherwise we could reach a point of no return.", said the director of a CPG.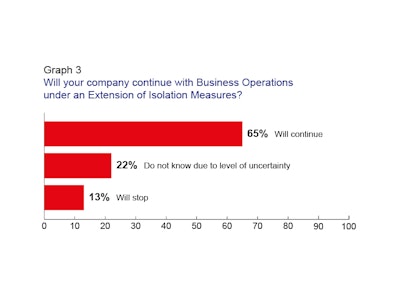 On the other hand, a small (13%) but significant group of companies shared the relentless impacts they have experienced under the Covid-19 crisis, which would force them to shut down operations if restrictions on mobility are extended.
Within the next couple of days, based on the online survey responses that continue to arrive, new Mundo PMMI posts will analyze topics such as the effects of the Covid-19 crisis on labor issues in CPGs production plants, and the viability of companies' investment plans, among many other key topics.