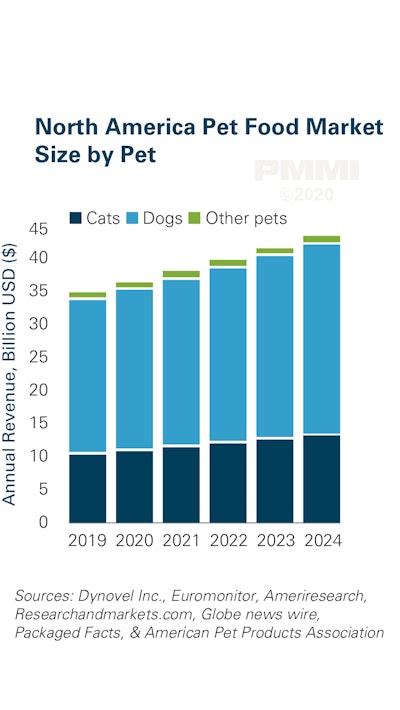 In the U.S., the Cat and Dog segments represent 95% of the pet food market and their share is expected to keep growing until 2024 increasing their dominance over "Other Pet" foods.

Interestingly enough, there is almost an even number of dogs and cats in the US (90-95 million dogs and cats ) but dog food outsells cat food 2:1. Other pets, led by more than 150 million fish in the US alone, represent a tiny fraction of the market whose share is projected to decline.
Major players in the U.S. include Mars Petcare, Nestle Purina, JM Smucker, Hill's Pet and Diamond Pet Foods
Many of the same trends driving human food packaging, such as sustainability and e-commerce, are also driving pet food packaging developments.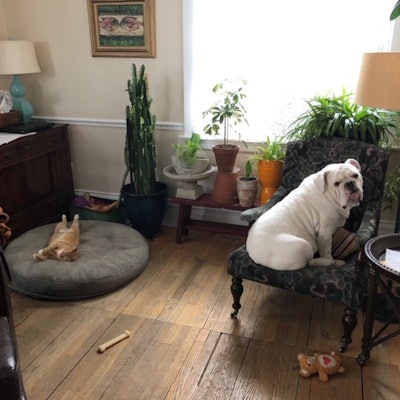 In addition, a major trend is the "humanization" of pet food, with consumers looking for the same nutrition and freshness for their pets that they get from their own items in the shopping cart.
This trend, in particular, can change pet food processing requirements such as processing more slowly to preserve textural integrity, and at lower temperatures to preserve nutritional value, while using more "exotic" ingredients.
See Also: Pet food processor gets fresh automation make-over | ProFood World
Pet food manufacturer keeps it simple with a new bulk bag
Freshpet Building Pet Food Manufacturing Plant | ProFood World
Similarly, the new 29-page report predicts a shift in packaging towards pouches to prevent the deterioration of nutrients through oxidation.
According to various state and federal web posts, pet food producers and retailers are on the list of essential services to continue while other businesses are shut down during the nation's battle against the spread of the Corona Virus.
"Food manufacturer employees and their supplier employees—to include those employed in food processing (packers, meat processing, cheese plants, milk plants, produce, etc.) facilities; livestock, poultry, seafood slaughter facilities; pet and animal feed processing facilities; human food facilities producing by-products for animal food; beverage production facilities; and the production of food packaging." Source: AZ Governor's Office.
PMMI members can download the entire report here, or, anyone can download the FREE Executive Summary below.