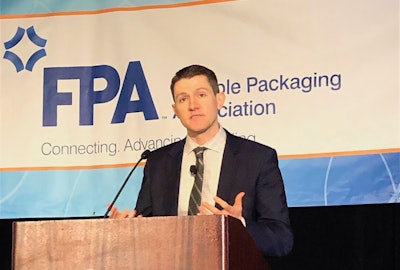 Bill Carroll, Sr. Consultant, Government & Trade, Euromonitor International, presented an extremely optimistic forecast for the global growth of flexible packaging through 2023 at the FPA 2019 Fall Executive Conference, held in October in Chicago. Noted Carroll, the global packaging market is expected to grow by 16.9% by 2023, for an absolute growth of 622 billion units. Of that, 339 billion units will be flexible packaging—far outpacing other formats such as rigid packaging at 166.1 billion units, metal at 34.7 billion, paper-based containers at 28.3 billion, and glass at 28 billion units.
In citing current conditions, Carroll said that in 2018, flexible packaging made up 41% of the global volume of packaging, which totaled 3.62 trillion total units sold. "Is 41 percent of 3.62 trillion a big number? Yes, it is. So well done!" he congratulated the audience, which was made up primarily of those supplying and converting flexible packaging materials.
Of the flexible packaging types, flexible film is the largest segment and will experience the largest growth, followed by flexible aluminum/plastic, flexible paper, stand-up pouches, flexible aluminum/paper, aluminum foil, blister and strip packs, and flexible paper/plastic.
Carroll then broke down the global market by region, noting some of the trends and drivers of flexible packaging in those areas:
· Latin America: Said Carroll, "Packaging volume sales continue registering positive movement despite economic challenges." In 2018, Latin America accounted for 165 billion units of the global flexible packaging market, a number expected to grow to 179 billion by 2023, for a CAGR of 9%.
· Western Europe: This region accounted for 235 billion units of the global flexible packaging market in 2018. It is expected to grow by 7% by 2023 to 252 billion units. Said Carroll, "Flexible packaging remains the dominant pack type in the region," at 35%, followed next by rigid plastic at 31%.
· Asia Pacific: In 2018, APAC made up more than 50% of global totals of flexible packaging, at 790 billion units. In 2023, it is expected to make up 1.02 trillion units, representing a growth of 29%—the greatest growth of any region. "Stand-up pouches continue to be a growth driver for multiple categories, including pet food, beauty and personal care, and food," said Carroll.
· Eastern Europe: Said Carroll, "Growth remains steady but slow in key markets." In this region, flexible packaging made up 43% of packaging types in 2018, for 113 billion units. By 2023, this number will grow to 124 units, for a 9% CAGR. "Flexible packaging will benefit from economic challenges due to its low cost," added Carroll. "Convenience, economy, and safety epitomize the main packaging trends."
· Middle East & Africa: This region made up just 65 billion of the 3.62 trillion units sold globally in 2018, but is forecast to see the largest percentage growth, at a CAGR of 22%, bringing the number of units to 79 billion. "Improving income levels and the development of retail systems are increasing the consumption of packaged foods and beverages, overall," explained Carroll.
· North America: In NA, in 2018, three packaging types made up more than 80% of total units sold. These included flexible packaging (27%), rigid packaging (33%) and metal (23%). Also at that time, the region accounted for 138 billion units of the global volume of flexible packaging, a number that is expected to increase to 145 billion by 2023, for a CAGR of 5%. According to Carroll, in North America, food packaging remains the largest category for flexible packaging, with the largest subcategory being confectionery. He added that "smaller pack sizes appeal to health-conscious consumers, and pouch packaging offers convenience." He also noted that "in dog and cat food, flexible packaging continues to grow due to the ongoing trends of premiumization and humanization."