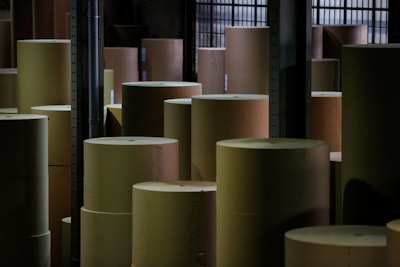 In a significant development in the world of paper and packaging, WestRock is reportedly in advanced talks to merge with Europe's Smurfit Kappa Group, a move that could create a global powerhouse in the industry valued at approximately $20 billion, according to sources familiar with the matter.
Initially reported by The Wall Street Journal, the proposed merger envisions the establishment of a new entity, tentatively named "Smurfit WestRock," through a combination with one of WestRock's subsidiaries. Shareholders of WestRock would receive shares in the merged company; however, specific financial details have not yet been disclosed by the involved parties.
Smurfit Kappa Group issued a statement confirming ongoing discussions, stating, "Discussions between the parties remain ongoing regarding the potential combination. Smurfit Kappa and WestRock are engaged in a mutual due diligence process." Sources close to the matter suggest that an official announcement of the merger could be expected as early as next week, pending successful negotiations.
Furthermore, Smurfit Kappa Group revealed that the combined company would be incorporated and domiciled in Ireland, with its global headquarters based in Dublin. If the merger is completed, the ordinary shares of Smurfit WestRock would be listed on the New York Stock Exchange, leading to the cancellation of Smurfit Kappa's premium listing on the London Stock Exchange and its listing on Euronext Dublin. Instead, the combined company is anticipated to list on the standard segment of the London Stock Exchange.
According to Smurfit Kappa Group, the combined revenue of the two companies for the year ended June 30 amounted to a substantial $34 billion, with adjusted earnings before interest, taxes, depreciation, and amortization (EBITDA) reaching $5.5 billion.
WestRock, headquartered in Atlanta, specializes in producing packaging for a wide range of products, including medicine, pizza, and home-and-garden items. The company, formed through the merger of MeadWestvaco and RockTenn in July 2015, reported sales of $21.3 billion in fiscal 2022. As of the close of trading on Tuesday, the company boasted a market capitalization of approximately $8.2 billion, with its stock having experienced a 9% decline so far in the current year. However, after The Wall Street Journal reported on the potential merger with Smurfit Kappa Group, WestRock's shares surged by approximately 10% in after-hours trading.
Smurfit Kappa Group, a Dublin-based company with origins dating back to 1934, specializes in manufacturing cardboard and packaging boxes. The company's transformation occurred in 2005 with the merger of Jefferson Smurfit and Dutch rival Kappa Packaging, resulting in the entity known today as Smurfit Kappa. The company serves consumer companies, e-commerce operators, and industrial product manufacturers, with regional offices in Amsterdam and Miami.
Notably, in 2018, Smurfit Kappa Group rejected a proposed €8.9 billion offer from International Paper, citing a lack of engagement by its board and management. Since then, Smurfit Kappa has pursued a strategy of expansion, including the acquisition of Cartonbox, a folding-carton company based in Mexico, and an agreement to purchase Pusa Pack, a bag-in-box packaging plant located in Spain.
The potential merger between WestRock and Smurfit Kappa Group could significantly accelerate Smurfit's expansion into the U.S. and other countries in the Americas, building on its recent acquisitions of corrugated-packaging plants in Argentina and Brazil.
WestRock has also been active in the M&A arena, with its most notable transaction being the acquisition of KapStone Paper and Packaging for nearly $5 billion in 2018. This move, however, contributed to a significant debt load for the company, which exceeded $10 billion as of June.
Companies in this article