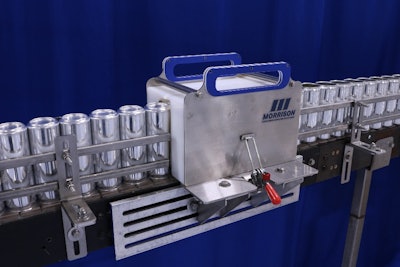 The Morrison Twist Block was developed to use only a few pieces, which is key in many production environments because it reduces opportunities for contaminates to harbor. Traditional twist blocks utilize the standard sandwich production method, using dozens of pieces of plastic places together to create the twist.
Another key benefit of this new design is that fewer pieces allow for quicker disassembly, cleaning, and reassembly.
"When we decided to add this product to our offerings, we wanted to supply a better option for our customers – not just replace what they already had with the same product," CEO Nancy Wilson said. "We leveraged our container handling expertise and listened to our customers. They needed a simpler design that was more sanitary and easier to clean, and once again our engineers and machinists delivered."
This new design not only is easier to clean, but it uses a reduced footprint. The standard models range from 12 to 18 in., and custom sizing is available to retrofit to existing set ups.
Featuring simple mounting, the block utilizes quick changeover clamps and a built-in handle, making it easier for operators to remove this lightweight block when performing changeovers to different container sizes.
Companies in this article