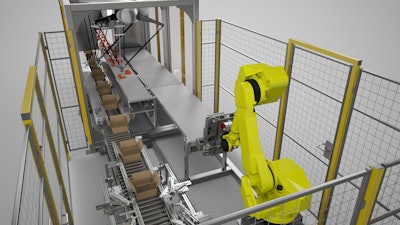 This content was written and submitted by the supplier. It has only been modified to comply with this publication's space and style.
Pearson's RTL-HV's modular design uses a delta-style Fanuc DR-3iB/8L robot to either pick and pack products flat into a case or to form patterns in preparation for the vertical loading completed by a Fanuc M-710iC/50 articulated arm robot. Resembling a catcher's mitt, this robot collects a full product pattern before the end-of-arm tool clamps down to secure the load as it is being placed into the case.
Customers can purchase the delta-robot module (RTL-HZ) by itself if they pack products exclusively in a horizontal fashion. If they load products upright for shelf-ready applications or require the flexibility to pack both, horizontally and vertically, the delta-style and articulated-arm robot modules are linked together. While the base model is capable of loading 65 products/min (PPM) horizontally and 10 cases/min (CPM) vertically, adding further deltas and/or catchers can increase the speed up to 160 PPM horizontally and 18 CPM vertically. Vision and line-tracking facilitate continuous motion within the delta unit, maximizing performance and reducing mechanical wear, but also enable products to be presented in random orientation, which eliminates the need for extensive product conditioning solutions.
---
PACK EXPO Las Vegas and Healthcare Packaging EXPO (Sept. 27-29, Las Vegas Convention Center) will reunite the packaging and processing community. With over 1400 exhibitors, no other event in 2021 will bring together a more comprehensive gathering of suppliers offering new products, technologies and solutions. Attendee registration is now open.
---
"Standardization promotes shorter lead times and reduced costs – highly attractive benefits that manufacturers across the country are desperately looking for. However, from an engineering perspective, standardization leads to narrowing of applications to guarantee the reliability of the solution. We had to strike a good balance", explains Andrea Zaman, Chief Operating Officer at Pearson Packaging Systems. "As an equipment provider specialized in top-load packaging applications, focusing on flexible products is a natural fit for us, one we have decades of experience with. Narrowing it further to light-weight products, in this case up to 2lbs, then allowed us to design a high-performing, yet flexible solution for horizontal and vertical loading needs."

Companies in this article